First Episode Of Tenacious D In 'Post-Apocalypto' Is Now On YouTube For Free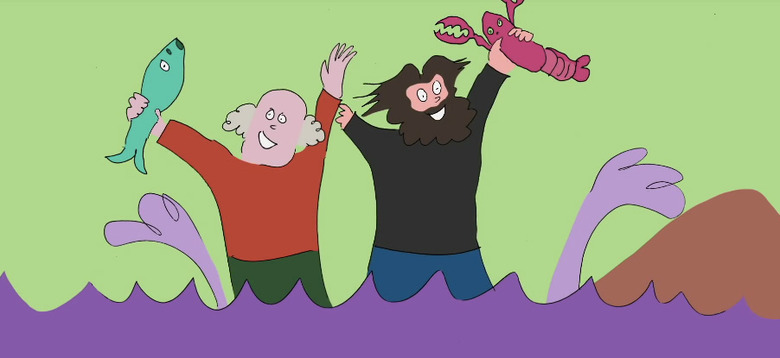 After premiering at Fantastic Fest, the animated series Post-Apocalypto featuring Jack Black and Kyle Gass back as Tenacious D has launched on YouTube. The first episode of the series arrived before the weekend, and it features a new song from the upcoming new album of the same name. If you're in the market for something totally goofy and full of phallic imagery, then look no further.
Watch Tenacious D in Post-Apocalypto - Episode 1
The first chapter of the animated series is called "Hope", named for the song of the same name in the episode itself, which you'll find out the Post-Apocalypto album release coming November 2, 2018. The rest of the episodes (totaling up to six) will be released every Friday leading up to the release of the album, each featuring a new song from Tenacious D.
The animation was all hand drawn by Jack Black himself, and as you can tell, it's intentionally low budget, which only adds to the hilarity of the proceedings. The real star here is the new music by Tenacious D, who always manage to make both whimsical and rocking fantasy epic tunes. For a better impression of the entire series run, check out our review from Fantastic Fest. If you need to know anymore, here's the official synopsis:
Post-Apocalypto finds Tenacious D thrust into a world of complete and utter destruction following the drop of an atomic bomb. Surviving the attack in classic cinematic fashion (a good old imperishable 1950's refrigerator), the duo quickly learns that new forms of evil have spawned from the blast. One thing becomes apparent — for humanity to prevail, Tenacious D must save the world.
With unimaginable twists and turns, an insane visit to the White House, a time machine, a space adventure, and the help of some tried and true daddy issues, Post-Apocalypto is as hilarious as it is political, and as brilliant and multi-faceted as its incredible creators. The songs are damn good, too.