'Quincy' Co-Director Alan Hicks On Telling Quincy Jones' Epic Story [Interview]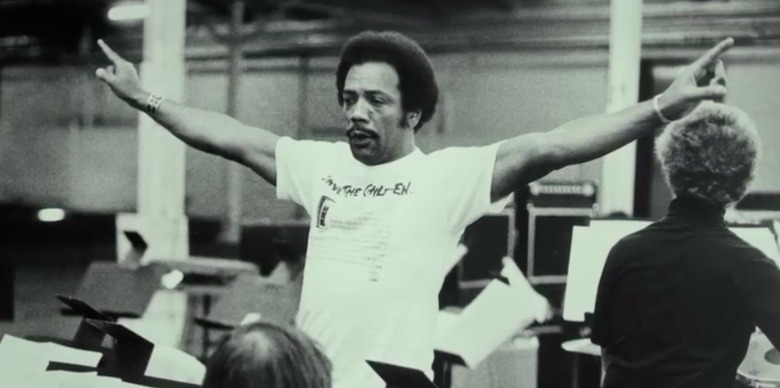 Alan Hicks and Rashida Jones' Quincy get so close and intimate with the great and powerful Quincy Jones you feel like you're watching a hangout movie. From his youth playing music with Ray Charles, his unforgettable and award-winning film scores, his collaborations with Frank Sinatra and Michael Jackson, and far more, the Netflix documentary goes deep into Jones' work and accomplishments. However, it also gives any fan of the legend the pleasure of watching him at work and out and about in the world. This doc is probably the closest you'll ever get to being in Quincy Jones' company, which is a joyful feeling.Quincy's co-writer and co-director, Alan Hicks, who previously worked with Jones on his directorial debut, Keep on Keeping' On, first discovered Jones' music when he was 13 years old and listening to Frank Sinatra Live at the Sands with Count Basie on a loop, which he followed with "Quintessence," "Quincy Plays Hip Hits," "This Is How I Feel About Jazz," and Quincy Jones' work with Dinah Washington. Hicks recently told us about the opportunity to further explore Jones' epic body-of-work, telling a sprawling story in two hours, shooting 800 hours of footage, and more.So much has been written and said about Quincy Jones. Was there anything you and Rashida Jones felt was unsaid that you wanted to express in the doc?
Like you say, he's very well-covered. His career is really well-covered, but people really don't know what he's like in the person. And when Rashida and I were first talking about doing this film together, the biggest thing was we want people to know what he's like as a man, because his personality is a big part of his success. To get to the bottom of that, I think is giving people a bit more of a clue of how all this amazing stuff came about over his career.
Any challenges that come with following him around with a crew given his schedule? 
The process with being able to film somebody like Quincy Jones without any restrictions, it's more complicated than just having the crew turn up and film. I had done another film called Keep On Keepin' On about this gentleman called Clark Terry who was my music teacher and also happened to be Quincy's music teacher. So Quincy and I had some common ground there. He was actually Quincy's first ever teacher in 1947. When I finished that movie, Quincy came on the road with me, and so I spent a year traveling, promoting the movie with Quincy.
Then when Rashida asked if I would co-direct this with her, Quincy was already familiar with the crew, and he's familiar with me, and obviously with his daughter. The access was very, very open. He would call up and say, "Hey man, we're going to China. You guys would love it there, you have to come." And he'd be like, "I'm going in two days." And then you're just like, "Oh, my God." And then you have to engage the crew and get everything off and running and then go and do this hardcore traveling. We'd shoot ten, twelve hours a day on the road. Getting access to somebody like that, you can't just decide that, "Hey, we're gonna do this documentary about you and here we go." It just doesn't work like that.
In his writing, interviews, and in this movie, Quincy Jones is very candid. Him being as honest and open as he is, was that a major advantage telling his story? 
He's one of those guys that is just real straight up and down like, "Yeah, this is what happened." His stories are crazy, because his life's been crazy. He's got the most amazing stories about the greatest of greats. And Quincy was there. Every day while we were filming, there'd be something that you're like, "Oh, my God, is that for real? Was he really in the room with Miles Davis when they recorded Kind of Blue?" And it turns out, yes he was. He was right there. You find out all these amazing things. As far as the character study, it's been a trip.
Telling Quincy Jones's story in two hours must've been a challenge. His relationship with Ray Charles could be a movie itself. How difficult was it condensing his life into two hours? 
Well, it was tough, but it's good to have creative restraints. Just like in a song, there's a verse, a chorus, if you put choice and limitations on yourself, it actually helps with the creativity. We decided, "Let's get this into two hours so that it's digestible." You could make a ten-part series easily, but what we really wanted to do was for people to get that feeling of what it's like to hang out with Quincy and to be in his inner circle. Because right now, he's just turned 85. Now's the time for us to be able to document him. Not his accolades, not his career. To make the main focus be to document him and what he's passionate about.
What other parameters were there? 
We did set these parameters when we started. The first one was in the two hour timeframe. Second one was we didn't want any talking heads. It's actually a harder route to go, is to not have talking heads, but we wanted it to be from Quincy's perspective. And if we could find audio or video soundbites or visuals from each era, we would try and use that in place of talking heads, so it could be Quincy telling his own story. So that's what we set out at the beginning, and luckily, that's what we were able to stick with. The things that are surprises, the things that you discover along the way, like him walking through the African-American Museum and looking at the cabinets that got all of the names of all of the people that he's worked with that have all gone except for him, you can't plan that, those things that just happen. And discovering the footage of Ray Charles singing "My Buddy" to Quincy.
That is such a beautiful moment in the movie. 
Thanks, man. Those things, when you discover them you're like, "Oh, my God." You just pray that it'll fit into the story, because after a while, you just let the story dictate which twist and turn you're gonna take.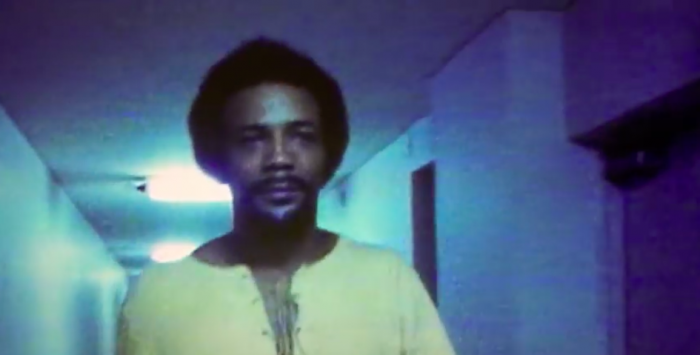 How much did you want Rashida and want to focus on Quincy Jones' friendship with Ray Charles? How pivotal was it to the story? 
Ray just would pop up constantly. They're best friends, you know? I don't know what feeling it must be like to have your best friend be Ray Charles. So Ray was an integral part of Quincy's life, and it was important, obviously, to have him as a part of the story. And you can't not because it's just interwoven as part of the fabric of him.
What about the relationship between the past and the present in the movie? Did some of them, like showing Quincy doing yoga in present day and then the past, just present themselves naturally? 
That was something that we discovered along the way. We wanted to tell a story that seemed to have a relationship between the past and the present. As we were going forward, we would be working in the editing room and find these things that you could cut from one thing to another. With every single cut drop fifty years, but Quincy would be in the same exact position. Like if there's one where he's playing piano in Sweden in the current day, and then we cut to him playing piano in 1966 to a similar song. And once Rashida and I had cut that, I remember we took it to our producer, Paula DuPré Pesmen. She would also help with the story along the way, and she was just like, "Oh, my God, you guys have got something really great here. Let's move forward on this."
Once we were like, "Okay, somebody's able to say 'This is a good idea.'" And we were able to say, "Let's keep this going," and put our radar out for any more moments motivated by the narrative. Not because it's like, "Ah quick, we need to cut back," but something's happening in his life and in the story, and find the perfect moment to switch to retrospective.
How much archival footage did you and Rashida and everyone have to work with? 
Well, we shot 800 hours of vérité footage, which is the current day footage, over three years. And we found 2,000 hours of archival footage. And what happened, we were working in Quincy's basement in his archive in his home, and working after six months going through everything. And once we finished, went out and showed it to Quincy. Then we got through the archive. Everything's been scanned, and we've transferred all those piles of stuff. And he's like, "Ah that's great, man, but you should see the vault." And we were like, "The vault? What? What's the vault?" And it was easily five times the size of the archive downstairs, and it took us a year to get through.
Did you discover any new footage of Quincy Jones and Frank Sinatra together? 
There's a lot of amazing footage out there. Sometimes you come into the problem where you fall in love with some footage that you found, and then you go to license it, and you can't find who owns it, and you have to remove it from the movie. So there's a bit of stuff like that, where there's just consider amazing things, and if you can't find who owns it, then you really can't use it. Yeah, man, there's a bit of stuff like that.
During your time with Quincy Jones or while watching all the archival footage, was there any eye-opening moment or piece of information that influenced your perspective? 
Well, that he so is him. Being able to watch this old footage of him and then in the same day, talk to him, you're like, "This guy has had this personality and been so jazzed about life his whole life." And the thing with Quincy is he's so ... When you get to speak with him one-on-one, you feel like you're the only person in the world. He really cares about you and wants to know as much about you as he can, and you feel like he's trying to learn things. He's not sitting back and, "Don't I know it all." Every day he's trying to figure out things. He's always doing puzzles. I've sat with him, and he pulled out a thesaurus because he's looking at different words that he's interested in.
His thirst for knowledge is unbelievable, and that's really inspiring, because in your head, you think these people, they just got there. They are born a genius, and that's it. But that's not the case. That's what I'm saying, his personality is a key component to him, his life and career.
I'm sure there are a million moments, but is there a day maybe we didn't see in the movie you look back on fondly? 
Well, these are personal moments for me when he's hanging out with the crew, because he was so interactive with us and didn't treat us like a documentary crew whatsoever. So there's some good footage of us with Quincy where you can see his humanity come out, but you can't really use that. Sort of behind the scenes sort of stuff. But how inclusive he was with all of us was beautiful. As far as personal memories for me, that's something that I'm gonna treasure forever.
***
Quincy is now available to stream on Netflix.