'Deadpool 2' PG-13 Cut Will Feature Fred Savage Reprising 'The Princess Bride' Role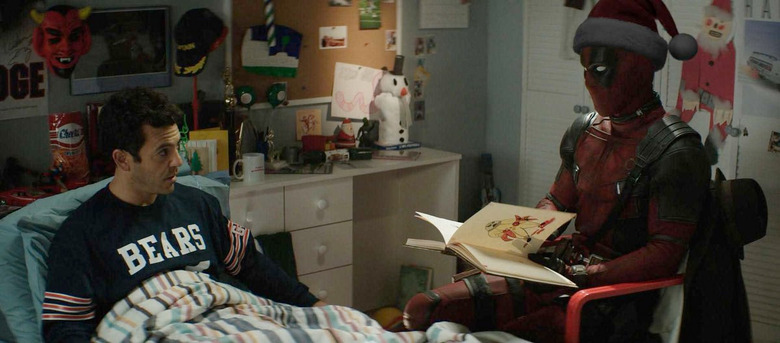 Before the weekend kicked off, the surprise news came from 20th Century Fox that an Untitled Deadpool Movie would suddenly be dropping into the December 21, 2018 release date that was once occupied by Alita: Battle Angel. Word on the street is that instead of being an entirely new Deadpool movie, this will be a PG-13 cut of Deadpool 2, and a photo posted online by Ryan Reynolds would seem to indicate how that's going to work, and it involves Fred Savage reprising his role from The Princess Bride.
Find out more about the Deadpool 2 PG-13 cut below.
When news of the Deadpool PG-13 cut was announced yesterday, details were almost non-existent. Collider even noted that the studio is encouraging press to "guess away" what this movie was going to be while Deadline gave away at least part of the game by saying it would be a PG-13 cut of the R-rated summer blockbuster. But the above photo posted to Twitter by Ryan Reynolds may provide some hints.
In The Princess Bride, the movie was a bedtime story being told to a young Fred Savage by his grandfather, played by Peter Falk. With this photo Ryan Reynolds has revealed, it would seem that Deadpool will be telling Fred Savage the story of Deadpool 2 (or maybe even both Deadpool movies combined). And much like the grandfather cut out some of the scarier bits of the story, maybe Deadpool will skip over the more violent and R-rated pieces of the movie. That's a pretty amusing and clever way to sell a PG-13 cut of the movie that fans otherwise might not be interested in seeing.
The question is whether the PG-13 cut of the movie will really lean into the toning down of the original R-rating. There's some comedy that could be mined from intentionally coming up with the stupidest replacement lines for the more profane dialogue on the movie. Just think about new jokes arising from Deadpool 2 using the equivalent of the Snakes on a Plane TV edited line, "I've had it with these monkey-fighting snakes on this Monday to Friday plane."
Then again, maybe this move is really a Disney-guided decision (since they're taking over 20th Century Fox) that will test the waters to see how much box office action they get out of a PG-13 cut of the movie, especially when it comes to families who otherwise wouldn't have gone to see an R-rated Deadpool movie in theaters. That might not mean future installments of Deadpool would avoid going for an R-rating, but it may inspire Disney to release a PG-13 cut alongside an R-rated cut with any future sequels.
Either way, the presence of the Merc with a Mouth telling Fred Savage the story of Deadpool 2 is an enticing prospect, and I'll definitely pony up the dough for a ticket to see it.
The Deadpool 2 PG-13 cut hits theaters on December 21, 2018.