'Death On The Nile', Follow-Up To 'Murder On The Orient Express', Adds Gal Gadot To Cast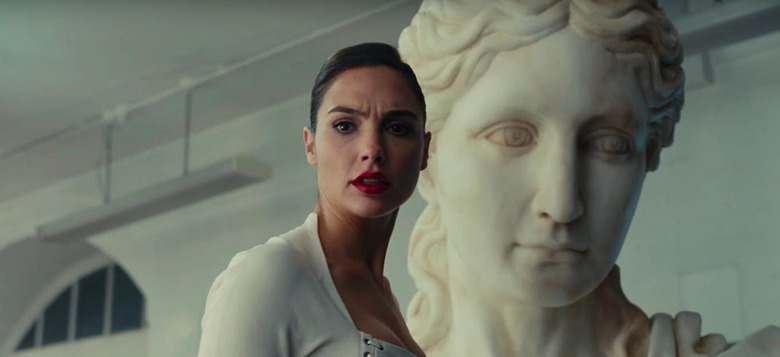 Gal Gadot is the first big name in talks to join the Death on the Nile cast. The follow-up to 2017's Murder on the Orient Express will bring back Kenneth Branagh and his glorious mustache as Agatha Christie's famous detective Hercule Poirot. Branagh will also direct again. More on the Death on the Nile cast below.
Murder on the Orient Express had a huge, star-studded cast, and it looks like Death on the Nile will follow suit. THR says Wonder Woman's Gal Gadot is in early talks to join the film, in the role of a socialite "recently married to the former fiancee of a past friend." Death on the Nile's story is somewhat similar to Orient Express – once again Hercule Poirot finds himself in the midst of a murder while traveling. Here's the book's synopsis:
The tranquillity of a cruise along the Nile was shattered by the discovery that Linnet Ridgeway had been shot through the head. She was young, stylish and beautiful. A girl who had everything...until she lost her life. Hercule Poirot recalled an earlier outburst by a fellow passenger: "I'd like to put my dear little pistol against her head and just press the trigger." Yet in this exotic setting nothing was ever quite what it seemed.
Like Orient Express, Death on the Nile features a wealth of possible suspects, which gives Branagh the chance to cast several big names once again. Michael Green, who wrote the Orient Express script, is penning the Death on the Nile script as well.  This could be the start of an Agatha Christie cinematic universe for Branagh, something he's already talked about in the past. Speaking with the Associated Press, the actor and filmmaker said:
I think there are possibilities, aren't there? With 66 books and short stories and plays, she — and she often brings people together in her own books actually, so innately — she enjoyed that. You feel as though there is a world — just like with Dickens, there's a complete world that she's created — certain kinds of characters who live in her world — that I think has real possibilities.
Murder on the Orient Express did fairly well at the box office, and while reviews were generally mixed (it sits at 57% on Rotten Tomatoes), I mostly enjoyed the film. It was an ornate, old school kind of movie, with Branagh bringing his usual overdramatic flourish to the material. I'm all-in on more films featuring his take on Poirot, big-ass mustache and all.
Death on the Nile was previously adapted into a film in 1974, with Peter Ustinov as Poirot, and Lois Chiles in the role Gadot is being sought for, This new take on the story will likely open in 2019.