'Kingsman' Prequel May Star Ralph Fiennes And Take Place In World War I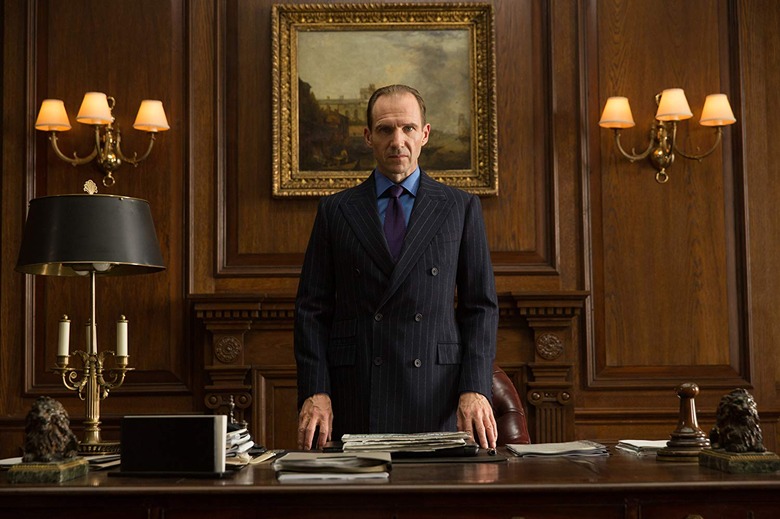 The Kingsman franchise could soon vastly expand. On the heels of the announcement of Kingsman 3, which is set to wrap up the franchise next year, rumors have begun of a Kingsman prequel. And true to the franchise's 007-inspired story, the Kingsman prequel may have landed a James Bond alum to lead the film.
Rumor has it that Ralph Fiennes has been tapped to lead the Kingsman prequel, which is set to take place in World War I, according to The Daily Mail.
The British tabloid goes on to report that Fiennes' co-star will be Harris Dickinson, an up-and-coming British actor best known for Beach Rats and The Darkest Minds — presumably in a repeat of the dynamic between the sleek spy played by Colin Firth and his street-smart protege played by Kingsman breakout Taron Egerton. It would be a return to the spy genre for Fiennes, as he has starred in the past two James Bond films, Skyfall and Spectre and has played a fair share of gentlemen spies in genre films.
The Kingsman prequel is reportedly already in pre-production with Kingsman: The Secret Service and its sequel The Golden Circle director Matthew Vaughn set to helm the film. But that puts this report at odds with the official report that the untitled Kingsman 3 is in development with Vaughn on board to write and direct. Kingsman 3 is set to hit theaters in November 2019, which gives Vaughn a little bit of leeway to helm this rumored prequel, but it's a bit of a squeeze.
So this report should be taken with a healthy heaping of salt, as 20th Century Fox hasn't yet confirmed plans to develop Kingsman films beyond the third film starring the cast of the first and second films. However, Vaughn has expressed a hope to launch his own Kingsman cinematic universe before, saying that he has a plan in place for several spin-offs, including a film called Kingsman: The Great Game following the British spy organization in the '90s, a film focusing on the Statesmen introduced in Kingsman: The Golden Circle, and an eight-hour Kingsman TV show. It's possible he's already gotten started on some of these projects, and then some — as this untitled prequel was nowhere in the previous plans that he listed.
For now, we have Kingsman 3 to look forward to when it opens in theaters on November 8, 2019.