'Spider-Man: Far From Home' May Feature Spider-Man In A New Suit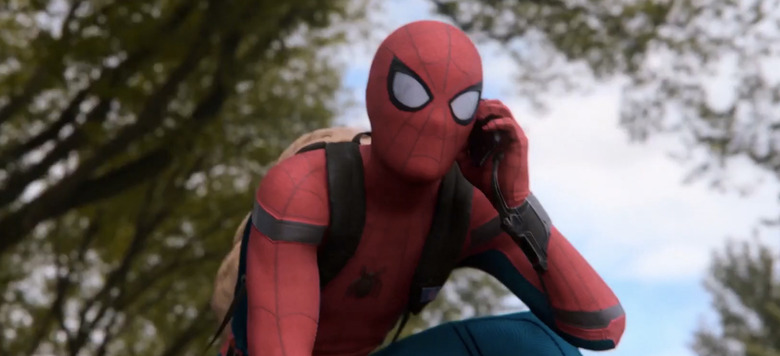 Spider-Man may be getting a costume change in Spider-Man: Far From Home. While new duds are expected with every Marvel film (got to sell more of those toys), this new Spider-Suit may be familiar to fans who are eager to get a hint at what the upcoming Spider-Man: Homecoming sequel will be about.
Set videos taken from the set of Spider-Man: Far From Home reveal a familiar black suit being worn by Peter Parker (Tom Holland). Don't panic, it's not the Venom suit that takes over Spider-Man like in Sam Raimi's 2004 Spider-Man 2 but a dark suit that looks like a cross between Stealth Costume that Peter wears in the Big Time story arc and the Spider-Man Noir costume based on the alternate version of Spider-Man.
The video (which you can see here) shows the web-slinger on the ground fighting off threats from off-screen, with debris and fire strewn around him after an apparent explosion.
Because of the white eyes, it looks akin to the Spider-Man Noir costume, but the fit is much closer to the Stealth Suit, which warps light and sound around it. Peter Parker created to combat the Hobgoblin's sonic Screams, which could suggest that the Hobgoblin is another one of Spider-Man's many rogues that come to attack him across the pond. Other villains rumored to appear include Mysterio (possibly played by Jake Gyllenhaal), Vulture (which we met in Spider-Man: Homcoming, played by Michael Keaton), Chameleon, Hydro-Man, and maybe even Molten Man.
But it's also possible that this is just a black suit that Peter Parker stitched together without his high-tech Spider-Man suit on hand, which was gifted to him by Robert Downey Jr.'s Tony Stark. Or maybe this all is just a Venom tie-in.
Plot details are scarce, but Spider-Man: Far From Home, which is directed by Jon Watts, will reportedly follow Peter Parker and his class on a Europe field trip, when they're suddenly attacked by a cabal of villains. Holland, Zendaya, Marisa Tomei, Jacob Batalon, Tony Revolori and Keaton reprise their roles in the sequel, where they'll be joined by Jake Gyllenhaal, Martin Starr, Numan Acar, J.B. Smoove, Oli Hill, Remy Hii, Cobie Smulders, and Samuel L. Jackson.
Spider-Man: Far From Home is scheduled to open in theaters on July 5, 2019.