Watch Rian Johnson And Edgar Wright Directed New Star-Studded Music Videos For LCD Soundsystem & Beck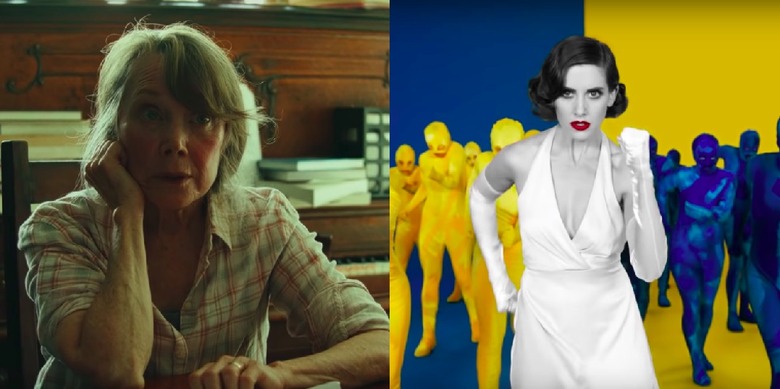 Rian Johnson and Edgar Wright are the latest in a long line of famous directors to cross over the musical field, adding their signature visual styles to music videos for LCD Soundsystem and Beck, respectively.
But for Wright, that crossover is old news. The Baby Driver director famously honed his distinct visual style in the early days of his career by directing music videos like Mint Royale's "Blue Song," which went on to inspire Wright's 2017 heist film. Now he's returned to the music video realm for Beck's "Colors," which — like LCD Soundsystem was for Johnson — is perfectly suited to his directorial style.
Not only do these music videos boast esteemed directors, they also feature high-profile Hollywood stars, with Sissy Spacek and David Straithairn working with Johnson in LCD Soundsystem's "oh baby," and Alison Brie dancing her socks off with Beck in the Wright-directed music video for "Colors."
Rian Johnson Music Video for LCD Soundsystem: "oh baby"
Be prepared for Rian Johnson to ruin your childhood memories of LCD Soundsystem, because he's churned out another stunner with the music video for "oh baby." The video for "oh baby" plays out much like a Johnson short film, following Spacek and Straitharn's scientists as they work on an impossible transporting machine, set to the thumping beats of the rock band's single off their album "american dream."
In a thread following his Twitter post of the music video, Johnson revealed some behind-the-scenes details for the music video.
We shot it mostly up at a farm north of Santa Clarita. FUN FACT that made me feel startruck: the house we used was the SAME ONE that Lynch shot this scene from the new Twin Peaks in (!!!!) Lots of "gotta light" jokes on set. pic.twitter.com/ZO8vzBIfRg

— Rian Johnson (@rianjohnson) September 27, 2018
We shot the whole thing in two days, with a big location move, and you can't do that without a great AD. May I recommend Julia Zsolnay for all your achieving-the-impossible needs. pic.twitter.com/IJwIe97Ruq

— Rian Johnson (@rianjohnson) September 27, 2018
I got to work with two of my heroes, Sissy Spacek and David Strathairn. You can see more of their work in oh lemme think some of the greatest movies ever made. pic.twitter.com/GvsDN0QXHP

— Rian Johnson (@rianjohnson) September 27, 2018
What else? I cut it at home on my imac pro, first time I've totally edited something on my own since (I think) Brick. Steve did all the color correction and fx on his laptop. Homegrown! pic.twitter.com/uYQ4lkKD5i

— Rian Johnson (@rianjohnson) September 27, 2018
He capped off his thread by thanking his friend and musician James Murphy, who he called "a genuinely cool dude who loves movies. Very grateful he let us do this."
It's very cool to see Johnson return to his roots by working with a skeleton crew and editing the music video on his iMac Pro, which he did for his breakout feature Brick. After helming one of the biggest blockbusters last year and working with Lucasfilm for the foreseeable future, this was probably a nice refresher for the director. Not to mention the story is classically Johnson — ending with the scientists deciding to flee to the in-between realm after Spacek's character is fatally wounded in a burglary. That would be a great original sci-fi film once you're done with Star Wars, Johnson (*hint, hint).
Edgar Wright Music Video fro Beck: "Colors"
Wright may have gotten another taste for music video direction after directing his 2017 pseudo-musical hit Baby Driver, because he's back in the music realm with a video for Beck's "Colors."
The appropriately colorful music video features Brie in a classic Marilyn Monroe-recalling white dress, dancing in front of a crew of blue and yellow-clad dancers. She and Beck flail around for the rest of the video in a dance choreographed by Ryan Heffington. The eye-popping visuals complementing an equally poppy song feels very true to Wright. Maybe this music video will be the one to influence Baby Driver 2.