'Daredevil' Season 3 Teaser: Wilson Fisk Is Ready To Let The Devil Out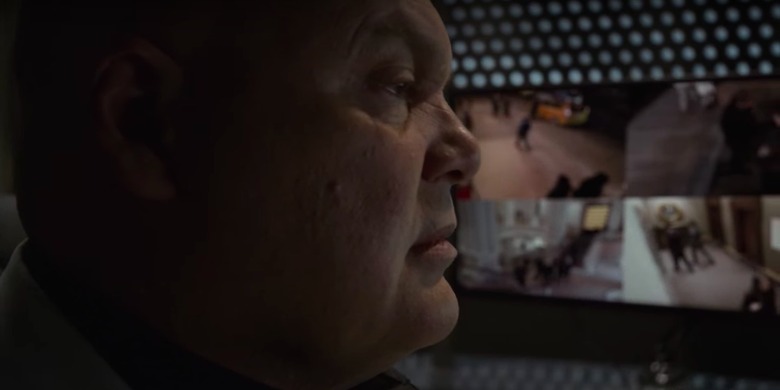 Wilson Fisk is one of the most complex villains to come out of the Marvel TV universe (probably besting most of the villains on the Cinematic side too), so it's a welcome return for Vincent D'Onofrio's character in the upcoming third season of Netflix's Daredevil.
The latest Daredevil season 3 teaser smartly spotlights the Kingpin, as he finally dons his classic comic book outfit and challenges Matt Murdock (Charlie Cox) to "let the Devil out."
Daredevil Season 3 Teaser
We get flashes of new footage from Daredevil season 3 in the brief new teaser spotlighting Wilson Fisk. Sitting at a table as a lightbulb revolves around him, we see Wilson change from his prison uniform back to his signature dark suit, then to the classic white suit from the comic book, all while delivering a fiery monologue that goes:
"Love blinded me. My love for the city, my love for her. Then the Devil took my throne, my freedom, and everything that mattered. But my eyes are open now and he'll never see me coming. So go ahead, let the Devil out."
In between the flashes from the lightbulb, we see Wilson leaving prison, where he spent much of season 2 after being defeated by Daredevil and arrested for his crimes as a mob kingpin at the end of season 1. But even in prison, he rose to the top of the ranks, manipulating Frank Castle (Jon Bernthal) to do his bloody will, and plotting his revenge against Daredevil once he left his cell.
As per the custom for the latest round of Daredevil teasers, the Daredevil Twitter posted the above video with the caption "1 Kings 14:9" which refers to the Biblical verse, "You have done more evil than all who lived before you. You have made for yourself other gods, idols made of metal; you have aroused my anger and turned your back on me."
It most definitely refers to this new, vengeful Wilson Fisk we will meet in season 3, as opposed to the complex, sympathetic killer we met in season 1. His wrathful monologue in this teaser even suggests that he'll cast aside the one person who made him redeemable: Vanessa Marianna (Ayelet Zurer), an art dealer with whom he fell in love. Which would be a little saddening, as Wilson and Vanessa' storyline was one of the shining parts of season 1, interwoven beautifully with Matt Murdock's struggle between love and vigilante life. But it would be in line with season 3's darker turn, which is set to loosely adapt Frank Miller's 1980 Born Again comics storyline. The notorious comic book arc follows the revelation of Daredevil's secret identity after Karen Page sells the knowledge to his enemies, which Kingpin then uses to destroy Matt's life. But Matt is saved by the mysterious Sister Maggie, who is revealed to be Matt's long-lost mother.
Daredevil season 3 premieres on Netflix on October 19, 2018.