Seth Rogen Will Be Pickled For 100 Years (In His New Movie)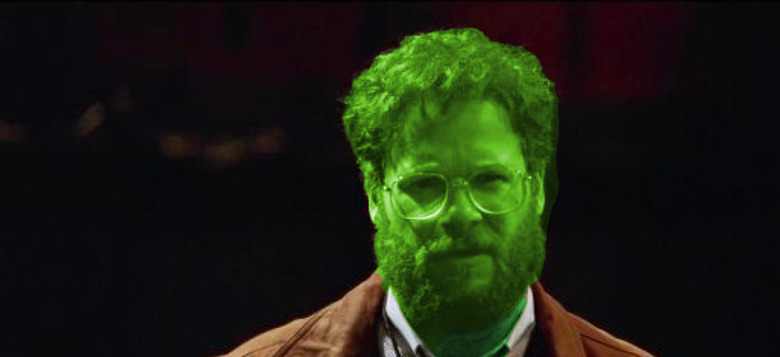 Hollywood has heard the cry of the people. "We demand a Seth Rogen pickle movie!" came the shouts from the masses. "We relent!" shouted Hollywood. "We shall give you your Seth Rogen pickle movie!" And there was much rejoicing. Rogen has signed on to produce and star in a movie about a pickle maker who falls into a vat of pickles and gets brined for 100 years. I promise I'm not making this up. More on this fabulous Seth Rogen pickle movie below.
Variety has the scoop of the century: Seth Rogen will be pickled. Rogen will star in and produce a film based on Simon Rich's New Yorker story Sell Out, in which the actor will play "Herschel Greenbaum, a struggling laborer who immigrates to America in 1918 with dreams of building a better life for his beloved family. One day, while working at his factory job, he falls into a vat of pickles and is brined for 100 years. The brine preserves him perfectly and when he emerges in present day Brooklyn, he finds that he hasn't aged a day. But when he seeks out his family, he is horrified to learn that his only surviving relative is his great grandson, Ben Greenbaum (also played by Rogen), a mild-mannered computer coder whom Herschel can't even begin to understand."
This sounds like a fairly amusing premise, and will mark Rogen's first live-action lead performance since 2015's The Night Before (since then, he's mostly produced, turned in supporting roles, or done voice work). The prospect of Rogen playing two characters – a 100+ year old man, and his great grandson – could also be a recipe for success.
The Sell Out movie (which doesn't have an official title yet) will mark the solo directorial debut of Brandon Trost, who co-helmed the cult film The FP, and served as cinematographer on flicks like The Lords of Salem and the Rogen films Neighbors and This Is the End. Simon Rich will adapt his own story into a screenplay.
"It's all about finding the right angle, right?" Rich said of his short story. "It's just about coming up with an original creative angle...with "Sell Out," I don't think I'm the first person to wonder what it would be like to meet their ancestors. I mean, there's hundreds of works of art about it—everything from Back to the Future to Time and Again deals with those issues—so it was just about trial by error, systematically telling the story in every conceivable way until I found one that felt fresh and interesting and honest."