'Top Gun: Maverick' Enlists 'The Good Place' Actor Manny Jacinto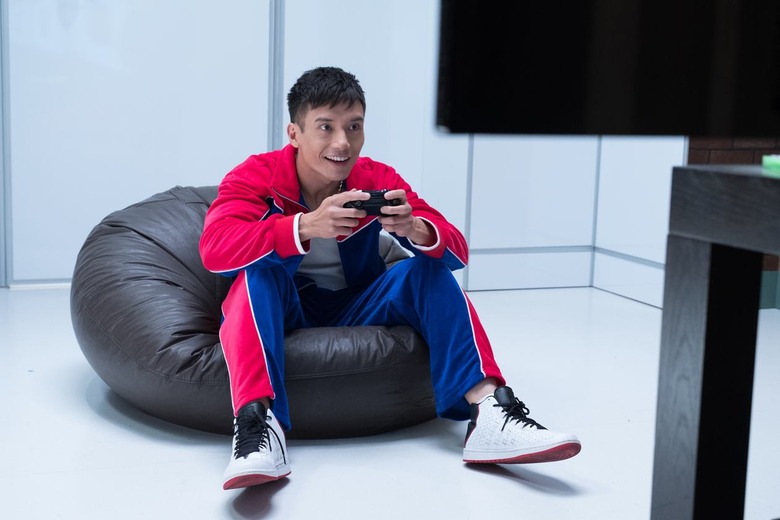 Top Gun: Maverick has enlisted another rising star to its crew. Filipino-Canadian actor Manny Jacinto, who can currently be seen on the riotously good NBC comedy The Good Place, has joined the Top Gun: Maverick cast as a pilot. He'll be joining a star-studded cast that includes Tom Cruise, Val Kilmer, Ed Harris, and Jennifer Connolly. 
Deadline reports that Jacinto has been tapped to join Top Gun: Maverick in the role of a pilot named Fritz. It's unclear whether that will be his character's real name or code name, but I'm leaning toward real name, since Fritz doesn't appear anywhere on the casting breakdown leaked last month. As for Fritz's colorful code name, my money's on Lardo.
Jacinto makes his first major feature film debut with Top Gun: Maverick, after his breakout role in The Good Place, as the beautiful idiot Jason Mendoza. Jacinto's proved to have major comedy chops with The Good Place in a performance so hysterical that it managed to distract from his stunning good looks. I would be happy to see him stretch his acting chops in a more serious role in Top Gun: Maverick, though I also wouldn't mind to see him bust out some hilarious one-liners as well. With Top Gun, it could go either way.
Jacinto is the latest to join the cast of the long-awaited Top Gun sequel, which is in the middle of a casting blitz following the confirmation that the original 1986 hit's stars Cruise and Kilmer were set to return. They were soon joined by a slew of big names, including Miles Teller as the coveted role of the son of Goose, the pilot who died in the arms of Cruise's Pete "Maverick" Mitchell after an ejection gone terribly wrong.
Other fresh-faced stars joining the new generation of pilots include Glen Powell (Everybody Wants Some), Thomasin McKenzie (Jojo Rabbit), Charles Parnell (A Million Little Pieces), Jay Ellis (Insecure), Bashir Salahuddin (GLOW), Danny Ramirez (Assassination Nation), and Monica Barbaro (The Good Cop). Meanwhile, Jon Hamm, Ed Harris, and Jennifer Connolly round out the cast.
We don't know much about the plot of Top Gun: Maverick, which will supposedly center around Cruise and Teller's characters. At one point, a script focused on drone warfare, but director Joseph Kosinski changed that when he landed the gig. "Personally, I would never want to see a movie about drones. For me Top Gun has always been not about fighter planes," the director said. "It's been about fighter pilots." The casting breakdown above, loaded with pilot names, confirms that's still the case.
Top Gun: Maverick opens July 12, 2019.