'Toy Story 4' Will Make You Ugly Cry Again, According To Tim Allen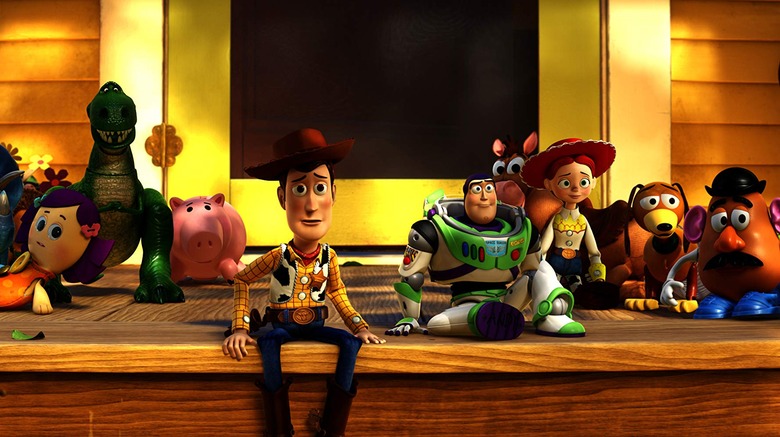 Toy Story and tearjerker go together like peanut butter and jelly, but it seemed impossible for Toy Story 4 to pass the emotional heights of Toy Story 3. Toy Story 3 is perfect and cathartic, and yet longtime franchise star Tim Allen promises that you will ugly cry again once you see Toy Story 4. We'll see, partner.
Allen has voiced the character of Buzz Lightyear since the first 1995 movie and he reprises the role once again in next year's highly-anticipated, and highly polarizing, sequel. Or maybe it's not polarizing and I'm the only one who is reluctant about a sequel to the perfect series capper that was Toy Story 3, which beautifully brought the story full circle. But Allen just gave Toy Story 4 the biggest vote of confidence it could get.
In an interview with The Talk (via MovieWeb), which he appeared on to promote the latest season of Last Man Standing, Allen revealed that Toy Story 4 packed such an emotional wallop that he couldn't get through the entire movie.
"Yes, I gotta resist getting emotional. I don't want to give it away, but this is an incredibly great story. It is so emotional, it's so funny, it's so big, the idea they've come up with, I'm startled. I couldn't even get through the last scene. I would love to be a Washington leaker. I just can't do it. I can't give any more away. They've got great characters but a couple of scenes toward the end were really hard to get through."
Allen couldn't get into specifics, of course — or maybe he couldn't. He got noticeable emotional while talking about the film, which comes nine years after the release of Toy Story 3, which itself came after a long gap from 1999's Toy Story 2. But from what we know of the plot, Toy Story 4 will follow Woody and Buzz as they embark on a quest to find Woody's romantic interest from the first film, Bo Peep.
Allen's emotional praise for Toy Story 4 is a good sign for the film, which has had quite a few behind-the-scenes stumbles. Originally, Rashida Jones and Will McCormack were on board to pen the film, but quit during the John Lasseter controversy. Pixar ended up rewriting a large portion of the screenplay, with Lee Unkrich, Andrew Stanton, Pete Docter, and Stephany Folsom all credited on the script, in addition to Jones and McCormack. The film will have a fresh director as well, with Josh Cooley helming the film after working as a storyboard artist on films like The Incredibles, Ratatouille, and Up.
Toy Story 4 was originally supposed to arrive this year but was ultimately delayed until June 21, 2019.