Burt Reynolds Replaced On 'Once Upon A Time In Hollywood' Cast With Bruce Dern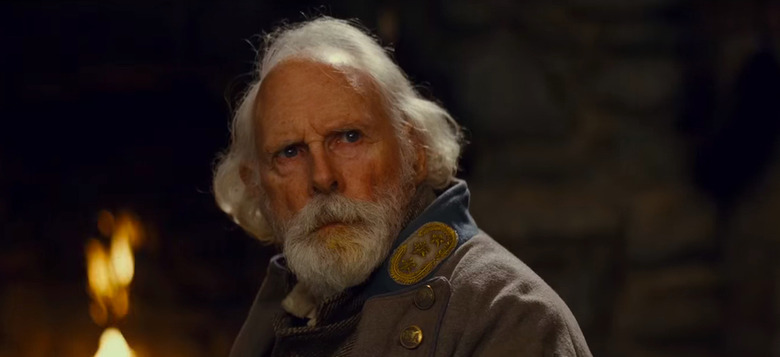 Burt Reynolds was set to play George Spahn in Quentin Tarantino's Once Upon a Time in Hollywood, but the actor died early this month before he had a chance to shoot any scenes. Now, Bruce Dern, who worked with Tarantino on The Hateful Eight, will take over Reynolds' part. More on the Once Upon a Time in Hollywood cast below.Deadline has the news about Dern joining the cast. Dern and Reynolds were friends for many years, so the actor stepping into Reynolds' role as George Spahn is fitting. Spahn was a nearly blind rancher who used to rent his land out to Hollywood for Westerns. In the late '60s, Charles Manson convinced Spahn to allow him and his followers to live at the ranch. In exchange for this housing arrangement, Manson had some of his female followers go to bed with Spahn, and also serve as his seeing-eye guides.Once Upon a Time in Hollywood is set over the summer of 1969, and focuses on a cavalcade of characters, with the Manson Family murders lurking in the background. "It takes place during the 1969 Hollywood era at the height of the counterculture explosion, at the time of the hippie revolution," Tarantino said. "During the summer, little by little, block by block, we'll be transforming Los Angeles in the psychedelic Hollywood of 1969."
Dern joins a loaded cast, which you can see below.
Once Upon a Time in Hollywood Cast
Leonardo DiCaprio as Rick Dalton, a washed-up Western TV star struggling to stay relevant in Hollywood.
Brad Pitt as Cliff Booth, Rick's longtime friend, and stunt-double.
Al Pacino as Rick Dalton's agent, Marvin Schwarz.
Margot Robbie as Sharon Tate, the actress who was murdered by members of Charles Manson's cult. She also just happens to be Rick's next door neighbor in the film.
Kurt Russell, Tim Roth, and Michael Madsen, all in currently undisclosed supporting roles.
Timothy Olyphant, in an undisclosed role.
Damian Lewis as actor Steve McQueen.
Dakota Fanning as Manson Family disciple Squeaky Fromme, who later tried to assassinate President Gerald Ford.
Nicholas Hammond as actor and director Sam Wanamaker.
Emile Hirsch as Manson Family victim Jay Sebring.
Luke Perry as Scotty Lancer, who may or may not be based on a television actor of the same name.
Clifton Collins Jr. as a character named  Ernesto The Mexican Vaquero.
Keith Jefferson as Land Pirate Keith.
James Marsden in an undisclosed role.
Julia Butters in an undisclosed role.
Scoot McNairy as Business Bob Gilbert.
Mike Moh as Bruce Lee.
Lena Dunham, Maya Hawke, Austin Butler, and Lorenza Izzo as some of Manson's follows.
Rafal Zawierucha as Roman Polanski.
And Damon Herriman as Charles Manson.
Once Upon a Time in Hollywood opens August 9, 2019.