MoviePass App Downloads Have Dropped By 76% In The Last Three Months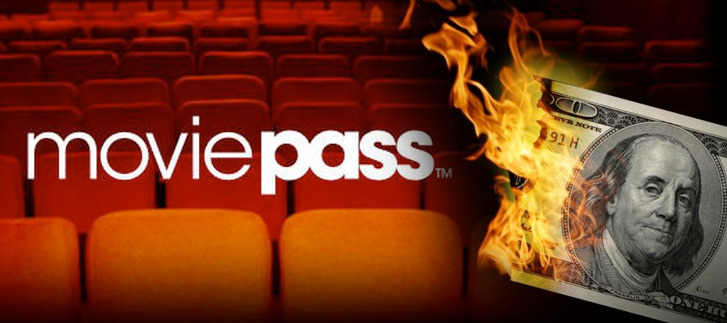 The news just keeps getting worse for MoviePass. Since implementing a series of unpopular changes along with their extremely limited new subscription plan, the ticket-buying app has taken tons of hits — from shareholders, from competitors, and even from its own subscribers. Now, the one thing it had going for it is taking a nosedive as well: new subscribers.
MoviePass app downloads have been dropping exponentially for the past three months. According to a report from Sensor Tower Store Intelligence data, first-time downloads MoviePass' mobile app have plummeted by 76% over the last three months.
MoviePass had its first brush with death in July when it literally ran out of money and had to temporarily shut down. Since then, it's all been downhill from there, with MoviePass desperately implementing new changes — raising prices, then lowering them again, limiting movie availability, then expanding it again. And then there was that whole kerfuffle with current subscribers thwarted when they attempted to cancel their plans.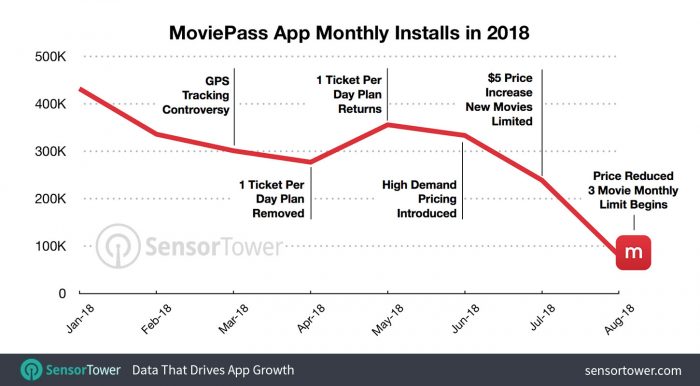 But we can see that it all started in June — and hence the first sign of new app downloads — when MoviePass introduced the high-demand pricing, which ultimately caused tons of tears and app crashes for everyone.
MoviePass saw 330,000 new app downloads in June, but just two months later, that number dropped to an estimated 80,000 in August. August was the month that MoviePass took the biggest hit, dropping 67% from July. All of this means they have a -19% growth rate for the 2018 year. Which even non-business majors can tell is not good.
So is this the end for MoviePass? We thought so back in July, but the subscription service has been limping on since then. And I continue to be a loyal subscriber (one of the last, I know), at least until my annual plan runs out. Perhaps the longtime loyal customers could keep MoviePass from exploding in a trash fire. Or maybe one of the many new subscription services will soon take its place.