'House Of Cards' Season 6 Trailer: Robin Wright Is In Command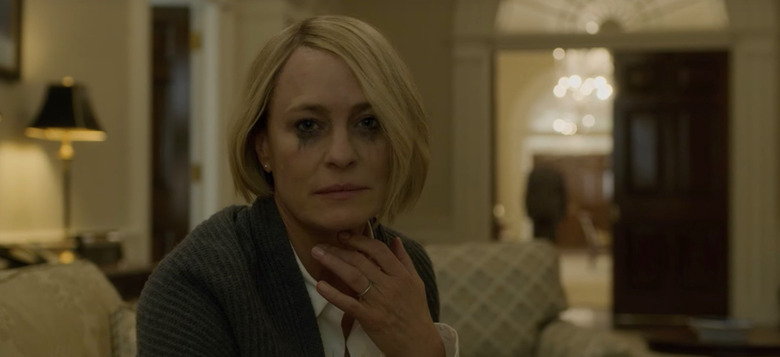 President Claire Underwood is ready to address the nation in the latest House of Cards trailer. Frank Underwood (Kevin Spacey) is gone, leaving Claire (Robin Wright) in command. But as this trailer shows, her presidency isn't going to be smooth sailing. And as one character says, "The bodies are piling up." Watch the House of Cards season 6 trailer below.
House of Cards Season 6 Trailer
House of Cards has gone through a very big change between seasons 5 and 6. Star Kevin Spacey was fired in the wake of multiple sexual assault allegations, at which point many wondered if the show would return for a final season at all. Rumors surfaced that the series was done for good, but a vocal online contingency pushed for co-star Robin Wright to be elevated to lead in order to finish things out. And that's exactly what happened. Wright's Claire is now the President of the United States, and Spacey's Francis is dead. As Claire assumes control, she appears to be opposed at all sides. And it's only a matter of time before the Underwood's dark past catches up with her.
Season 6 will also introduce Diane Lane and Greg Kinnear as "Annette Shepherd and Bill Shepherd, a sister and brother who inherited Shepherd Unlimited, a leading industrial conglomerate whose family foundations exert a powerful behind-the-scenes force in the American political landscape. The two share a vision for the future of America, as well as a complicated past with the Underwoods." Meanwhile, Cody Fern plays "Duncan Shepherd, Annette's ambitious and devoted son, who represents the next generation of DC power players."
All things considered, this is a very effective trailer. House of Cards has felt like it's been spinning its wheels for a few seasons, but there's a chance season 6 will end things on a high note. At the very least, it's nice to see Robin Wright in the lead, and in hindsight, I wish she had been the lead on this show from the beginning.
House of Cards season 6 premieres November 2, 2018 on Netflix.
Golden Globe winner and Emmy Award nominee Robin Wright returns as President of the United States in the award-winning, landmark series House of Cards. Wright is joined by Academy Award nominees Diane Lane and Greg Kinnear as well as Cody Fern this season alongside Emmy Award nominee Michael Kelly, Jayne Atkinson, Academy Award nominee Patricia Clarkson, Emmy Award Nominee Constance Zimmer, Derek Cecil, Campbell Scott and Boris McGiver.
Melissa James Gibson and Frank Pugliese continue as showrunners for season six, and they serve as executive producers along with Robin Wright, David Fincher, Joshua Donen, Dana Brunetti, Eric Roth, Michael Dobbs and Andrew Davies. Created for television by Beau Willimon. House of Cards is produced by Donen/Fincher/Roth and Trigger Street Productions, Inc. in associated with Media Rights Capital for Netflix.