'Robin Hood' Trailer: Don't Forget, There's Another Robin Hood Movie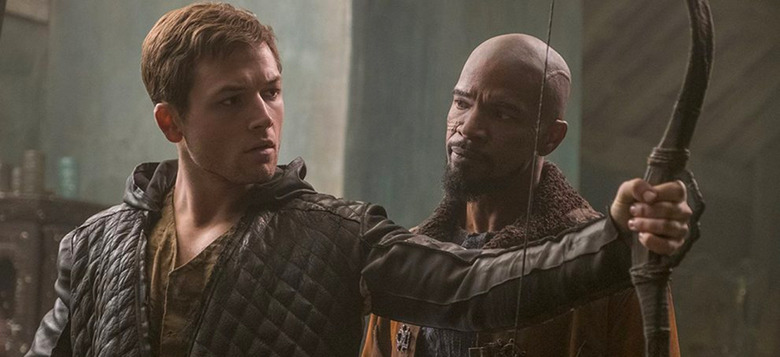 Here's yet another trailer for the latest take on Robin Hood, featuring Kingsman actor Taron Egerton as the legendary outlaw. The new Robin Hood takes a gritty approach to the material, complete with slow-motion action beats and borderline futuristic design choices. But are audiences in the mood for yet another tale from the Hood? We'll know soon enough. Watch the Robin Hood trailer below.
Robin Hood Trailer
Remember Robin Hood? He's back, in Taron Egerton form. Every few years, Hollywood decides to retell the story of Robin Hood, be it in the form of a cartoon fox or Kevin Costner. What more is there to add to the legend? While this film is set firmly in the past, director Otto Bathurst is approaching it as a somewhat modern story.  "In my mind, Robin Hood was this sort of seriously militarized anarchist revolutionary, a freedom thinker and a truth seeker," the filmmaker told EW. "And the more I got into the story, it just became startling how utterly relevant it is to what's going on in society now."
I suppose that might work. At the very least, this new Robin Hood has a slick visual aesthetic going for it. It also has the presence of the always-dependable Ben Mendelsohn (Rogue One, Ready Player One) as the villainous Sheriff of Nottingham. While I worry about the very talented Mendelsohn getting typecast as villains (he's playing the villain in Captain Marvel next), I'm always glad to see him.
Jamie Foxx (Baby Driver, Collateral) is playing Little John, Robin Hood's BFF, and in this version, mentor. The Knick's Eve Hewson portrays Maid Marion. And Fifty Shades of Grey's Jamie Dornan is Will Scarlett. As for what type of action we can expect in this new Robin Hood, producer Basil Iwanyk previously told Collider that the film is going to have a John Wick feel:
"The images of Robin Hood, the imagery we have, the production design, the stunt work that we're doing—a lot of it was inspired by the John Wick stunt work. The stuff we're doing with the bow and arrow, it's the same thing that Keanu does with the gun. The costumes, it just feels different than any other Robin Hood we had."
I don't really get a John Wick vibe from this trailer at all, but I guess we just have to wait for the movie itself. Robin Hood arrives in theaters November 21, 2018.
Robin of Loxley (Taron Egerton) a war-hardened Crusader and his Moorish commander (Jamie Foxx) mount an audacious revolt against the corrupt English crown in a thrilling action-adventure packed with gritty battlefield exploits, mind-blowing fight choreography, and a timeless romance.