'Burning' Trailer: Steven Yeun Has A Dangerous Hobby In South Korea's Oscar Hopeful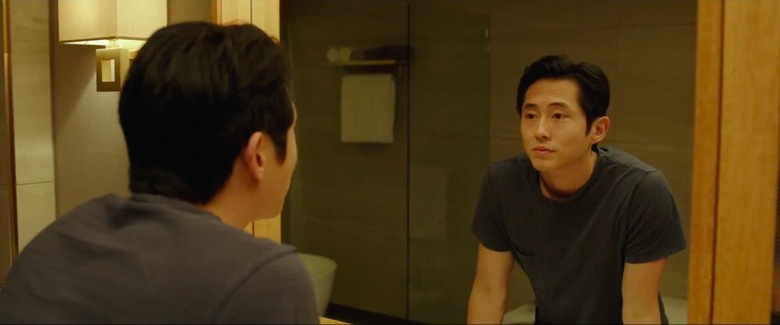 Lee Chang-dong's Burning is cutting a hot streak through the film festival circuit this year, winning acclaim at the Cannes Film Festival earlier this year, with buzz only building through Telluride, TIFF, and more. Now, the official Burning trailer has been released for the film that could finally get South Korea its long-awaited Oscar nomination.
Burning Trailer
As strange as it sounds, South Korea has never had a film nominated for an Oscar. Despite a rich cinematic history that includes some of film circles' favorite auteurs like Park Chan-wook (The Handmaiden, Oldboy) and Bong Joon-ho (The Host, Okja), that golden statuette has eluded South Korea. But this could finally be the year that the country gets a coveted Oscar nomination, thanks to Lee Chang-dong's Burning, which has been receiving raves since it premiered at Cannes earlier this year. Plus, it has the advantage of starring Korean-American star Steven Yeun, who impressed last year in his first Korean-language film, Okja.
Yeun gives a particularly creepy performance as a rich playboy with a dangerous past time — the titular "burning" of abandoned greenhouses. In his TIFF review of Burning, /Film's Chris Evangelista calls Yeun "remarkable here – throwing off vibes of sexy, charming menace coupled with an eerie indifference," adding that this "hypnotic" film is "unlike anything else you're likely to see this year." He writes:
It's remarkable how engrossing this film is. Watching Burning is like gazing into a flickering fire that's slowly burning out. It hypnotizes us; stuns us. We cannot look away. And all the way, the narrative moves at a near-glacial pace – a pace that should, in theory, be frustrating, but instead works to the film's favor. Thanks to this pacing, Burning builds and builds, and just when it seems like that fire is about to be snuffed out for good, it suddenly flares up again – raging, hot, and all-consuming.
Burning is based off a Haruki Murakami short story "Barn Burning," transporting the story to modern-day Seoul. The film follows Lee Jong-su (Yoo Ah-in) after he runs into a former childhood neighbor Shin Hae-mi (Jeon Jong-seo), who he soon falls head over heels for, despite not recognizing her. But when she returns from a trip to Kenya in the arms of rich playboy Ben (Yeun), Lee Jong-su grows obsessed with both, transforming the film into an unnerving thriller.
Here is the synopsis to Burning:
Jongsu, a part-time worker, bumps into Haemi while delivering, who used to live in the same neighborhood. Haemi asks him to look after her cat while she's on a trip to Africa. When Haemi comes back, she introduces Ben, a mysterious guy she met in Africa, to Jongsu. One day, Ben visits Jongsu's with Haemi and confesses his own secret hobby.
Burning opens in U.S. theaters on October 26, 2018.