Sequel Bits: 'Crazy Rich Asians 2', 'Star Trek', 'Bumblebee', 'Westworld', 'Creed II', 'Ralph Breaks The Internet', 'Sister Act', 'Terminator'
In this edition of Sequel Bits:
Jon M. Chu offers an update on Crazy Rich Asians 2.
Patrick Stewart announces the beginning of the Picard Star Trek spin-off show.
Director Travis Knight breaks down the Bumblebee trailer.
Filming has begun on the new Charlie's Angels, and Westworld's Jonathan Tucker has joined the cast.
New posters for Creed II.
The Japanese Ralph Breaks the Internet trailer has some new footage.
Whoopi Goldberg will have a cameo in the Sister Act reboot.
Arnold Schwarzenegger shares an image of himself and Linda Hamilton from the new Terminator.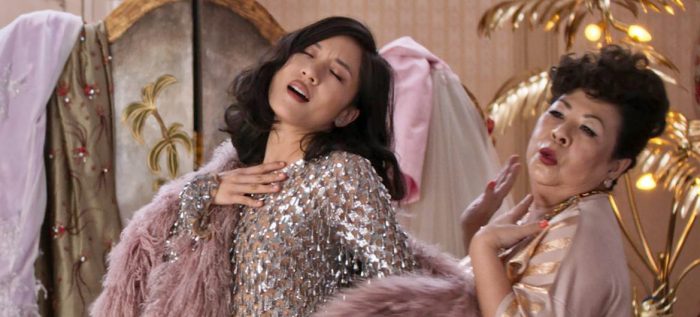 Crazy Rich Asians was a big hit, and everyone wants a sequel. Sequel talk started almost immediately after the film came out, and now we're all playing the waiting game. So is director Jon M. Chu.  "I'm down to do the next two movies. We've been talking a lot about it, but we still have to close my deal on it," Chu told Variety, adding: "We would love to have the cast back...We have such a deep bench of cast and we only used them a little bit. We would love to show them off a lot more." Crazy Rich Asians is a book adaptation, and there are two other books in the series: China Rich Girlfriend and Rich People Problems, so the material is just waiting to be adapted.
The journey has begun. Kirsten Beyer, Michael Chabon, Akiva Goldsman, Diandra Pendleton-Thompson, James Duff, and yours truly. #StarTrek pic.twitter.com/GxhwkTIgWQ

— Patrick Stewart (@SirPatStew) September 24, 2018
CBS All Access decided to make it so and give a Captain Picard Star Trek spin-off a go. Patrick Stewart is back as the famous captain, and production on the show is apparently gearing up already. Stewart posted the above image on Twitter, showing himself surrounded by the creative team responsible for the show, including Kirsten Beyer, Michael Chabon, Akiva Goldsman, Diandra Pendleton-Thompson, and James Duff. Having Michael Chabon, author of The Amazing Adventures of Kavalier & Clay and one of the co-writers of Spider-Man 2 on board is a definitely a plus. Details remain scant for the time being, but fans are no doubt very excited for this.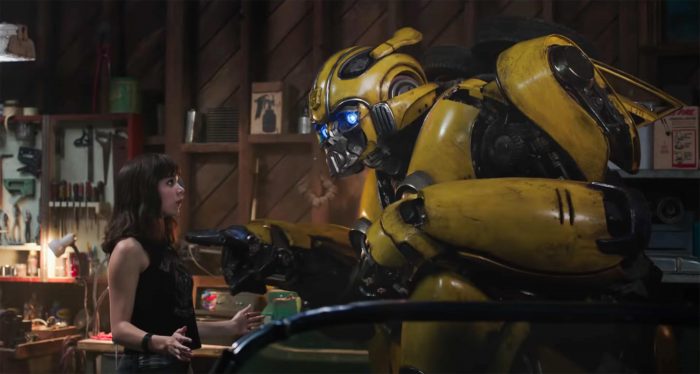 Director Travis Knight stopped by Empire to provide a breakdown of the latest Bumblebee trailer. "This film is Bumblebee's story," Knight says. "It's effectively an origin story, where we see how he became the character that he is, where he came from, how he evolved. The Transformers film mythology is massive, it's expansive, it's huge. This film is an opportunity for us to focus in on one aspect of that canvas and that is Bumblebee. He has his Autobot family, he has these baddies that he goes up against. That is an aspect of his story but fundamentally it's about his relationship with this girl Charlie and how essentially they find each other and make each other whole. There are other layers at play but that is at the core of the story." The filmmaker goes on to discuss John Cena's character, the new/old look of the Transformers, and more. Head on over to Empire to read the full breakdown.
Continuing the legacy of telling the story of three incredible women working together. #womeninfilm #CharliesAngels #DayOne #2019 #femalefilmmaker @SonyPictures pic.twitter.com/p8QCNhjBP8

— Elizabeth Banks ❄️ (@ElizabethBanks) September 24, 2018
Elizabeth Banks' reboot of Charlie's Angels has begun shooting, and here's the slate to prove it.  Kristen Stewart, Naomi Scott and Ella Balinska play the new Angels, while both Banks and Patrick Stewart play versions of the character Bosley. The film will focus on "the next generation of Angels working for the mysterious Charlie." This new version will also have multiple Charles Townsend offices operating all over the world, giving the Angels an international reach.
In addition to all this, Deadline is reporting Jonathan Tucker, who has appeared on Hannibal and Westworld, has joined the cast. Deadline doesn't specify which character Tucker is playing, but I'm just going to guess it's some sort of villain, since he tends to play creeps. Charlie's Angels opens on September 27, 2019.
Above you'll see two new posters for Creed II. One shows Sylvester Stallone's Rocky and his ever-present hat. The other shows Michael B. Jordan's Adonis Creed yelling in either agony or triumph. I like the juxtaposition here: Rocky is outside the ring, while Adonis is in. Creed II finds Adonis stepping into the ring with Victor Drago, son of Ivan Drago – the man who killed his father. I don't know if this will lead to as great a film as the first Creed, but I can certainly hope. The latest trailer certainly has me enthused. Creed II opens November 21, 2018.
The good news: this international Ralph Breaks the Internet trailer has some new footage! The not so good news: it's in Japanese, so you might not be able to understand any of the dialogue. But if you just want to see some new scenes, here's your chance. Ralph Breaks the Internet finds "Ralph and Vanellope embarking on an adventure inside the internet to find a spare part to fix a video game." I liked the first Wreck-It-Ralph, but every trailer for this sequel makes it look like Disney Advertisement: The Movie. I get it: Disney owns all this stuff, and they're proud of it. But I need more than brand awareness from my entertainment. Ralph Breaks the Internet opens November 21, 2018.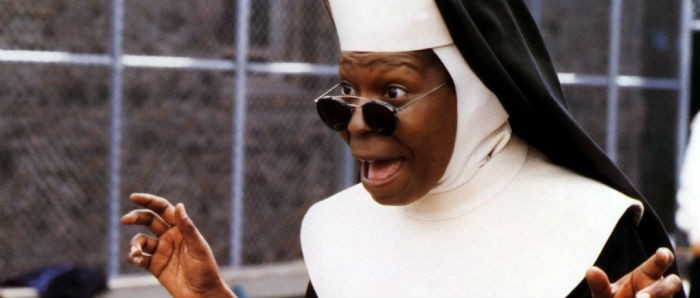 Did you remember they were making a Sister Act remake? It's true! Disney actually announced a remake all the way back in 2015. Now, it appears to be finally happening. And original Sister Act star Whoopi Goldberg will be back for a cameo. "So we've been all over Disney begging, and they've decided that they're going to go in a different direction with Sister Act. So it won't be Sister Act 3, it will be a brand new rendition of Sister Act – and I guess I'll walk through a scene, and that's how they'll say I was part of it," Goldberg said to Good Morning Britain. The original Sister Act starred Goldberg as a lounge singer who goes into witness protection in the guise of a nun after she witnesses a murder. There are no specifics at the moment, but if I had to guess, I'd say this remake is going to end up as one of the originals on Disney's streaming service, Disney Play.
Happy birthday to my dear friend Linda Hamilton. One of my favorite co-stars, a true badass, and a wonderful human being. I'm pumped to be back together again. pic.twitter.com/jTaBLQK2qv

— Arnold (@Schwarzenegger) September 26, 2018
The new, still-untitled Terminator film brings back both Arnold Schwarzenegger and Linda Hamilton. Arnold took to Twitter to both wish Hamilton a happy birthday, and share a behind-the-scenes look pic from the film, contrasted with an older image of the two. Deadpool director Tim Miller is helming the new Terminator, with original Terminator director James Cameron back to produce. Mackenzie Davis, Gabriel Luna, Natalia Reyes and Diego Boneta round out the cast. We still don't know just what this movie is about, but I'm guessing it involves Terminators. Terminator opens November 15, 2019.