What Cable Or Streaming TV Series Might Have A 20-Year Time Jump For Next Season?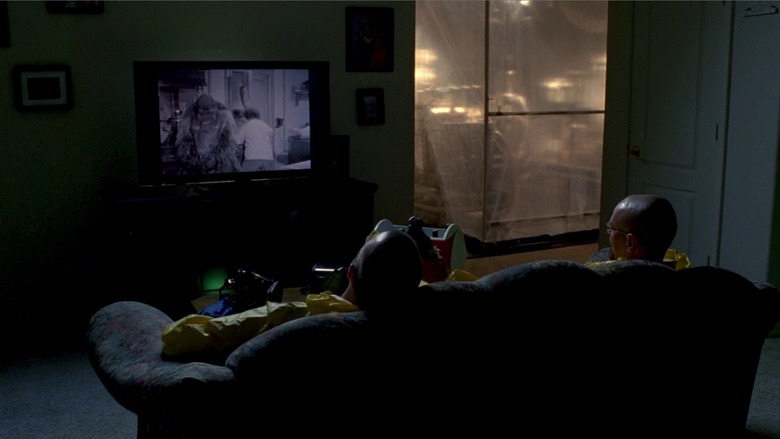 Time jumps are par for the course with TV — some shows use it to inject some energy into an inert season, others use it to fast-forward character development, while others use it as a narrative device to tie together the past and the present (and sometimes the future). They're a polarizing plot device that are rarely used well outside of a few prestige dramas and LOST. But rumor has it that one cable or streaming series will enact the most ambitious time jump yet: jumping ahead by 20 years.
According to TV Line, a "popular drama series is looking to shake things up creatively by jumping ahead in time by upwards of two decades." The outlet reports:
A source cautions that the ambitious idea — which would likely find several of the show's cast members quadrupling their time in the makeup chair in order to authentically morph into their now-older characters — is still in the planning stages and a number of stars (both literal and figurative) would have to align in order to pull off such a narrative gamble.
This mystery series is an established, well-beloved show from either a cable or streaming entity, so not one of the Big 5 broadcast networks like ABC, CBS, NBC, Fox or The CW. And while it's unclear how much of the season will take place in the future setting, TV Line notes that it's also possible that the mystery series will toggle between eras throughout the season like This is Us, Outlander, or Westworld. So it's time to play the detective game.
Streaming services Netflix, Hulu, and Amazon Prime, and cable networks HBO, AMC, FX, USA, Showtime, and maybe Starz all carry the most popular prestige dramas today. Let's list some possibilities:
The Crown: This is the most likely culprit, as we already knew that the Netflix period drama was readying itself for a big time jump with an older cast. Each season of the show is meant to highlight approximately ten years, which means with The Crown season 3, we're already 20 years into Queen Elizabeth's reign. Then again, this rumor seems to be referring to something with heavy facial prosthetics and which would be a radical move for the show, while The Crown has already anticipated a decades-long time jump. So maybe we can cross out The Crown.Stranger Things: Those kids ain't getting any younger! Maybe the series will pull an It or The Sandlot, and cast adult versions of the kids looking back on those wild days fighting a supernatural creature in their hometown. Or maybe by the time Stranger Things season 3 comes out, they'll be old enough to play their adult selves.The Handmaid's Tale: This show has gone way past the books (and arguably off the rails). They could do anything! And Elisabeth Moss acting her ass off in old-age make-up will guarantee her the Emmy.The Man in the High Castle: As one of the few sci-fi shows on the list, this one's a total possibility. And they're the ones that feel likely to use old-age facial prosthetics, versus cable dramas like Westworld (where there already have been several time jumps and everyone looks 30-something) or The Walking Dead (where the facial prosthetics wouldn't match well with zombie-killing). I don't watch The Man in the High Castle, but if it's an alternate reality, why not throw some time travel in!The Walking Dead: Speaking of The Walking Dead, this is another possibility because the comics recently had a time jump of a few years, though it wasn't as far as 20. With Andrew Lincoln's Rick Grimes on his way out, it's possible that The Walking Dead could keep lumbering along with a new generation of zombie killers. Anything to keep AMC's golden child on the air.Westworld: Again, the time jump is likely, but the facial prosthetics are not. They're robots, they can look as young as they want!Game of Thrones: The eighth (or seventh part 2) final season of HBO's flagship fantasy series took an extra year and extra precautions for production, which could mean that Game of Thrones is keeping a potential time jump under wraps. It's totally possible since George R.R. Martin, when writing the A Song of Ice and Fire series, had originally intended to write a time jump after the events of A Storm of Swords, but instead decided to plot it out through the following two books, A Feast for Crows and A Dance with Dragons. The series could execute Martin's original plan and push the series ahead 20 years, with the War of Kings still raging on while Winter has descended and the Whitewalkers attack. It would explain how everyone gets around Westeros so damn fast.
What show do you think could get a 20-year time jump?