'Monster Hunter' Casts Ron Perlman, T.I. Harris In Milla Jovovich Video Game Movie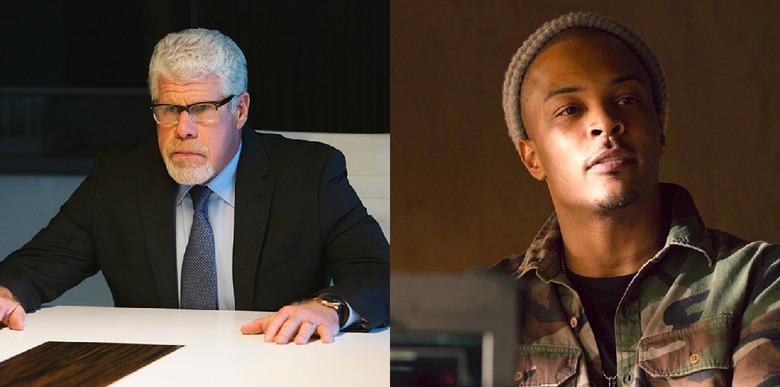 The Monster Hunter cast is starting to look bulk up. Joining video game movie veteran Milla Jovovich in Screen Gems' adaptation of the Capcom video game are Hellboy's Ron Perlman and rapper-turned-actor T.I. Harris.
Ron Perlman and T.I. Harris are the latest to join the cast of Monster Hunter, which will be written and directed by Resident Evil's Paul W.S. Anderson, according to The Hollywood Reporter. Milla Jovovich, the star of Anderson's Resident Evil franchise, will be tackling a video game adaptation once again as the lead of Monster Hunter, as a character named Artemis.
Harris is playing Link, a sniper, while Perlman will play a man named Admiral, the leader of the Hunter's Crew. The Capcom game is a fairly straightforward fantasy-themed action RPG that allows s players to take on the role of a Hunter who tracks and kills monsters, while leveling up with weapons and gear. The plot for the movie is still up in the air, but here is Deadline's old logline for Monster Hunter:
For every Monster, there is a Hero. An ordinary man in a dead end job discovers that he is actually the descendant of an ancient hero. He must travel to a mystical world to train to become a Monster Hunter, before the mythical creatures from that world destroy ours.
Perlman is no stranger to genre films, having famously starred in Hellboy and its sequel Hellbow II: The Golden Army, as well as films like Pacific Rim. And this isn't his first brush with video games either, boasting a robust voice acting resume in franchises such as Fallout and Call of Duty. Meanwhile, Harris is fleshing out his acting career after appearing in a scene-stealing supporting role in the Ant-Man films.
With the addition of Perlman and Harris, we're one step closer to that Monster Hunter cinematic universe that Anderson has been hoping to launch as far back as 2016. "What I love about Monster Hunter is the incredibly beautiful, immersive world they've created," Anderson had said. "It's on the level of like a Star Wars movie, in terms of world creation."
It's unclear whether Screen Gems is heading into Monster Hunter with the intent to start a cinematic universe, but the project will reportedly fall in the $60 million range. THR reports that Monster Hunter is set to begin shooting next month in South Africa.