'Venom' International Marketing Makes Venom A Good Boyfriend And A Worrisome Son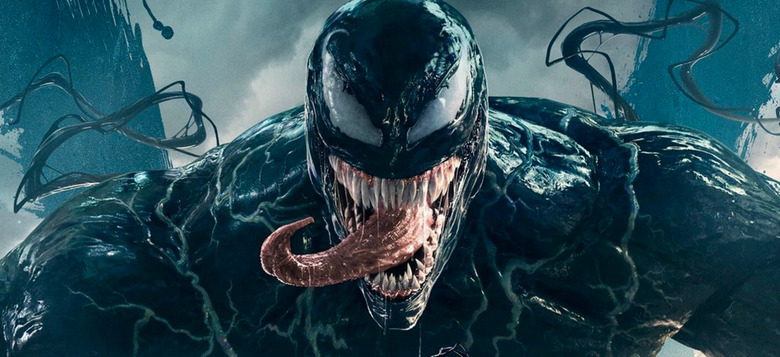 The US marketing for Venom has left a lot to be desired. But the Venom international marketing is killing it. Two new pieces of international marketing for the anti-superhero flick embrace silliness and humor, painting Venom as a helpful boyfriend and a troubled son, while all the domestic marketing has played up darkness. The message is clear: let Venom have some fun.
Sony Pictures' official Chinese Weibo account (h/t Twitter user Darren Mooney) uploaded the following super cute art depicting everyone's favorite slime-monster as a very helpful boyfriend. Venom uses his symbiote powers to serve as a selfie-stick, an umbrella, a shopping-bag carrier, and a subway buddy. It's adorable!
Shopping Venom is my favorite. I also love the pastel coloring – I wish the actual Venom movie looked like this, instead of just bathed in a dark blue filter. It's worth noting that this could be fan art, and not something officially commissioned to advertise the film. Still, it did appear on the Sony Weibo page, which means Sony is fine with using it to promote the movie
Meanwhile, Sony Pictures India uploaded a GIF in the guise of a text conversation between mother and son, called "When your inner anti-hero chats with mom." A doting mother asks her child if he's going to grab some food, to which the son replies, "Yes, will feast on some bad guys on my way home." The mother understandably accuses her boy of being drunk, and demands he send her a selfie to prove he's sober (?), to which the son uploads a picture of Venom. Mom is terrified, and with good reason. Again, this is goofy, and I love it. Embrace the goofiness, Venom!
How would your mom react if she comes across your inner anti-hero?
Comment now & see #Venom on Oct 5. pic.twitter.com/3opcPuMXVz

— Sony Pictures India (@SonyPicsIndia) September 25, 2018
Finally, back in the good old U.S. of A., the marketing continues to stink. Venom is "taking over" Walmart to release "Venom-inspired" packaging on certain films. Here's the announcement on Twitter:
We're taking over @Walmart with #Venom-inspired packaging on some of your favorite movies and exclusive @OriginalFunko Pop figures – head in store to check it out today. pic.twitter.com/0vlgvLDcam

— #Venom: Let There Be Carnage (@VenomMovie) September 26, 2018
As you can see, this means you can now buy a Ghostbusters Blu-ray covered in black slime. You can also pick up some Funko Pop figures that have been Venom-ized. I suppose someone out there might enjoy this, but as for me, I'd rather see more artwork of Venom being a good boyfriend.
Journalist Eddie Brock is trying to take down Carlton Drake, the notorious and brilliant founder of the Life Foundation. While investigating one of Drake's experiments, Eddie's body merges with the alien Venom — leaving him with superhuman strength and power. Twisted, dark and fueled by rage, Venom tries to control the new and dangerous abilities that Eddie finds so intoxicating.
Venom opens October 5, 2018.