'A Star Is Born' Teaser Finally Features A New Song, Plus Expect 'Shallow' To Drop On Friday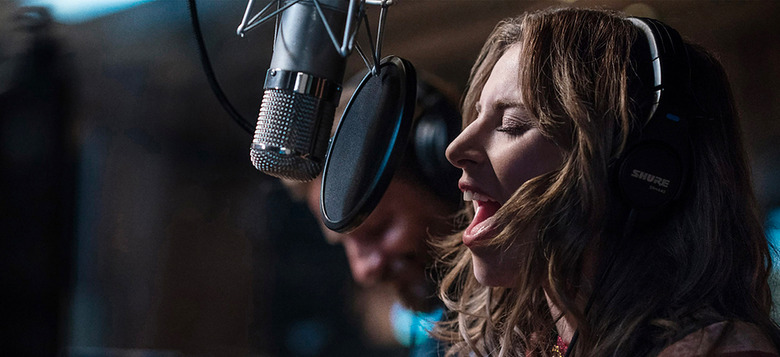 The buzz surrounding A Star Is Born is already through the roof, and the film hasn't even come out yet. If you've yet to catch the film, you've only heard snippets of a few songs featured in the trailer. Now, a new A Star Is Born teaser provides us with (part of) a new song from the soundtrack – "Is That Alright?" You can hear it below. Plus, you can expect the full version of "Shallow", the song prominently featured in the trailer, to drop this Friday.
A Star Is Born Teaser
Is that alright? #AStarIsBorn pic.twitter.com/aTsNiTmMXD

— Lady Gaga (@ladygaga) September 25, 2018
Lady Gaga took to Twitter to share this excerpt from "Is That Alright?", one of the original songs from the A Star Is Born soundtrack. It's fantastic, and builds to a characteristically powerful, booming ending. Let me tell 'ya, that Lady Gaga can sing, folks! And since no A Star Is Born footage would be complete without it, this teaser ends with the scene where Bradley Cooper tells Lady Gaga he just wants to take another look at her, and she flashes him a goofy smile.
I saw A Star Is Born at TIFF, and it won me over. Gaga's performance – and her signing voice – are the main attractions here, and neither element disappoints. As I wrote in my review:
"Like a catchy cover of a classic tune, A Star Is Born manages to make the old seem new again. You know the story – and you should, because this is a remake of a remake of a remake. And yet, director Bradley Cooper keeps it fresh. He has a lot of help, primarily from Lady Gaga, who blows the fucking roof off this joint from the get-go, coming out strong and never once letting up. Despite what several publications have suggested, this is not Ms. Gaga's acting debut. But it might as well be, because her performance here is a revelation. Fierce, fragile, funny and blessed with killer pipes, the singer-turned-actress is wholly believable. One could argue that she's essentially playing a fictionalized version of herself, but that doesn't matter. What matters is how captivating she is."
If you're jonesing for even more A Star I Born songs, you're in luck. Word has it that "Shallow" – the song that pops up at the end of the main Star Is Born trailer (you know, the one where Lady Gaga leans into the mic and belts out one long note) – will be dropping online this Friday. So get your ear holes ready for that!
"Shallow" by Lady Gaga and Bradley Cooper drops this Friday. Pre-order now: https://t.co/3GJreQq7tt pic.twitter.com/2ZuGii29CZ

— Gaga Daily 🃏 (@gagadaily) September 25, 2018
A Star Is Born, and its soundtrack, both arrive on October 5, 2018.