'The Night Comes For Us' Review: A Bloody, Action-Packed, Punch-A-Minute Thriller [Fantastic Fest]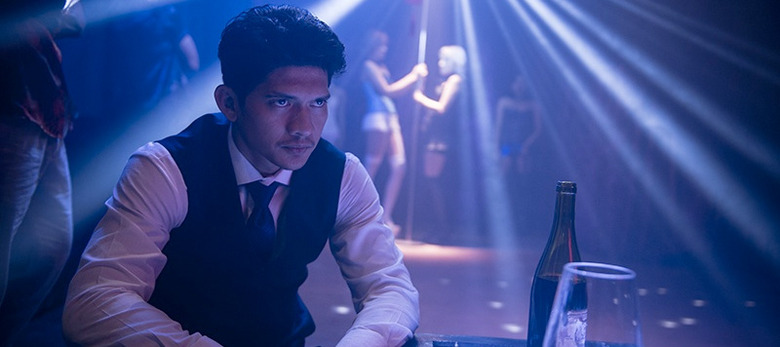 When writer/director Timo Tjahjanto introduced The Night Comes For Us to an eager Fantastic Fest crowd, he promised "a truckload" of dead bodies would stack tall in his "Asian-on-Asian" Triad brutalizer. Carcasses maimed, mangled, and beaten to pulpy piles of mush by a cast of The Raid and Headshot veterans. Maybe a Ford F-150 sized "truckload," I wondered? Not even close. The Night Comes For Us is a bloody, action-packed gangland punch-a-minute thriller that might as well be The Raid 3 based on style and body count. Tjahjanto kicks infinite ass and beats boredom into a sniveling oblivion.
Find out more in our The Night Comes for Us review.
Joe Taslim stars as an ex "Six Seas" agent responsible for guarding a Southeast Asian passage where illegal goods are smuggled. His duties bring him to a small village where only a few citizens have double-crossed underworld bosses, but he's asked to gun down every innocent bystander. He does, except for a young girl who he can't kill, so he murders his own hit squad and takes the child home as a means of redemption. This turns the Triad against him, who sick their nastiest dog – played by Iko Uwais – on Taslim's hero. From here it's a fight to the death over control and fate. A gruesomely savage, apocalyptic-level-destruction fight that'd make Mortal Kombat combatants blush.
No. Seriously. Get your stompin' boots ready and lay out a tarp.
Welcome to The Night Comes For Us, where EVERYTHING IS A WEAPON. Caution signs. Netted pool table pockets filled with heavy balls. Meat locker hooks. Tjahjanto drenches his massive battlefield playground in unfathomable amounts of brutality. There's more bloodshed than a Gareth Evans exploitation outburst and stupid loads of next-level thug decimation. Taslim displays no shortage of leading charisma when it comes to snapping limbs, exposing brains, and dragging knives straight down forearms because HOLY OWIE. The Night Comes For Us is energetic, ridiculous, off-the-wall genre excitement on a level we rarely witness.
It's not just Taslim and Uwais. Julie Estelle, Sunny Pang, Zack Lee – all students of either Evans or Tjahjanto. Expect boss battles after hordes of henchmen are manhandled. Outmatched attackers feel every ounce of pain – mainly because Taslim's crew slashes them gut-to-face – but it becomes evident that The Night Comes For Us doesn't rely on one or two showstopper sequences. Uncountable masses of martial artistic roguishness are hand-delivered, and what transpires is almost two-hours worth of Indonesian underworld button-mashing with mini-scene fatalities out the wazoo. The Night Comes For Us is bloody with a capital "Fuck You," from police van brawls to three-way all female beatdowns to an impossibly masterful finale that makes good on every Joe Taslmi vs. Iko Uwais showdown promise. You're not leaving this one without a few bruises.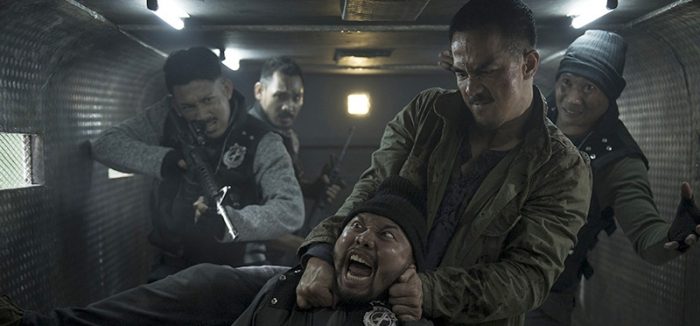 Taslim trades deafening blows with Uwais like it's a Tuesday afternoon. Choreography never skips a beat or appendage twist or snapped femur. Not an exaggeration. The Night Comes For Us is hyper-violent, hyper-awesome, hyper-imaginative villain abuse that never for a second suggests genre repetition. There is no stopping Tjahjanto as he tenderizes flesh sacks with the utmost disregard for human life. Pencak Silat maneuvers are real-deal, breathlessly captivating, and infinitely more glorious than America action films (just watch Uwais outshine Mark Wahlberg in Mile 22).
Taslim and company don't shake off inflicted wounds, as white undershirts soak through with red stains only minutes into storywork. Tjahjanto ignores medical limitations while an apartment complex barely withstands crumbling and death plagues anyone who enters. How many more times can I proclaim The Night Comes For Us a masterful achievement with video game energies? Taslim doesn't stumble into a struggle he's not prepared for, nor can any other supporting cast fight the urge to slice thug necks over jagged window panes or machete fifty different throats. My highlight reel ranks way too high as far as available weaponry goes, which would take me another thousand words to detail.
The Night Comes For Us is a punching bag ready to burst at the seems from hardcore and non-stop pummeling. Timo Tjahjanto masters fist-of-fury filmmaking not only by dragging audiences into a mega-fun knockout most pit but experimenting with body-cam angles and honoring continuity. As fighters duel and glide down hallways where dead bodies lay, blood slickens the floor and intestinal mounds need to be stepped over. You're in for a maximum dosage of adrenaline shot straight into your heart that rules with bloody knuckles. Every striking blow felt, every spat tooth with a wince, every single hoot and holler towards the screen earned with 5-star merit. Mr. Tjahjanto, take a bow (after you've picked cleaned the guts from your hair).
/Film Rating: 9 out of 10