Important News: 'Aquaman' Features Lots Of Water Vomiting Scenes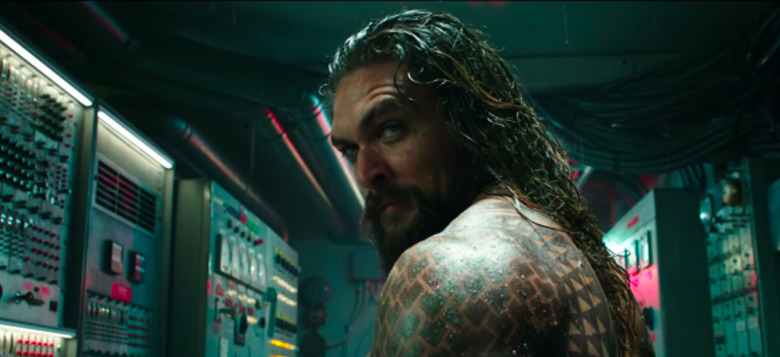 Good news, everyone! James Wan's Aquaman is the first DCEU film to feature multiple scenes of characters puking up water! This might be the solution DC and Warner Bros. have been looking for. Get ready for a tidal wave of water vomit, folks. To learn just how much water vomit there is in Aquaman, keep reading. Trust me, you're not going to want to miss this.
What are you looking for in a Aquaman film? Thrilling undersea action? Mind-blowing special effects? Jason Momoa's ripped, shirtless torso?  How about people puking up water? If that last item is the what you're most excited about, you're in luck, my friends. Director James Wan has confirmed that when Aquaman washes ashore, it'll be bringing with it a heaping dose of heaving. Speaking with Screen Rant during a recent edit bay visit, Wan broke down the common Atlantean practice of spewing water upon setting foot on the surface world:
"People would ask me, you know, 'So when they talk, is it bubbles that come out of their mouth?' And I'm like, 'No because there's no air in your lungs, so there wouldn't be any bubbles.' Right? So then in that sequence where you saw Mera open up this air pocket... when [Orm] lands in that, he's breathing air. The first thing he does is, he's in an air pocket, so he'd puke out all the water that's in his lungs. So that's the first step. We think about all these little details and stuff like that. And then when he's screaming [when the water returns], we want bubbles coming out of his mouth because now there's actually air in his lungs."
In addition to this, there's at least one scene where Nicole Kidman pukes up some water when she meets the man who will become Aquaman's dad. Sounds romantic.
This is, of course, all very silly. But a part of me appreciates the fact that Wan actually stopped to think about this stuff, and put it in the movie. He could've easily ignored it and relied on the suspension of disbelief and other movie magic. Instead, he sat back, thought a while, and then said: "We need to throw some scenes in with people vomiting up water. For the sake of realism." It's not clear just how much water retching takes place in Aquaman, but I sincerely hope it happens at least once every ten minutes.
From Warner Bros. Pictures and director James Wan comes an action-packed adventure that spans the vast, visually breathtaking underwater world of the seven seas, "Aquaman," starring Jason Momoa in the title role. The film reveals the origin story of half-human, half-Atlantean Arthur Curry and takes him on the journey of his lifetime—one that will not only force him to face who he really is, but to discover if he is worthy of who he was born to be...a king.
Aquaman opens December 21, 2018.