'Star Wars Resistance' Has Landed Elijah Wood As A Guest Star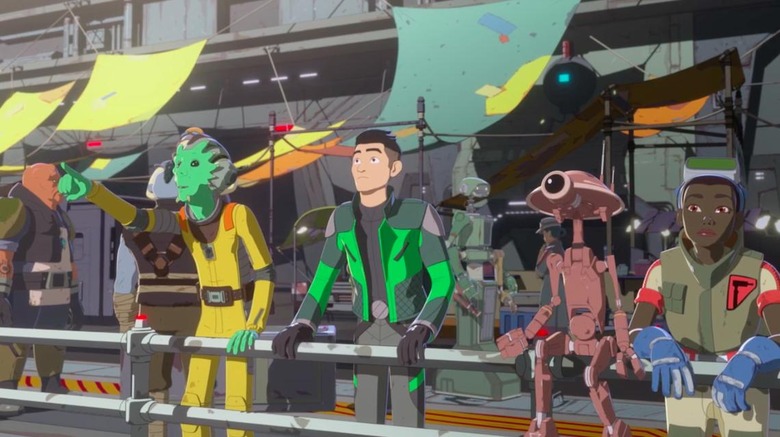 That small (or maybe large?) cross-section of Star Wars Resistance fans and Lord of the Rings fans are about to get a whole lot happier.
The Disney Channel animated series has just revealed that Elijah Wood will be guest starring in an upcoming episode of Star Wars Resistance, joining his fellow Lord of the Rings co-star Dominic Monaghan, who was recently announced to appear in Star Wars Episode 9, in the Star Wars universe.
The Disney Channel (via Star Wars Underworld) released the episode titles and synopses for the first five episodes of Star Wars Resistance, which also stealthily revealed the casting of Wood in the fourth episode of the series airing on October 21. Wood will be voicing pilot Jace Rucklin.
You can see the episode details and guest stars below:
"The Recruit Parts 1&2" (October 7th) X-wing pilot Kazuda Xiono is recruited for the Resistance, but finds himself in over his head when Poe Dameron assigns him to a remote fueling station to spy on the First Order. Then, after Kaz boasts about being the best pilot around, he is forced to compete in a dangerous sky race. *Guest starring is Oscar Isaac ("Star Wars: The Last Jedi") as Poe Dameron, Jim Rash ("Community") and Bobby Moynihan ("DuckTales") as Flix and Orka, respectively. 
"The Triple Dark" (October 14th) Kaz and BB-8 uncover information on an imminent pirate attack and must find a way to stop it. *Gwendoline Christie ("Star Wars: The Last Jedi") guest stars as Captain Phasma.
"Fuel For The Fire" (October 21st) Kaz befriends a sky racer named Rucklin who pressures him to take some rare and dangerous hyperfuel hidden in Yeager's office. *Elijah Wood ("The Lord of the Rings" trilogy) guest stars as Jace Rucklin.
"The High Tower" (October 28th) The First Order arrives at the platform for mysterious reasons and Kaz and BB-8 are determined to sneak into the tower to find out what they want. *Donald Faison ("Scrubs") guest stars as Hype Fazon
Wood is the latest in a long line of fan-favorite actors to make the crossover from one fan-favorite sci-fi/fantasy franchise to Star Wars. The Clone Wars saw frequent appearances from Doctor Who's David Tennant, Battlestar Galactica's Katee Sackhoff, and Star Trek's Simon Pegg, while Star Wars Rebels landed another Doctor Who favorite Tom Baker, Firefly's Gina Torres, and Star Trek's Brent Spiner.
It's unclear for now if Wood's character Jace Rucklin is a one-off character, or if Wood will make a recurring appearance. But it would be fantastic if, at some point, we got another mini Lord of the Rings reunion with Wood and Monaghan at some point in the series. I know it's highly unlikely, but come one, make it happen Disney.
Star Wars Resistance premieres on Disney Channel on October 7, 2018.