'Veronica Mars' Revival Brings Back Jason Dohring, Francis Capra, And Other Series Alums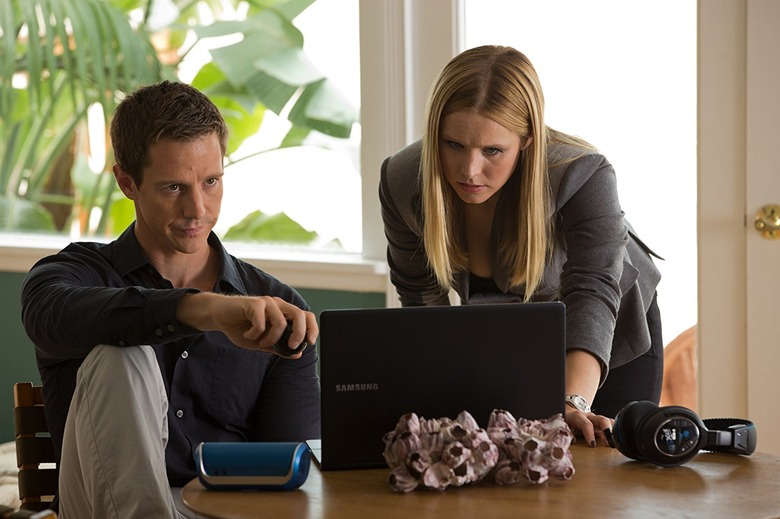 The gang is back and ready to solve some mysteries. A few days after the Veronica Mars revival officially got picked up by Hulu, creator Rob Thomas announced the returning cast members who will be popping up in the upcoming series. In addition to Veronica Mars herself, Kristen Bell, the Veronica Mars revival cast includes series alums Jason Dohring, Percy Daggs III, Francis Capra, and more.
In a tweet featuring an "early wardrobe photo to get us all in the mood," Thomas announced that Dohring, Daggs III, and Capra, as well as David Starzyk will be reprising their roles in the Veronica Mars revival. And you know what that means: Logan x Veronica forever, y'all.
Here's who we have booked for the #VeronicaMars series, so far. (More are on the way, I swear.) @jason_dohring, @franciscapra, @PD3Official, @dstarzyk, and, of course, @IMKristenBell.

Here's an early wardrobe photo to get us all in the mood. pic.twitter.com/Xm0OMT2vFG

— Rob Thomas (@RobThomas) September 25, 2018
Dohring reprises his role as Logan Echolls, the antagonist-turned-love interest of Veronica Mars, whose smokin' chemistry with the titular detective basically willed the Veronica Mars movie into existence. Daggs III is back as Wallace Fennell, Veronica's best friend in high school and the trusty Watson to her Sherlock Holmes. And Capra is Veronica's shaky ally Weevil, the leader of the Latino biker gang who had a brush with the honest life in the film. Like Thomas said, however, this is only the first set of returning cast members for the revival series, which will hopefully include fan favorites like Tina Majorino's Mac and Enrico Colantoni's Keith Mars.
Bell confirmed that she was returning as the title character when the news first dropped that Hulu had picked up the Veronica Mars revival series. She's been a stalwart supporter of the series since it was unjustly cancelled after its third season in 2007, helping to shepherd the crowdfunded Veronica Mars movie which hit theaters in 2014. But for a lot of fans, the Veronica Mars movie was unsatisfying because it was glorified fan service, which Thomas promises the Hulu limited series won't be, describing it as a "hardcore So-Cal noir."
Thomas also revealed the revival's writers, which include David Walpert, Heather V. Regnier, Diane Ruggiero, Kareem Abdul-Jabbar, and Raymond Obstfeld, joking in a tweet, "If you're brilliant and give yourself a #PartyDown Twitter handle, I'll hire you. Or, you could be the NBA's all time leading scorer, but you must still be brilliant," with a photo that included Kareem Abdul Jabbar.
Veronica Mars is returning to Hulu in 2019.