'Mystery Science Theater 3000' New Season Premiere Set For Thanksgiving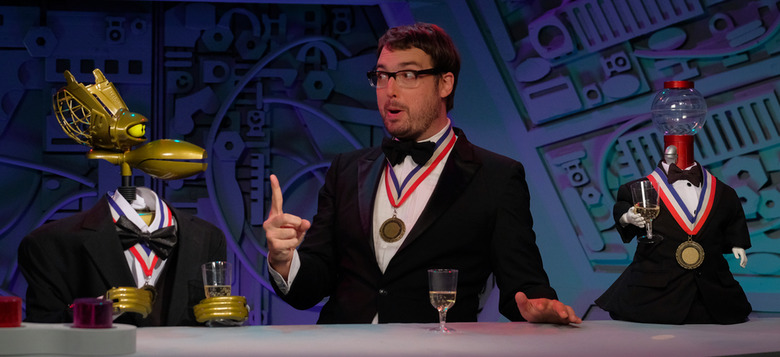 Mystery Science Theater 3000 is returning to Netflix with an all-new season, and the premiere date couldn't be more perfect. The new MST3K season will debut on Thanksgiving Day, which is kind of a staple for the show. The very first episode of the show launched on Thanksgiving Day in 1988, and in its original incarnation, the series would run "Turkey Day" marathons on Thanksgiving. Netflix also announced the show's renewal last Thanksgiving.
So break out the stuffing, dump the cranberry sauce out of the can, and get ready for a whole new season of riffing on terrible movies. More on the Mystery Science Theater 3000 new season premiere below.
The AV Club has confirmed that the second Netflix season, and 12th season overall, of Mystery Science Theater 3000 will hit the streaming service on Thursday, November 22, aka Thanksgiving. "Thirty years ago on Thanksgiving Day 1988 is when we premiered Mystery Science Theater 3000 in the Minneapolis market," said creator Joel Hodgson. "We were competing with 60 Minutes for the same time slot, and I think history has shown which is the better show."
MST3K has had quite the journey. The show – which originally featured Hodgson riffing on bad movies with two robot puppet sidekicks – kicked-off in 1988 on low-budget local television station KTMA. It remained on KTMA until it landed on The Comedy Channel – later renamed Comedy Central. Comedy Central is where the show flourished, as Joel and his 'bots – Tom Servo and Crow – watched one terrible movie after another, cracking jokes along the way. Hodgson left the show in 1993, at which point head writer Michael J. Nelson took over as the (human) host of the series. MST lasted on Comedy Central until 1996, at which point the network cancelled the series. Fandom helped save the show, though, with the Sci-Fi Channel (later Syfy) picking it up in 1997. Sci-Fi aired the show until 1999, at which point it was cancelled again.
It seemed like that was the end of Mystery Science Theater 3000, as the cast and writers splintered off to form similar concepts RiffTrax and Cinematic Titanic. Then, in 2015, originally creator Joel Hodgson launched a Kickstarter with hopes of bringing MST3K back. The Kickstarter was a huge success, and eventually MSTK3K found a new home on Netflix, now with Jonah Ray as the host.
As a huge fan of the series, I mostly enjoyed the Netflix revival. It was great to have the show back, but it didn't quite have the same magic and energy as the Comedy Central and Sci-Fi Channel eras. Still, more MST3K is never a bad thing. Ahead of the new season premiere, Hodgson and Ray strike out on a 30th Annniversary live tour (which you can grab tickets for here).