'The Nutcracker And The Four Realms' Featurette Takes You Into A World Of Pure Imagination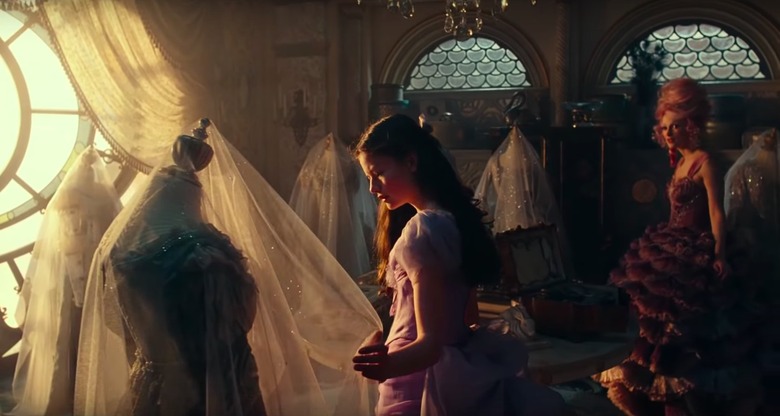 Disney will never shy away from crafting sweeping fantastical landscape and mythical realms, and with The Nutcracker and the Four Realms, they had, well four. The classic ballet gets the Disney big-budget make0ver in a feature film adaptation that expands on a story once limited to the stage.
With the adaptation, The Nutcracker becomes a rollicking fantasy adventure in which our heroine Clara (Mackenzie Foy) must travel through four realms, each more breathtaking than the last. Now Disney has released a new The Nutcracker and the Four Realms featurette that delves into nuts and bolts of creating this magical world.
The Nutcracker and the Four Realms Featurette
The new featurette delves into the making of the costumes, hair and make-up, and set of The Nutcracker and the Four Realms which transports not only the audiences, but the cast to a whole new world.
The elaborate set was created by Guy Hendrix Dyas, the two-time Oscar nominee behind films like Inception and Passengers. "It was quite a lot of pressure to me to create every eight-year-old's fantasy of The Nutcracker," he said in an interview with Vanity Fair.
The four realms: flowers, snowflakes, sweets, and the dark final dimension, first began as pencil sketches that Dyas drew up of the course of several weeks, before the film launched into production over a period of 14 weeks. The film's set was influenced by its 1879 London setting but also Russian art and architecture, including Clara's music box that was designed to look like a classic Fabergé egg.
"It's a very high level of craftsmanship," star Helen Mirren (who plays Mother Ginger) says in the featurette.
The Nutcracker and the Four Realms opens in theaters on November 2, 2018.
All Clara (Mackenzie Foy) wants is a key – a one-of-a-kind key that will unlock a box that holds a priceless gift. A golden thread, presented to her at godfather Drosselmeyer's (Morgan Freeman) annual holiday party, leads her to the coveted key—which promptly disappears into a strange and mysterious parallel world. It's there that Clara encounters a soldier named Phillip (Jayden Fowora-Knight), a gang of mice and the regents who preside over three Realms: Land of Snowflakes, Land of Flowers and Land of Sweets. Clara and Phillip must brave the ominous Fourth Realm, home to the tyrant Mother Ginger (Helen Mirren), to retrieve Clara's key and hopefully return harmony to the unstable world. Starring Keira Knightley as the Sugar Plum Fairy, Disney's new holiday feature film "The Nutcracker and the Four Realms" is directed by Lasse Hallström and Joe Johnston, and inspired by E.T.A. Hoffmann's classic tale.