'Flight Of The Conchords' Played A New Song On 'The Late Show With Stephen Colbert'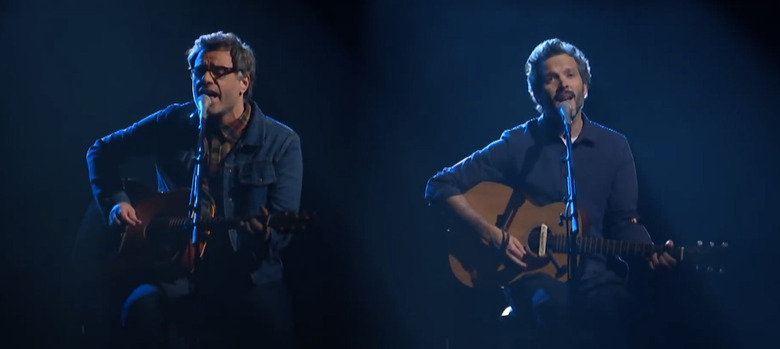 Flight of the Conchords ended all too soon with its final second season back in 2009, and fans have been hoping for some kind of revival during this ongoing period of Peak TV that has seen plenty of previously concluded shows brought back from the dead. They're getting their wish next month with Jemaine Clement and Bret McKenzie reuniting for a concert special on HBO next month. And to help promote their return, New Zealand's fourth most popular folk duo appeared on The Late Show with Stephen Colbert to debut a new song.
First, Jemaine and Brett Are Hungry
Before we get to the new Flight of the Conchords song, it's totally worth your time to check out the full interview Jemaine and Bret did with Stephen Colbert. Their deadpan, dry comedic style still shines brightly, and it's clear that while their characters on Flight of the Conchords are exaggerated versions of themselves, they're not too far removed from their real life personas.
Brett and Jemaine aren't beyond using their folk music fame to rub elbows with some of the big wigs in New Zealand. Apparently the country's prime minister Jacinda Arden is coming on The Late Show this week, so they made a kind request to be invited to dinner back in their homeland. Let's hope they can make it happen.
All right, you've waited long enough, here's what you came here to see.
New Flight of the Conchords Song
Sounding almost like a Peter Paul & Mary or Cat Stevens song with call and response lyrics, the new tune plays out the charming bond between a father and son in the wake of the death of their wife/mother. Well, at least that's how the father sees it. In reality, she just ran off with another guy, his friend Trevor, and he's pretty bitter about it. It's heartfelt and hilarious all at once.
This is a great song for Flight of the Conchords to make a return with, and it makes me miss this show even more. Hopefully it's the first of several new songs we'll hear when the HBO concert special debuts on October 6, 2018, and if we're lucky, maybe it'll inspired Bret and Jemaine to do even more with Flight of the Conchords sooner than later.
UPDATE: It has been brought to our attention that "Father & Son" isn't exactly a new song. Flight of the Conchords has played it at live shows for a couple years, but this appears to be the first time they've played it on television.