'Wanderlust' Trailer: Toni Collette Decides To Spice Up Her Life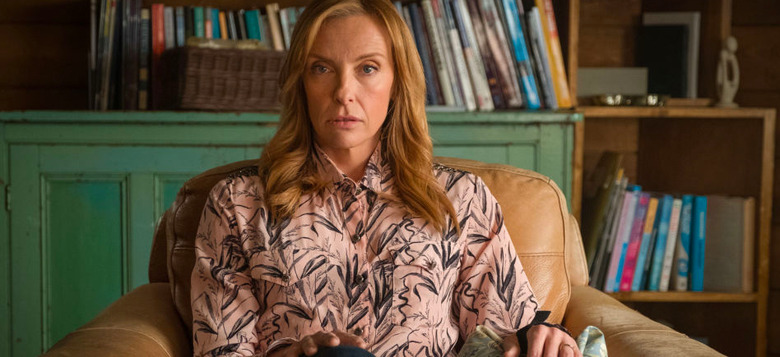 Earlier this year, Toni Collette earned rave reviews as she lost her mind in the terrifying Hereditary. Now she's back with something a bit lighter. Wanderlust is a new Netflix dramedy about a couple who decide to give polyamory a try with the hope of rekindling their sex lives. The series hits the streaming service next month. Watch the Wanderlust trailer below.
Wanderlust Trailer 
The year of Toni Collette continues with Wanderlust. The series hails from The Crown writer Nick Payne, and finds Collette playing a therapist who hopes to jumpstart her relationship with her husband following a cycling accident. The solution: sleeping with other people. The series also stars Steven Mackintosh as Collette's husband, and the rest of the cast features Zawe Ashton, Royce Pierreson, William Ash and more. Wanderlust is a co-production of BBC One, and has already aired in the UK, but American audiences will be able to enjoy it soon as well.
Collette is a great actress, and I have no doubt she'll knock her performance out of the park here. While Collette has been acting for years, her stunning Hereditary performance this year seems to have reminded everyone of just how good she is. Hopefully that leads to Oscar attention by the time the year is up, and even more roles. Or everyone could just go back and watch her amazing work in XXX: The Return of Xander Cage.
"I am honored and thrilled to work with Nick Payne's wonderful words on Wanderlust," Collette said when she joined the Wanderlust cast. "It is an authentic and revolutionary story about relationships, sex, love and all the things we really care about. I could not be more excited."
"Toni's natural warmth, complexity and wit combine to make her the perfect Joy," said the BBC's Piers Wenger. "Nick's scripts strike an utterly distinctive and original tone and I cannot wait to see them come to life in the very capable hands of director Luke Snellin and the outstanding team at Drama Republic."
Wanderlust debuts on Netflix October 19, 2018.
Wanderlust looks at how we build and maintain happy relationships and asks whether lifelong monogamy is possible – or even desirable. Toni Collette plays Joy Richards, a therapist trying to find a way to keep her spark alive with her husband after a cycling accident causes them to reassess their relationship. As we meet her family, friends, neighbours and clients, remarkable yet relatable stories of love, lust and forbidden desire emerge.