LOL: 'The Dark Knight' Interrogation Recreated With 'The Room' Stars Tommy Wiseau And Greg Sestero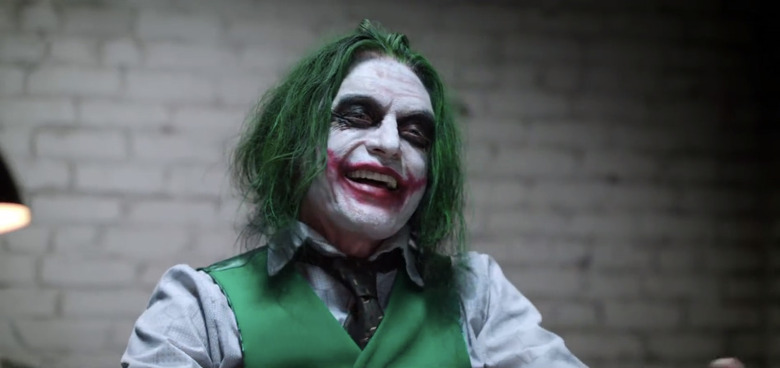 Back in March of this year, Tommy Wiseau put together an audition tape where he campaigned to take the role of The Joker in the then-recently announced origin movie focusing on the Batman villain. It was mostly a hilarious way to promote the new movie Best F(r)iends Vol. 1 that he made with The Room co-star Greg Sestero. Now that the movie is coming to home video, they're digging into Batman again, but they're really upping the ante this time.
Tommy Wiseau and Greg Sestero got together to recreate the pivotal interrogation scene from The Dark Knight. Wiseau again plays The Joker in an unsettling way while Sestero suits up as Batman, which is somehow even more goofy. It's just something you need to see to believe.
The Dark Knight with Tommy Wiseau
At the very least Tommy Wiseau's performance in this scene is better than anything he did in The Room. But that's only because The Joker works as this unhinged, oddball. It adds a disturbing layer to the character, even though this is basically just Tommy Wiseau as himself reading lines in a way similar to that of Heath Ledger.
The real weird part of this is Greg Sestero as Batman. First of all, that Batman suit looks like an action figure blown up to adult size. And what is that Batman voice that he's doing? It just goes to show you how good of an actor Christian Bale is for getting people on board with his overbearing Batman voice.