'Mid90s' Trailer: Jonah Hill's Directorial Debut Takes You Back To 90s-Era LA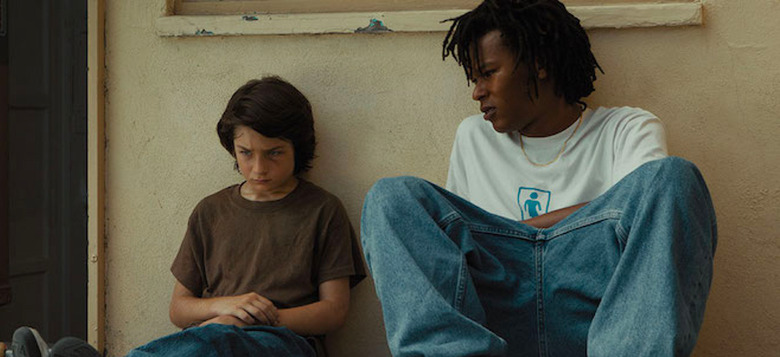 Jonah Hill makes his directorial debut with Mid90s, a coming-of-age tale set over the summer in 1990s Los Angeles. The film opened to positive reviews at TIFF, and now a new trailer gives us a better look at Hill's feature. Watch the Mid90s trailer below.
Mid90s Trailer
The buzz out of TIFF surrounding Jonah Hill's Mid90s was good. The film is currently sitting at 95% on Rotten Tomatoes, and Marshall Shaffer's /Film review is overwhelmingly positive, writing that "Jonah Hill has struck gold in his first feature film as director" and adding:
In just 84 minutes, Hill crafts a film that crackles with the joy of finding one's place in the world. When young Stevie, electrically played by Sunny Suljic, stumbles into a group of older skateboarding cool kids, you can see the new horizons dawning in his eyes. At first, Stevie's youthful ignorance makes him more like the gang's pet than their equal. He's someone they can try to impress with their own masculine posturing, the desperation of which Hill captures hilariously. The need for the group's validation sends Sunny scurrying home to quickly revamp his own taste and skillset. His quiet transformation serves as a welcome reminder that, as impressionable young people, we often become ourselves by borrowing portions of our identity from other people.
In crafting the film, Hill had some help from director Spike Jonze. As the actor-turned-director revealed, he originally planned to have the film focus on an adult protagonist who flashed back to his youth, but Jonze convinced him to just focus on the youth-oriented story instead:
"Originally the movie was about something completely different but it kept flashing back to the main character when he was with his friends when he was twelve. And Spike said to me, you look less enthused when you're talking about the 'A' story, and you light up like a Christmas tree when you're talking about the other stuff."
Hill's directorial debut comes from the folks at A24, who have a pretty good track record with this sort of coming-of-age tale, having distributed Greta Gerwig's Lady Bird last year and Bo Burnham's Eighth Grade this year.
Mid90s, starring Sunny Suljic, Lucas Hedges, Na-Kel Smith, Olan Prenatt, Gio Galicia, Ryder McLaughlin, Alexa Demie, and Katherine Waterston, opens October 19, 2018.
Written and directed by Jonah Hill, Mid90s follows Stevie, a thirteen-year-old in 90s-era LA who spends his summer navigating between his troubled home life and a group of new friends that he meets at a Motor Avenue skate shop.