'Channel Zero' Season 4 Trailer Invites You To Open 'The Dream Door'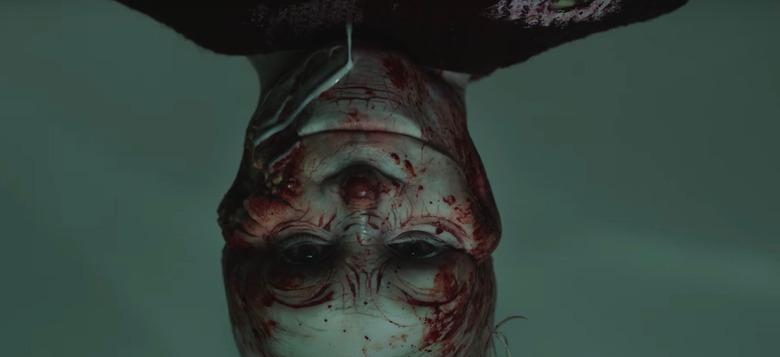 Just in time for Halloween, here comes Channel Zero season 4. Titled The Dream Door, the Syfy series is yet another terrifying tale that draws inspiration from the world of "creepypasta" stories. This season involves a couple that find a mysterious door in their basement, and then decide to open it. What could go wrong? Watch the Channel Zero season 4 trailer below.
Channel Zero Season 4 Trailer
Well, that sure looks creepy. I've said it multiple times here at /Film, and I'll say it again: Channel Zero is the best on-going horror TV show. Each season has delivered, and this latest – Channel Zero: The Dream Door – looks to be continuing that trend. The Dream Door follows "newlyweds Jillian (Maria Sten) and Tom (Brandon Scott), who have each brought secrets into their marriage. When they discover a strange door in their basement, those secrets start to threaten their relationship — and their lives."
The cast also includes Steven Robertson as Ian, "Tom and Jillian's next door neighbor, an open-minded psychology grad student who becomes involved in Tom and Jillian's bizarre experience with the mysterious door in their basement." Steven Webber as Abel Carnacki, "Jillian's therapist. He has been listening to Jillian long enough to know about her trust issues and where they stem from. His quiet, controlled, almost hard to read tone is sometimes infuriating for Jillian, especially when she tries to talk to him about what — or who — was behind the door in their basement." And horror icon Barbara Crampton as Vanessa Moss, who has a close relationship with one of the main characters.
Channel Zero draws inspiration from "creepypasta" – online urban legends that gave birth to characters like Slender Man. "Every season I think of as a kind of fan fiction of the original Creepypasta," show creator Nick Antosca told me earlier this year. "In a way it's our version of – it's a new mythology of the original story. I've said this before, but I think of each season as kind of like a nightmare that you might have after reading the original story that it's based on."
For this season, Syfy is trying something new. Rather than air the season's six episodes over a period of six weeks, they're going to release the full season over the course of one week. The premiere episode will debut October 26, with the rest of the season airing over the following nights, concluding on Halloween – October 31. And if that's still too long of a wait for you, you're in luck: the entire season will be uploaded on VOD following the October 26 premiere.