'The Wild Bunch' Remake To Be Directed By Mel Gibson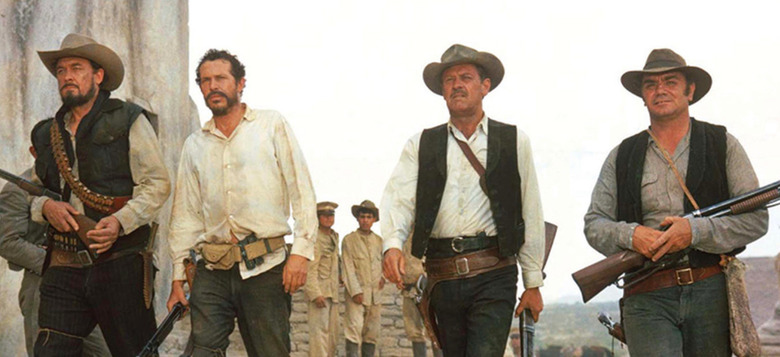 Everyone gets a second chance in Hollywood. Mel Gibson has just landed a high-profile gig: he'll be directing and co-writing a The Wild Bunch remake for Warner Bros. Pictures. The original 1969 Western was helmed by Sam Peckinpah. The story follows a group of aging outlaws looking to pull off one last big score. 
Deadline has the scoop on Gibson directing The Wild Bunch remake. Gibson will co-write with Bryan Bagby and serve as executive producer. The original film was a violent epic Western about aging outlaw Pike Bishop (William Holden), who "prepares to retire after one final robbery. Joined by his gang, which includes Dutch Engstrom (Ernest Borgnine) and brothers Lyle (Warren Oates) and Tector Gorch (Ben Johnson), Bishop discovers the heist is a setup orchestrated in part by his old partner, Deke Thornton (Robert Ryan). As the remaining gang takes refuge in Mexican territory, Thornton trails them, resulting in fierce gunfights with plenty of casualties."The film was criticized for its excessive violence when it opened. "There is a very, very thin line, and I think we operated as close to it as we dared," director Sam Peckinpah said in regards to the violence. "We hope that, for most audience, we stayed on this side of the line. But I am willing to admit that we may have passed over it at some point. We feel the violence is a catharsis, a release, but sometimes the line is hard to find."
The Wild Bunch 
A Wild Bunch remake has been kicking around since at least 2011. Tony Scott was slated to direct, but his 2012 suicide shut the project down. Later, Will Smith was in talks to star, with the film set in the present day. That, too, failed to happen. Now, Gibson will give it a go.
On one level, Gibson directing a remake of this makes sense. He's a filmmaker who excels at creating movie violence, and The Wild Bunch is one of the most violent Westerns ever made. At the same time, Gibson's involvement in such a huge project like this will no doubt raise an eyebrow or two (or three). The actor and filmmaker has a troubled past, and Hollywood has seemed a bit too quick to forgive him (there's an entire episode of the new season of BoJack Horseman that focuses on this). In all honesty, I think Gibson is a good filmmaker. His 2006 movie Apocalypto is incredible, and I have no doubt he can deliver a good Wild Bunch remake. But Gibson's personal issues are hard to ignore, and his swift comeback seems ill advised, especially now.
Gibson has several other projects lined-up. He's planning a World War 2 movie called Destroyer (note: I'm guessing that title will change, since it's also the title of an upcoming Nicole Kidman movie) that will star Mark Wahlberg. That film will supposedly begin shooting next spring, which indicates production on The Wild Bunch is still a little ways off. Gibson will also next be seen in War Pigs, co-starring Colin Farrell.