'High Fidelity' TV Series On Disney Streaming Service To Star Zoë Kravitz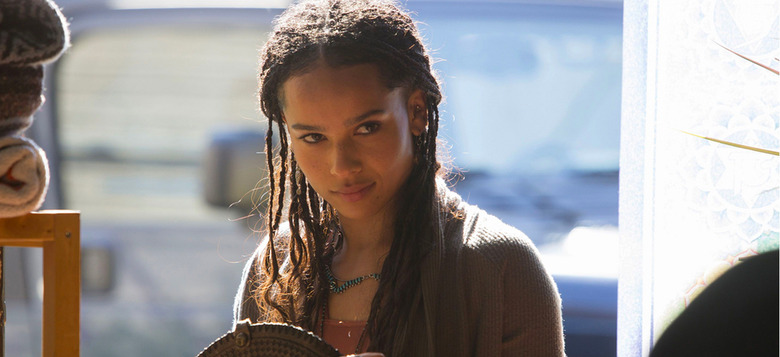 Disney's High Fidelity TV series has found its lead: Zoë Kravitz. The Rough Night co-star will executive produce and star in the series, a re-imagining of the 2000 John Cusack comedy now told from a female point of view. The series will be for Disney's upcoming streaming service. There's a full-circle element to this casting: Kravitz's mother, Lisa Bonet, had a significant role in the original film.
Deadline has the news regarding Kravitz joining High Fidelity. Per their report, the actress "will play the ultimate music fan, a record store owner who's obsessed with pop culture and Top Five lists, a female take on the character played in the movie by Cusack." High Fidelity was adapted from the novel by  Nick Hornby, and starred Cusack as a bitter record store owner  with an "encyclopedic knowledge of pop music and...the music scene." After his girlfriend leaves him, Cusack's character starts to reflect on his past relationships. One of the women Cusack's character gets involved with in the film is a singer, played by Kravitz's mother, Lisa Bonet. The film was well-regarded, and featured a scene-stealing performance from Jack Black, right before his career really blew up.
High Fidelity
The new 10-episode series will be written by Veronica West & Sarah Kucserka. It'll be interesting to see how this plays out. The music scene has changed drastically since the film came out. On top of that, both Hornby's novel and the Cusack film are very male-driven – in fact, a big theme of the film is about Cusack's character coming to terms with his toxic masculinity. Flipping the gender of the character alters that considerably.
High Fidelity is just one of several big projects coming to the Disney streaming service (which is tentatively called Disney Play). The service will offer original movies, including live-action remakes of Lady and the Tramp and The Sword in the Stone. Other titles include shows focused on Marvel Cinematic Universe characters Scarlet Witch and Loki, and a live-action Star Wars series from Jon Favreau. High Fidelity doesn't exactly fit in with these titles, but it proves that Disney is willing to try several different types of programming in order to hook subscribers. It's all part of Disney's plan to maintain streaming dominance over Netflix.
"We have the luxury of programming this product with programs from those brands or derived from those brands, which obviously creates a demand and gives us the ability to not necessarily be in the volume game, but to be in the quality game," said Disney CEO Bob Iger.