'Outlaw King' Loses 20 Minutes After Lackluster TIFF Premiere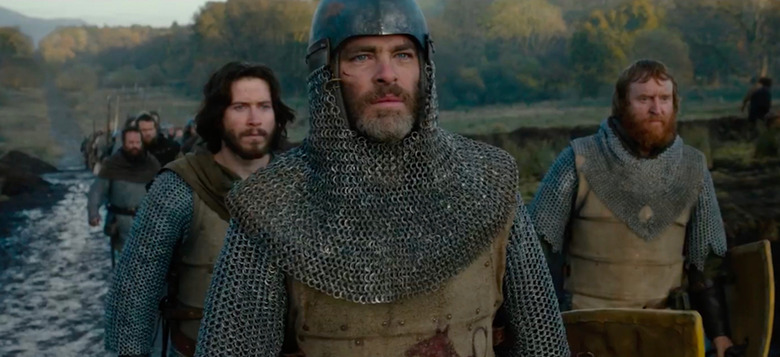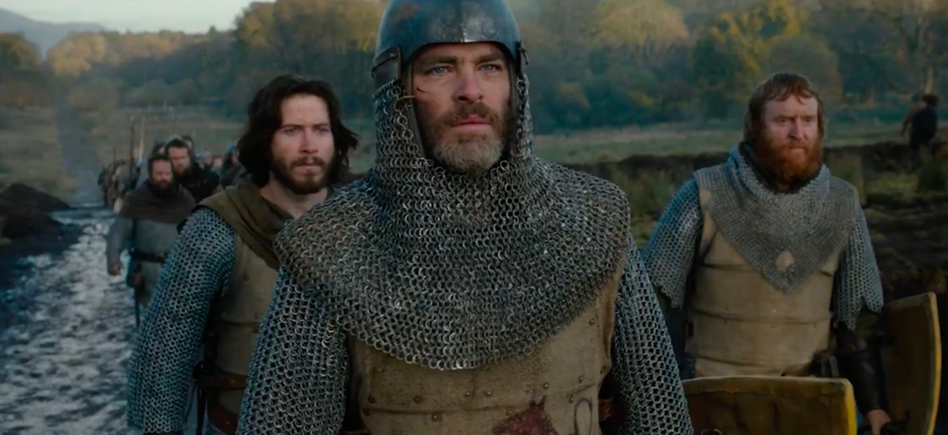 Outlaw King is getting an overhaul. After a TIFF premiere that resulted in less-than-stellar reviews, director David Mackenzie is trimming 20 minutes off his historical epic before it premieres at the London Film Festival in October and hits Netflix in November. But don't worry: Chris Pine's full-frontal nude scene remains intact. More on the new Outlaw King cut below.
Earlier this month, Outlaw King had its world premiere at the Toronto International Film Festival. It didn't go so well. Reviews resulted in a "rotten" 41% on Rotten Tomatoes. In my own review, I called it an "unrelentingly brutal, often funny, haphazardly edited affair." Outlaw King will next screen at the London Film Festival on October 17, and when it does, the audience there can expect some changes. According to Deadline, filmmaker David Mackenzie has chopped 20 minutes off the film's 137-minute runtime.
Mackenzie rushed the editing of the film to make the TIFF premiere, and the audience's reaction inspired him to take action. "I could feel what the audience was like in the theater," the filmmaker says. "I'm sensitive to the way they felt." Three days after the TIFF premiere, Mackenzie started re-editing the film. So what's getting cut? Mackenzie says he removed "some complete sequences" that "weren't helping the story move along" in the first act and third acts of the film. He also removed some minor characters completely. "The play-ability is better now and the access to the characters," says Mackenzie of the film's new 117-minute cut.
That's a far cry from the earliest cut of Outlaw King, which ran four hours. "I'm sure if I had the appetite, I could do a three-part mini-series as there's lots of characters, lots of history, but the name of the game is to make an entertaining narrative-driven film with great performances; you have to whittle down, it's a hard game especially when there's so much history to put in," the director says.
Having seen the film, I honestly can't say if a shorter runtime will improve things. If anything, it might make Outlaw King seem even more rushed. The story – which focuses on Robert the Bruce (Chris Pine) as he and his fellow Scots wage war against England – covers a lot of ground, and truncating it further might backfire. Then again, it might be just what Outlaw King needs – the movie definitely felt like it was dragging at times.
All that said, one thing that won't end up on the cutting room floor is Chris Pine's nude scene – which seemed to be all anyone wanted to talk about after the TIFF premiere. So if full-frontal Chris Pine is all you're really interested in here, you're in luck: you'll get to see Chris Pine and all his nude glory when Outlaw King will premiere on Netflix and in select theaters November 9, 2018.
Outlaw King
The untold, true story of Robert the Bruce who transforms from defeated nobleman to outlaw hero during the oppressive occupation of medieval Scotland by Edward I of England. Despite grave consequences, Robert seizes the Scottish crown and rallies an impassioned group of men to fight back against the mighty army of the tyrannical King and his volatile son, the Prince of Wales.