'Apostle' Review: Director Gareth Evans Returns With A Vicious Addition To Cult Horror [Fantastic Fest]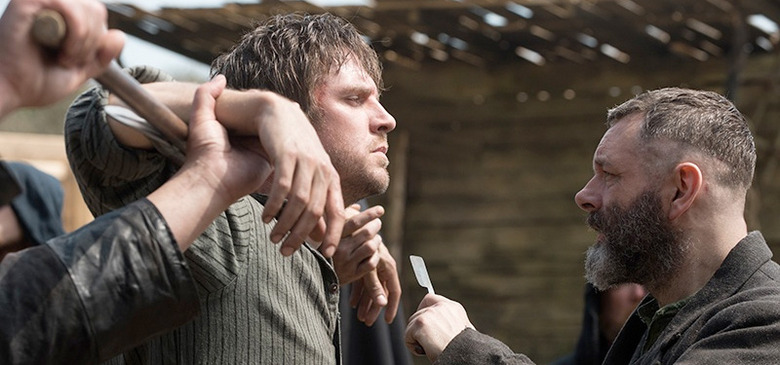 Stepping out of his signature style of riveting action-thrillers, Gareth Evans delivers a delightfully diabolic tale centered around a religious cult in his new film, Apostle. The Welsh filmmaker is known primarily for his fight choreography by way of Indonesian martial arts, yet he presents audiences a slower, more atmospheric horror story filled with a menacing score that supports the brutal mentality and withered imagery of the early 1900s.
Set in 1905, the film follows Thomas Richardson (Legion's Dan Stevens), a devoted sibling desperate to infiltrate a religious cult holding is beloved sister, Jennifer (Elen Rhys) for ransom. Inhabiting an island off of the British coast, Prophet Malcolm (Michael Sheen) reigns as the leader of an isolated community that accepts mainlanders or "brothers" and "sisters" under certain conditions. Abandoning all written scripture or literature prior to departure, Thomas joins a group of new devotees about to set sail for the island when he quickly realizes the dangerous degrees of deception he will soon encounter. All material possessions are confiscated and searched with the mentality that everyone is equal and any opposition to Malcolm's self-penned Bible are to be perversely purified of their blasphemous wrongdoings. The level of devotion Malcolm's followers display towards him and the apparent "Goddess" that blesses their crops grows progressively disturbing. Jars filled with blood line the hallways of homes at night, and the mysterious folklore of the land lures Thomas into its grasp, while Malcolm and his henchmen hunt down the unknown traitor who's infiltrated the secretive sect.
The pagan style of worship to the land and sacrificial rituals are reminiscent of Wicker Man, although thankfully void of singing and excessive dancing. Rather, the tone of the film is bleak and mysterious, filled with secondary characters that provide a contrastingly hopeful and even romantic fraction to an otherwise emotionally disconnected community. Malcolm's daughter, Angela (Lucy Boynton), struggles to maintain the morality otherwise lost by her father's followers and serves as the group's nurse. A caretaker at heart, yet she turns a blind eye to the evil antics of her father's supposedly divine interventions choosing to live in a blissfully ignorant state. A romantic subplot of two teenage lovers in the village also counterbalances the harsh narrative.
A nefarious nexus of religion and nature, Apostle addresses the devout tendencies of man both for egocentric purposes as well as the greater good of the group. The invasion of privacy and depersonalization are on par with Darren Aronofsky's Mother!, while emphasizing mankind is ultimately at fault for the scorched and barren Earth, as well as the collapse of a fleetingly civilized society. Violence is utilized as both a blessing and a punishment–a crucial element required within the community's order that sustains their way of life but can also cleanse those that deviate from their beliefs. An interesting shift in Evans' work, he provides an allegorical layer to his brutality and the primitive perspective that in order for life to sustain and flourish, the savagery of death is crucial. The manner in which violence is executed will undoubtedly arouse cringe-worthy reactions. Visceral torture sequences and fight scenes reveal a sadistic bloodthirst and singular work of special effects makeup that would surely lead Clive Barker to grin ear to ear. While the notable thrills of Evans' past films are minimal, he successfully compensates with an atmospheric and gruesome cinematic experience. Composers Aria Prayogi and Fajar Yuskemal team up again after the duo slayed the sound design in The Raid 2 and V/H/S 2 in order to perform one of the most uniquely crafted scores I've heard in quite some time.
Despite Apostle shining in all of its grim and gripping glory, there lacks a sense of opportune action and keeps its characters at arm's distance from any emotional investment from the audience. Editing sequences appear fragmented at times and the film possesses a surplus of metaphors that could be more impactful as a series rather than a feature film. It's unfortunate that a theatrical release is off the table after its acquisition by Netflix, especially since Matt Flannery's cinematography is so elegiac complete with bold brushes of brooding beauty. Regardless, Evans serves up a wicked thriller with piercing visuals and a slight spin to the cult horror genre that perhaps unlike religion, I doubt viewers will want to abandon.
/Film Rating: 8.5 out of 10