New 'Joker' Video Shows Joaquin Phoenix Reveling In Chaos, Plus Get A First Look At Zazie Beetz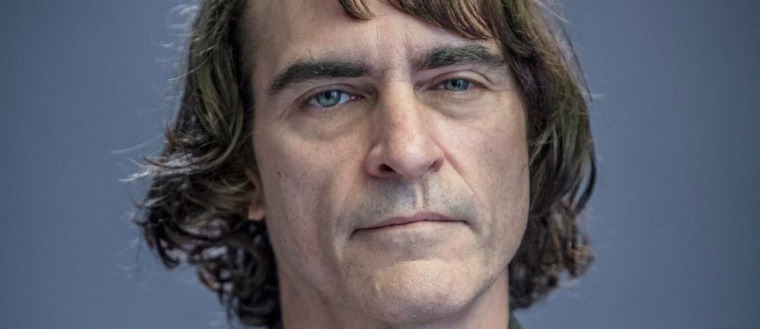 Another day, another sneak peek at the Joker origin movie that is currently in production.
Joaquin Phoenix is playing the iconic Batman villain in a movie that explores how a man named Arthur Fleck came to be the Clown Prince of Crime in Gotham City. A new look at the Joker arrived just before the weekend showing Phoenix in full clown make-up, but now a different glimpse at the character from the set of the movie shows the actor in full Joker mode, complete with a classic purple suit. Plus, director Todd Phillips has revealed the first official look at Zazie Beetz by way of a new character portrait.
Check out the Joker set video and photo below.
Joker Set Video
Hollywood Pipeline was apparently on hand during a scene involving a lot of extras and a subway set. If you look at the background, you'll notice there's a protest going on, and many of the signs appear to be against the idea of Thomas Wayne (who will be played by Brett Cullen) running for mayor of Gotham City. That's rather interesting since Thomas Wayne is consistently painted to be one of the good guys in Gotham City. Perhaps this will paint Bruce Wayne's parents in a more negative light.
The big question is how The Joker's activities in this movie will tie into the Wayne family. Is he trying to foil Thomas Wayne's campaign? Will Thomas Wayne's role even be that significant, or is this just background for whatever else The Joker is doing in Gotham City? There's still a lot we don't know about the movie.
But one thing we do know is Joaquin Phoenix's swagger and demeanor in this single scene gives off some great vibes. Is there a chance this could actually turn out to be good? People have been skeptical as to whether or not we need a Joker origin story, and maybe this will prove us wrong.
Meanwhile, Todd Phillips revealed this photo of Zazie Beetz, just like the first look at Joaquin Phoenix:
However, unlike our first look at Joaquin Phoenix as Arthur Fleck, this photo doesn't give us the name of her character. Notice that she's not wearing a lot of make-up and her body language appears to indicate a level of discomfort, nervousness or insecurity. That's exactly the kind of mind that could easily be manipulated by The Joker.
Since the movie just started production, it feels like we're getting an onslaught of sneak peeks at the movie when it's still over a year away. But Phillips told Deadline, "Here's the issue. We have paparazzi all over our set, at every turn. And it bums me out that they constantly put out their bad shots. So I figure, may as well put out some good ones."
Stay tuned to see what else surfaces from Joker, set for release on October 4, 2019.