'The Standoff At Sparrow Creek' Review: This Nail-Biting, Captivating Thriller Is High On Tension [Fantastic Fest]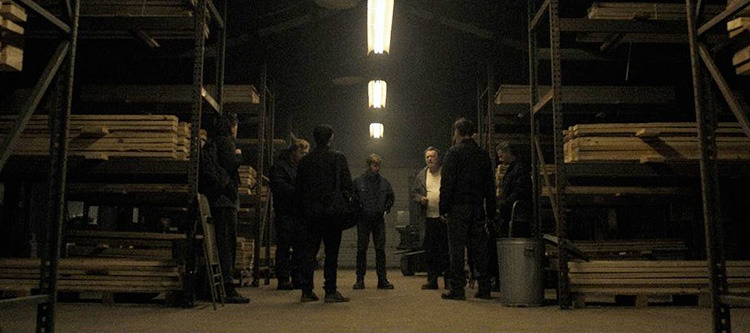 Henry Dunham's The Standoff At Sparrow Creek will split a furious political divide like most, if not all, of production company Cinestate's as-now-released slate. Gun rights, civilian militarization, police corruption – unquestionably blurred ethics, but spectacularly intensified nonetheless. On-edge interrogations and stonefaced deceit. Reservoir Dogs in lumber safehouse. Every second tiptoes over pins-and-needles as the slightest slip-up might land you in a hangman's noose, each character planted in their defense like a 300-pound lineman who wouldn't budge for a wrecking ball. A chess game complete with pawns, time-clocks, and strategy – with martyrdom on the line.James Badge Dale stars as Gannon, an ex-cop who defects to his local militia chapter. Men who stockpile armories like war-dog doomsday preppers. It's combat they prepare for, and combat they'll get after a police officer's funeral becomes the latest site of domestic terrorism. A lone gunman suited in body armor and explosives fires into attending observers with an AR-15, exactly the model firearm Ford's (Chris Mulkey) regiment keeps locked up. All members meet at their undisclosed safehouse, survey equipment, and sure enough, the reported weapons used aren't accounted for. Hello, prime suspects. It becomes Gannon's job to interrogate each individual and squeeze a confession before officers break their doors down (if the world doesn't burn before that).
Are there complications? Indubitably. Ford implicitly trusts Gannon due to his lawman expertise and reasons for badge abandonment, but others like Morris (Happy Anderson) voice their distrust. Noah (Brian Geraghty) swears over and over he'd been at the range when shots were fired, Hubbel was hunting (Gene Jones), Beckmann (Patrick Fischler) at work – and Keating (Robert Aramayo)? He doesn't speak. Gannon's task isn't easy, a testament to Dunham's elusive yet straightforward dogfight of a script.
As the night presses on, news of scattered militia factions launching separate lawman-targeted mass shootings flows in over radio comms. South Dakota, Utah, Pennsylvania. The actions of one man spur a chain of anarchistic events that enact right-wing fantasies. It becomes unclear if we're supposed to sympathize with "dirty cop" killers such as Morris, distraught by his daughter's brutal rape and murder while an undercover watched. Keating, a Verbal Kint kind of savant who attempts to outsmart Gannon, has his journal exposed with school shooting plans. Never advocacy – don't misinterpret – but mainly thanks to Dunham's finale, retaliatory violence, and smoke-out methods are dissected under a distorted lens. Don't expect expanded commentary, those of you too uneasy to finish what Dunham starts.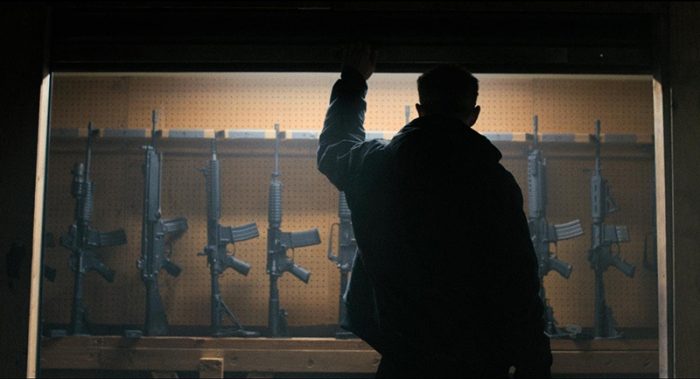 The Standoff At Sparrow Creek exudes nail-biting tension thanks to Badge Dale's commanding investigative brutishness. Exquisitely tense and heated to a furious boil. The question constantly remains, who is in control? Ford, acting as captain and barking orders? Gannon, who's the only sure-bet in Ford's mind once the attack is reported? Dunham hangs this question like a murky cloud that turns toxic over time, disorienting and dismantling every sure bet we determine. Gunfire isn't necessary when provoking danger. Nor is bloodshed. They help, but as zip-tied Morris snickers Gannon's way while playing into interrogation methods – a buck dissolving in chemicals feet away – tables weigh evenly. Dunham proficient in psychological torment until the last dead-silent second (incredible score withholding only for extreme punctuation).
As stated, Badge Dale's confidence as Gannon evokes Michael Madsen bravado with vastly grittier, tactical-minded intrigue. He's not a razor-slicing' psychopath. Gannon does what he does effectively well, and rapid speech patterns churn as quickly as his synapses can fire off processed information. Happy Anderson, Gene Jones, Robert Aramayo – anxious banter requires two charismatic sparring partners, that's understood. A robust supporting cast handily and rustically paints backwoods caricatures teetering on the edge of World War III. Badge Dale is still at the center of every conflict, gasp, and swaying of power, be he trumping yet another weak argument or losing unholy levels of cool when witnesses turn away.
Military thrillers typically depend on explosive fighting to draw excitement, but The Standoff At Sparrow Creek deafens through sensationalized silence. What's between the lines is most revealing; understatement and subtlety shatter nerves like brittle bones. You're not supposed to feel safe or comfortable, precisely as Henry Dunham plans. In that regard, expect edge-of-your-seat standoffs between men willing to watch the world burn – but instead, we witness theirs crumble down. As an isolated scenario of steamy pressure-cooker provocation, and not a moral compass, fist-clenched captivation this effortless is rare. It all goes along with the pit left in your stomach as our world's bleakest tendencies are disgustingly exploited by a smoking gun.
/Film Rating: 7.5/10