'Fantastic Beasts: The Crimes Of Grindelwald' Trailer: The Wizarding War Is Coming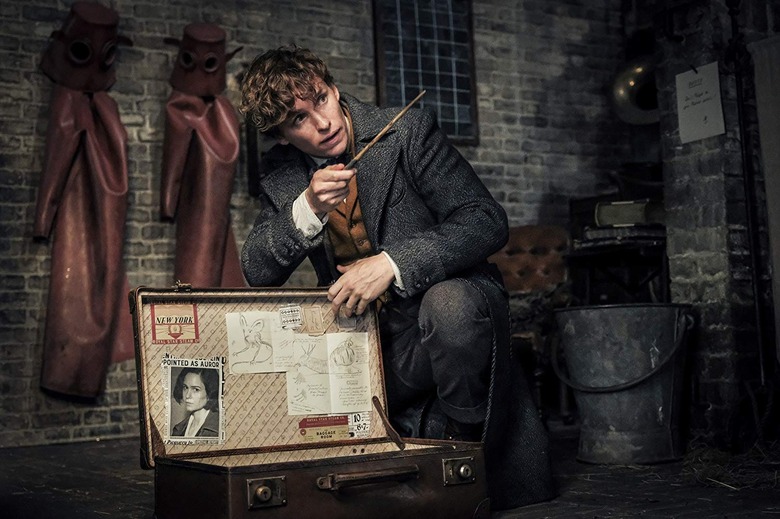 Warner Bros. has released a new trailer for Fantastic Beasts: The Crimes of Grindelwald, which sees the pacifist magizoologist Newt Scamander (Eddie Redmayne) become embroiled in the oncoming wizarding war. See the new Fantastic Beasts the Crimes of Grindelwald trailer below.
Fantastic Beasts The Crimes of Grindelwald Trailer
Directed by David Yates from a script by J.K. Rowling, the sequel to the Harry Potter spin-off takes us on our darkest adventure yet. Following his adventure in New York City, Newt Scamander returns to Europe, only to be sent on a globe-trotting quest by his former professor, hot young Albus Dumbledore (Jude Law). This confidential mission sends him on the hunt for the escaped Dark wizard Grindelwald, who is readying for the greatest wizarding war the world has ever seen.
The past few trailers have hammered in just how dark this movie is — though we do get a happy glimpse at our old haunts on Hogwarts. But Newt finds himself dramatically out of his depth in his new mission, which reunites with his friends Tina (Katherine Waterston), Jacob (Dan Fogler), and Queenie (Alison Sudol). All of whom, including the rest of the main cast including Ezra Miller, Zoë Kravitz, Callum Turner, Claudia Kim, William Nadylam, Kevin Guthrie, Carmen Ejogo, and Poppy Corby-Tuech, received character posters accompanying the new trailer release. You can see the character posters below.
Fantastic Beasts: The Crimes of Grindelwald opens in theaters on November 16, 2018.
At the end of the first film, the powerful Dark wizard Gellert Grindelwald (Johnny Depp) was captured by MACUSA (Magical Congress of the United States of America), with the help of Newt Scamander (Eddie Redmayne).  But, making good on his threat, Grindelwald escaped custody and has set about gathering followers, most unsuspecting of his true agenda: to raise pure-blood wizards up to rule over all non-magical beings.
In an effort to thwart Grindelwald's plans, Albus Dumbledore (Jude Law) enlists his former student Newt Scamander, who agrees to help, unaware of the dangers that lie ahead.  Lines are drawn as love and loyalty are tested, even among the truest friends and family, in an increasingly divided wizarding world.