'Mister Rogers' Google Doodle Invites You To Be Its Neighbor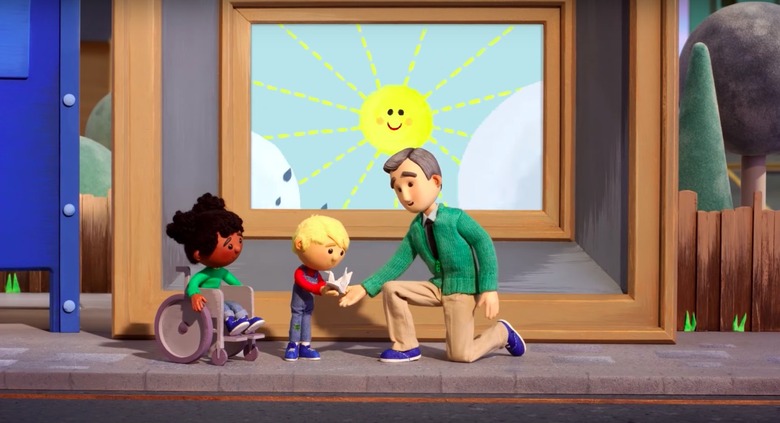 We may receive a commission on purchases made from links.
Happy Friday everyone, are you ready to cry? Because the latest Google Doodle paying tribute to the beloved Fred Rogers of Mister Rogers' Neighborhood will do its darnedest to make you sob sweet, nostalgic tears.
A Mister Rogers Google Doodle has been released to celebrate Mister Rogers' Neighborhood's 51st anniversary, right on the heels of the moving documentary Won't You Be My Neighbor?, which was released to universal acclaim earlier this year. Now you can escape to the Land of Make-Believe with the stop-motion animated reimagining of the classic opening theme.
Mister Rogers Google Doodle
The Google Doodle transforms the iconic opening theme into a delightful xylophone lullaby, in this stop-motion animated clip that reimagines the show's opening sequence. As the familiar tune of "Won't You Be My Neighbor" plays, the Google Doodle takes us through real world and the fantasy world of the beloved children's show, throwing in nods to everything from the aquarium to King Friday and other inhabitants of Rogers' fantastical Land of Make-Believe.
Today marks the 51st anniversary of the debut of Mister Rogers' Neighborhood, which began its legendary run on Pittsburgh's public television station WQED before hitting national airwaves on PBS six months later, which would elevate the show into TV history.
This whimsical Google Doodle is the perfect capper to a Mister Rogers-filled year. First the beloved children's show host made us sob uncontrollably with the documentary Won't You Be My Neighbor, which delved into the man behind the curtain.
Google also released a behind-the-scenes video about how the Doodle came to life, with commentary from Cathy Cohen Droz of Fred Rogers Productions and Melissa Crowton, one of the video's directors.
If you've found your day considerably brightened by this two-minute clip, then let this be your latest reminder to watch the riveting, heartstrings-pulling documentary that is Won't You Be My Neighbor? The documentary — which is definitely a shoo-in at the Oscar race this year — is now available on digital download, as well as Blu-ray and DVD.