Horror Short 'Milk' Being Adapted To Feature Film Produced By James Wan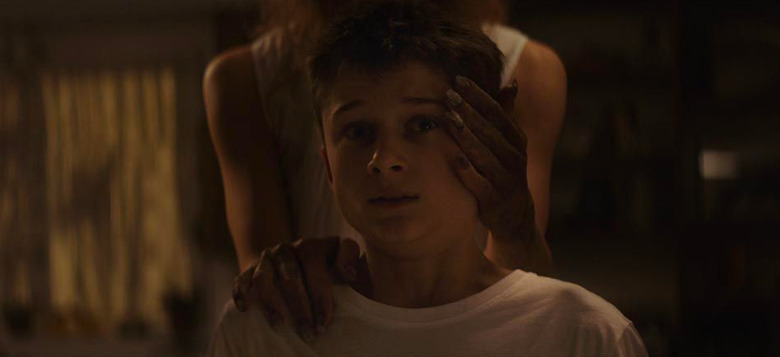 James Wan isn't letting Aquaman keep him from the horror genre. The filmmaker will produce Milk, a feature adaptation of a short film from director Santiago Menghini. The story involves a teen who wakes late one night, and starts to realize things are not as they seem. More about the Milk movie adaptation below.
Milk Trailer
Milk! It does a body good! And is also terrifying, apparently. Santiago Menghini's horror short Milk begins late night one night, when "a young teen goes into the kitchen for a glass of milk. Upon encountering his sleepless mother, he quickly realizes things are not as they seem." I'm not sure how that's going to be turned into a feature film, but producer James Wan is going to give it a go.
The Milk feature adaptation will be helmed by Menghini, with a script by Super Dark Times writers  Ben Collins and Luke Piotrowski, per Collider. According to their story, the feature film is being described as the story of a "sheltered young teen with an overbearing mother who begins to suspect his reality is not as it seems." The short film won the Midnight Shorts Jury Award at SXSW this year.
This is just the latest producing effort from Wan, who maintains a producing credit on the Conjuring franchise, and is also producing The Curse of La Llorona, the upcoming Swamp Thing series from DC Universe, a remake of Arachnophobia, and a remake of Stephen King's The Tommyknockers. I'm happy to see Wan sticking with the horror genre from a producing standpoint, but I also hope he comes back to direct as well.
Milk is just the latest in a line of short horror films turned into features. Andy Muschietti's Mama began as a short, before being turned into a full-length film starring Jessica Chastain. Jennifer Kent's The Babadook was originally a short film called Monster. Mike Flanagan's haunted mirror pic Oculus started out as a short called Oculus: Chapter 3 – The Man With the Plan. And David Sandberg's Lights Out (which Wan also produced) was originally a nearly 3 minute horror short. Even Saw, the film that launched Wan's career, was based on a short film. More and more it seems that crafting a eye-catching horror short is the perfect way to launch your feature career.
While the full Milk short film isn't available online, you can watch another of Menghini's shorts – Intruders – in full.