'Into The Dark' Teaser: Get A Glimpse Of Hulu's New Horror Anthology Series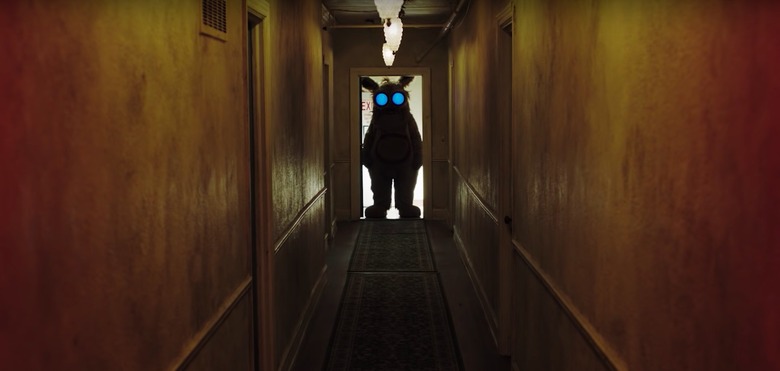 There's a whole sub-genre of holiday-themed horror, but Blumhouse and Hulu take it to another level with Into the Dark. Sure, there are the usual suspects — Halloween and Christmas — but what about all the holidays in between? Can you imagine an Easter horror story? Well, Into the Dark can.
An anthology series inspired by a holiday in every month in which its released, Into the Dark is an experiment in horror storytelling that will air 12 episodes over the course of a year. See the first Into the Dark teaser, released by Hulu, to get an idea of the terrifying year ahead of us.
Into the Dark Teaser
Produced by Jason Blum and David Alexa Faigen, Into the Dark is Blumhouse TV's latest venture into the crowded field of television horror following their successful Indian Netflix horror miniseries Ghoul. But true to Blumhouse's experimental roots, Into the Dark is an anthology series unlike most we've seen. Every episode is tied to a specific holiday, starting, naturally, with Halloween. The first episode "The Body,"written by Paul Davis and Paul Fisher, follows "a sophisticated, overconfident hitman who always carries out his work in style" amidst the "selfie culture of Los Angeles" on Halloween night.
But following that in November is Thanksgiving, and then Christmas, New Year's, Valentine's Day, and so on. Not all holidays that you would associate with horror, but Blumhouse is looking to push past our expectations with Into the Dark.
Each episode boasts a different star-studded cast and new writers and directors. Davis directs "The Body," which stars Tom Bateman, Rebecca Rittenhouse, Aurora Perrineau, David Hull, and Ray Santiago. Patrick Lussier directs the second Louis Ackerman-penned episode, "Flesh & Blood," which stars Dermot Mulroney, Dana Silvers, and Tembi Locke and is set on Thanksgiving.
Those are the only episodes we have information about for now and the teaser doesn't tell us much apart from delivering a few scary images. But as Into the Dark continues producing more episodes, we'll learn more about this unique anthology series.
Here's the official synopsis for Into the Dark:
In partnership with Blumhouse Television, Into The Dark is a horror event series from prolific, award-winning producer, Jason Blum's independent TV studio. The series includes 12 super-sized episodes, with a new installment released each month inspired by a holiday and will feature Blumhouse's signature genre/thriller spin on the story.
Into the Dark is set to premiere on Hulu on October 5, 2018. The second episode ("Flesh & Blood") airing on November 2, 2018.