'Ralph Breaks The Internet' Reveals Characters Voiced By Alfred Molina, Ali Wong & More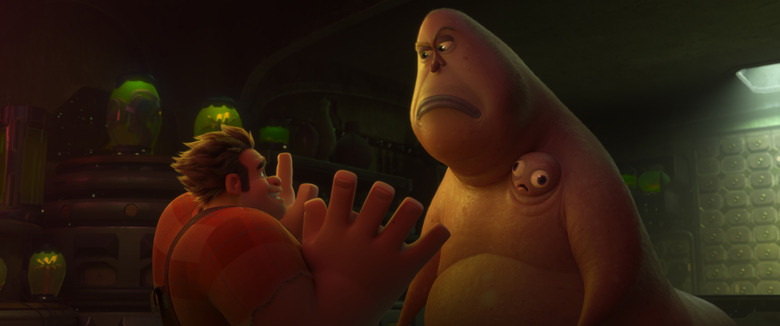 This morning, a brand new trailer for Ralph Breaks the Internet arrived, showcasing even more footage from the parade of Disney intellectual property that the not-so-bad video game bad guy will encounter when he heads into the internet. That footage included the debut of some characters who we hadn't yet seen, and thankfully, we know exactly who those characters are, and who will be voicing them. So let's find out who else is in the Ralph Breaks the Internet cast.
First up, that grotesque Muddy Mudskipper-looking character up top is called Double Dan, the proprietor of the dark web's apothecary. Voiced by Alfred Molina (Spider-Man 2), the official press release from Disney rudely describes him as a "massive, slimy and decidedly creepy." Obviously he's bigger than Wreck-It Ralph, who is already bigger than most of the characters in the video game and internet world, so he must be pretty sizeable. As you can see, he also has a second head appropriately called Little Dan peaking out from just below his neck.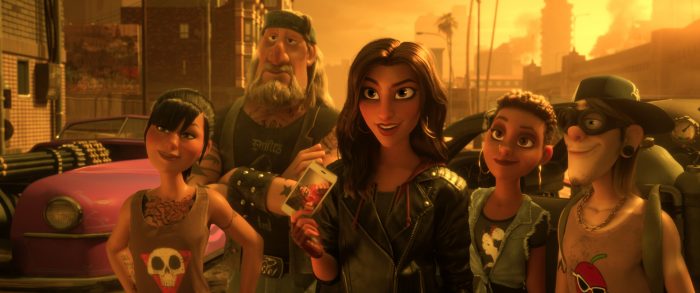 Meanwhile, back on the video game side of things, the online racing game Slaughter Race has plenty of other characters besides the previously revealed Shank voiced by Gal Gadot. A new image shows the Wonder Woman star has a whole crew of drivers who race alongside her in the deadly competition.
First up, there's Felony (left, voiced by comedian Ali Wong), then Butcher Boy (voiced by Timothy Simons of Veep), Little Debbie (voiced by Glozell Green) and Pyro (voiced by Hamish Blake). Surely each of them will have their own signature racing styles and presumably weapons since this game looks like it's pretty dangerous.
***
These new details and the new trailer help make this movie seem less like an excuse for Disney to show off their other signature brands and more like a proper animated adventure. While there is still a lot of focus on the Disney crossover that the internet makes possible, it's nice to see that the core story is still very much about the relationship and dynamic between Ralph and Vanellope.
Ralph Breaks the Internet leaves Litwak's video arcade behind, venturing into the uncharted, expansive and thrilling world of the internet—which may or may not survive Ralph's wrecking. Video game bad guy Ralph (voice of John C. Reilly) and fellow misfit Vanellope von Schweetz (voice of Sarah Silverman) must risk it all by traveling to theworld wide web in search of a replacement part to save Vanellope's video game, Sugar Rush. In way over their heads, Ralph and Vanellope rely on the citizens of the internet—the Netizens—to help navigate their way, including Yesss (voice of Taraji P. Henson), who is the head algorithm and the heart and soul of the trend-making site "BuzzzTube," and Shank (voice of Gal Gadot), a tough-as-nails driver from a gritty online auto-racing game called Slaughter Race.
Ralph Breaks the Internet opens in theaters on November 21, 2018.