'Doctor Who' Season 11 Trailer: Jodie Whittaker Is "Glorious" As The First Female Doctor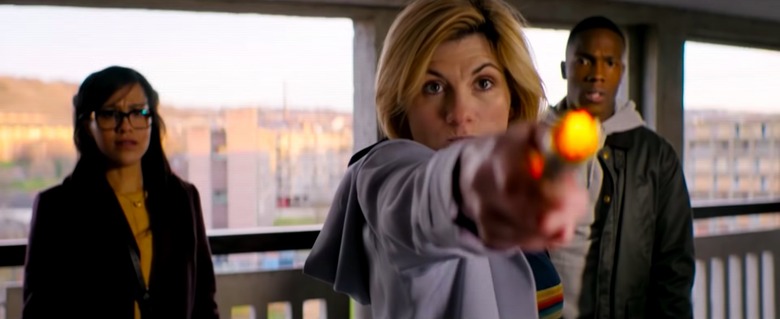 "I'm the Doctor and I never refuse to help."
With those words, Jodie Whittaker quickly establishes herself as the brightest and most joyful Doctor that we've seen in ages — a huge 180 from her grim predecessor Peter Capaldi. From the looks of the new trailer for Doctor Who season 11, it looks like the long-running BBC sci-fi series is heralding the dawn of a new era — or maybe a return to the campy, fun-loving days of early New Who. But don't worry, there's still plenty of action, explosions, aliens, and peeks at the Doctor's new sonic screwdriver. And of course, a whole lot of running.
Doctor Who Season 11 Trailer
Following the cryptic 
for the 11th season of Doctor Who, the new trailer released by the BBC finally gives us a peek at the 13th Doctor in action. And boy, it is glorious. Yeah that Macklemore and Skylar Grey
has been overused quite a bit in trailers this year, but it is kind of perfect for the introduction of our first female Doctor.
"Sometimes I see things need fixing," the Doctor tells us, giving us an idea of this new Doctor's more optimistic ethos. "And I do what I can."
With her beaming smile and colorful outfit, Whittaker and new showrunner Chris Chibnall are bringing in a new age for Doctor Who. There's always a seismic tonal shift whenever a new Doctor boards the TARDIS, but season 11 feels like a new show altogether, one that sheds the gloom and doom of previous seasons (though Capaldi's swan song felt like the beginning of that pivotal turning point). And with the 13th Doctor's makeover comes a new trusty sonic screwdriver, which we got a glimpse of in the first trailer but that we now get to see in action.
Yes the changes, they are a-coming, but it's still the same Doctor Who we know and love: there are just as many aliens that need defeating, and just as many explosions for the Doctor and her companions (played by Bradley Walsh, Mandip Gill, and Tosin Cole) to run from. The season premiere of Doctor Who couldn't run toward us fast enough.
In addition to the trailer, 
has released the first details about Doctor Who season 11's first two episodes, "The Woman Who Fell to Earth" and "The Ghost Monument."
Episode One : The Woman Who Fell To Earth
"We don't get aliens in Sheffield." In a South Yorkshire city, Ryan Sinclair, Yasmin Khan and Graham O'Brien are about to have their lives changed forever as a mysterious woman, unable to remember her own name, falls from the night sky. Can they believe a word she says? And can she help solve the strange events taking place across the city?
Guest starring Sharon D. Clarke, Johnny Dixon and Samuel Oatley. Written by Chris Chibnall and directed by Jamie Childs.
Episode Two: The Ghost Monument 
Still reeling from their first encounter, can the Doctor and her new friends stay alive long enough in a hostile alien environment to solve the mystery of Desolation? And just who are Angstrom and Epzo?
Guest starring Shaun Dooley, Susan Lynch and Art Malik. Written by Chris Chibnall and directed by Mark Tonderai.
Doctor Who makes it worldwide premiere on BBC and BBC America on October 7, 2018.