'Ralph Breaks The Internet' Trailer: Disney Rick Rolls The Internet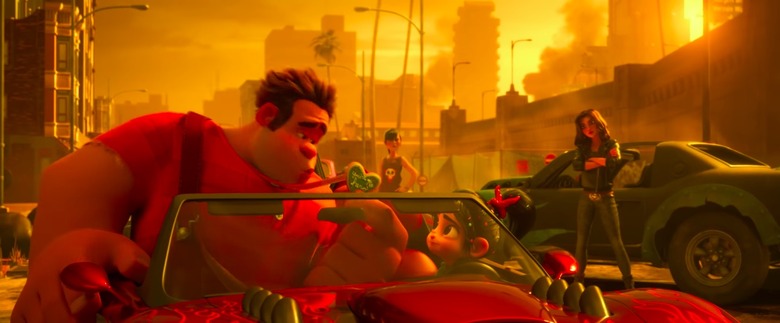 Disney has released a new trailer for Ralph Breaks the Internet — apparently dropping the cumbersome subtitle Wreck-It-Ralph 2 — which follows best friends Ralph (John C. Reilly) and Vanellope von Schweetz (Sarah Silverman) as they venture beyond the familiar world of their video game arcade into the great unknown of the internet. However, a stumble into the dangerous online racing game Slaughter Race could soon change their friendship as they know it.
Ralph Breaks the Internet Trailer
Ralph and Vanellope are about to get slaughtered, though not in the way you expect. While the first trailers for Ralph Breaks the Internet were barrages of corporate logos and cute scenes with Disney princesses, the newest trailer digs into the meat of the story, which seems to take place at Slaughter Race.
The apocalyptic online racing game lead by the cool, "tough-as-nails" driver Shank (Gal Gadot) immediately captivates Vanellope, who finds herself fitting in perfectly with the game's no-holds-barred structure. But that leaves Ralph hanging back in the dust and left to explore the Dark Web on his own, where he encounters the slimy apothecary proprietor Double Dan (Alfred Molina), who has a second head growing out of his neck. Naturally, all of this action is set to Rick Astley's "Never Gonna Give You Up" — that's right, Disney just Rick Rolled us.
The trailer comes accompanied by a new poster, which features all the characters that Ralph and Vannellope meet during their adventure into the internet — fittingly, standing atop a Wi-Fi signal.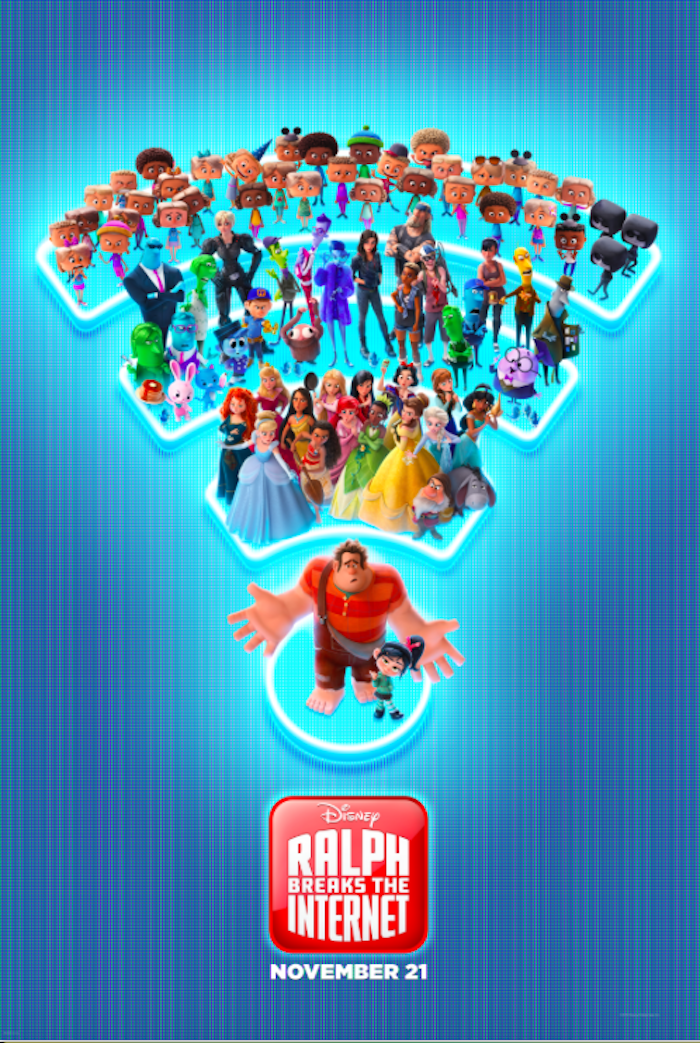 Directed by Rich Moore and Phil Johnson, Ralph Breaks the Internet also stars Jack McBrayer, Jane Lynch, Alan Tudyk, Ed O'Neill, Ali Wong, Timothy Simons, Glozell Green, Hamish Blake, and Taraji P. Henson.
Here is the official synopsis for Ralph Breaks the Internet:
In "Ralph Breaks the Internet," video-game bad guy Ralph (voice of John C. Reilly) and best friend Vanellope von Schweetz (voice of Sarah Silverman) leave the comforts of Litwak's arcade in an attempt to save her game, Sugar Rush. Their quest takes them to the vast, uncharted world of the internetwhere they rely on the citizens of the internet—the Netizens—to help navigate their way. Lending a virtual hand are Yesss (voice of Taraji P. Henson), the head algorithm and the heart and soul of the trend-making site "BuzzzTube," and Shank (voice of Gal Gadot), a tough-as-nails driver from a gritty online auto-racing game called Slaughter Race, a placeVanellope wholeheartedly embraces—so much so that Ralph worries he may lose the only friend he's ever had.
Ralph Breaks the Internet opens in theaters on November 21, 2018.