'If Beale Street Could Talk' Trailer: Barry Jenkins Brings James Baldwin's Words To Life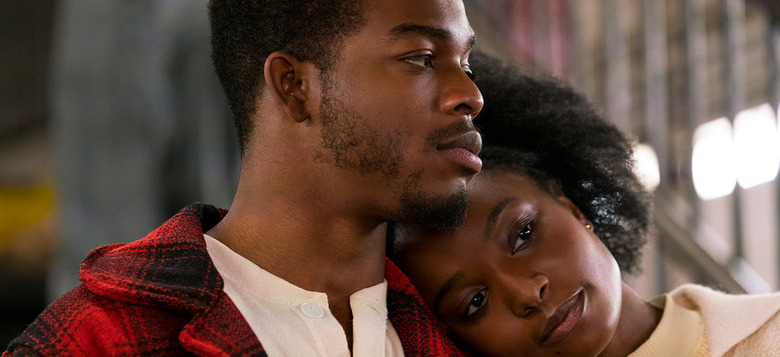 Moonlight director Barry Jenkins is back with If Beale Street Could Talk, adapted from the James Baldwin novel of the same name. Jenkins' film follows a pregnant young woman hoping to clear her fiancé's name after he's imprisoned for a crime he did not commit. Watch the new If Beale Street Could Talk trailer below.
If Beale Street Could Talk Trailer 
With If Beale Street Could Talk, Barry Jenkins has delivered another powerful, emotional film. Romantic, tragic and underlined with a message about racial injustice, this is going to a movie people will be talking about for the rest of the year. In Beale Street, Tish (KiKi Layne) discovers she's pregnant just as her fiancée, Fonny (Stephan James) winds up in jail – arrested for a crime he didn't commit. With the help of her family, Tish hopes to clear Fonny's name before their baby is born. Jenkins wrote the script, adapted from James Baldwin's 1974 novel.
"I've always been enamored and humbled by the way Baldwin thinks," Jenkins said. "I think right now we're living in a time and a moment where so many things he was writing about are incredibly relevant to the American soul. In this book you have the American soul reflected in a very pure love between two black people. From the very first moment to the moment I sat down to adapt it, that just always stayed with me. I hadn't really seen a love of that sort of purity, that clarity turned into images. To me, it was about the journey, the challenge of taking the feeling that I found on the page and try to turn that into digital imagery."
I had the chance to see If Beale Street Could Talk at TIFF this year, and found the film to be extraordinary. In my review, I wrote:
Romantic and tragic, Beale Street is gorgeous and emotionally stirring – the type of movie that only comes along every so often...Adapting James Baldwin's novel of the same name, Jenkins has crafted a swooning love story that will both warm and break your heart. It's one of the best movies you'll see this year.
If Beale Street Could Talk opens November 30, 2018.
After her fiancée is falsely accused of raping a woman, a newly-engaged Harlem woman tries to prove his innocence before she gives birth to their child. Facing an uncertain future, the couple find themselves desperately clinging to survival at any cost.