A 'Prince Of Darkness' TV Series From John Carpenter May Be Coming To Shudder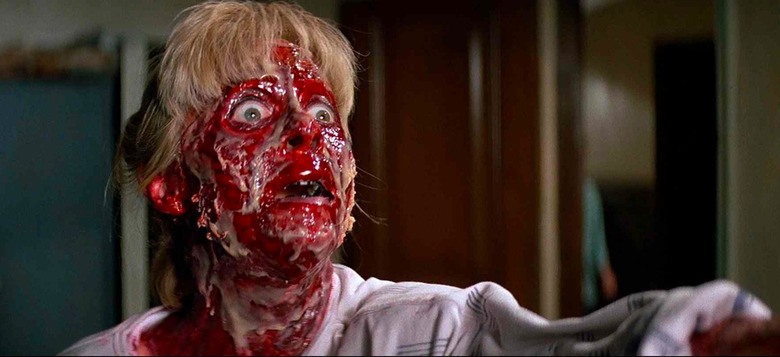 John Carpenter hasn't helmed a film in seven years, but he remains as culturally relevant as ever. Countless filmmakers have aped his style, and the new Halloween is rekindling excitement for his work in general. And there's more to come. In a new interview, Carpenter hinted that he's teaming up with horror streaming service Shudder to create a Prince of Darkness TV series, based on his 1987 film.
Is John Carpenter developing a Prince of Darkness TV series? That certainly seems to be what he's implying in a new interview with Consequence of Sound. During the interview, the subject of Shudder – the horror streaming channel owned by AMC – came up. Carpenter then said, "We're talking to them about doing a theme," although he didn't go into details. He then added: "And maybe doing a show for them. What would you think about Prince of Darkness as a TV show?" When pressed for a more solid confirmation, however, Carpenter added: "Well, maybe. Maybe not. I don't know...I'm not going to tell you. I'm not going to tell you."
This is all a bit vague, but I hope Carpenter is telling the truth here. Prince of Darkness isn't as talked-about as some of Carpenter's other films, but it's one of my favorites. It's an eerie, strange story about a group of scientists and students gathered together in an old church. Hidden away in the basement is a giant metal tube swirling with a strange green liquid. The liquid turns out to be Satan himself. One by one, certain members of the team become possessed, and attempt to kill the others. "I thought it would be interesting to create some sort of ultimate evil and combine it with the notion of matter and anti-matter," Carpenter said of the film.
It's part of Carpenter's "Apocalypse Trilogy", which also includes The Thing and In the Mouth of Madness.
Prince of Darkness works quite well as a film, but I'm not entirely sure how it would work as a TV series. The film is set almost entirely over the course of one night in one location, which doesn't exactly lend itself to episodic TV. I'm guessing big changes have to be made – and that's fine. As long as Carpenter is involved in some capacity, I'm interested.