Spike Jonze Helped Shape The Story Of 'Mid90s,' Jonah Hill Says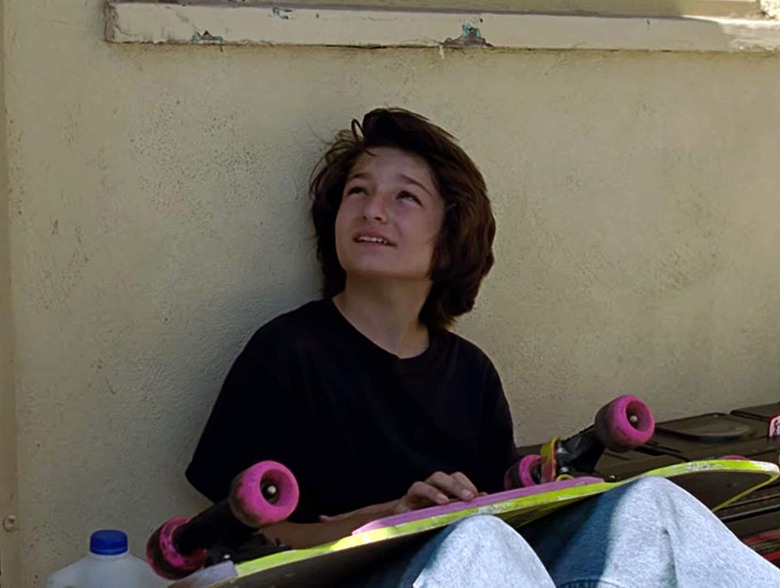 Jonah Hill made a triumphant directorial debut with mid90s, which held its world premiere at the Toronto International Film Festival this year. But things may have turned out completely different if it wasn't for Spike Jonze. The Where the Wild Things Are director may not have a writing credit for the coming-of-age film, but he apparently played a pivotal part in shaping the mid90s story.
mid90s centers around a young boy who finds himself falling in with a group of skateboarders, where he forms unbreakable bonds and friendships. It's a classic coming-of-age film that is already being compared to seminal films of the same genre such as Kids. But that's not how Hill originally intended it.
In a recent interview with Collider, Hill revealed that the coming-of-age story was only a subplot of his original story, which would follow the adult protagonist as he flashed back to his life at 12 years old. But it was at the urging of Spike Jonze, Hill's friend and mentor, that Hill decided to scrap the A-plot and turn mid90s into a coming-of-age film:
"Originally the movie was about something completely different but it kept flashing back to the main character when he was with his friends when he was twelve. And Spike said to me, you look less enthused when you're talking about the 'A' story, and you light up like a Christmas tree when you're talking about the other stuff."
Hill may have worked with some of the biggest names in Hollywood, like Judd Apatow, Seth Rogen, Leonardo DiCaprio, and Martin Scorsese, but he found that their prestige isn't as important as the advice that comes with their years of experience.
"You need mentors, you need friends, you need other writers to go, 'Ah you're shying away of what is actually painful to write about,'" Hill added, "And that's really your job as a filmmaker to other filmmakers is to go, 'Oh you're being scared right now and avoiding the thing that's hard for you to write about and that's the best part of your story,' and its just being called out, and that's the beauty of collaboration."
And that advice helped Hill craft what /Film reviewer Marshall Shaffer called "an authentic and unfettered expression of maturation and belonging." In his TIFF review, he adds, "mid90s is a heartfelt coming-of-age story made with real wisdom and insight into what makes young men tick."
Starring Sunny Suljic, Lucas Hedges, Na-Kel Smith, and Olan Prenatt, mid90s opens in theaters on October 19, 2018.