15 Movies We're Dying To See At Fantastic Fest 2018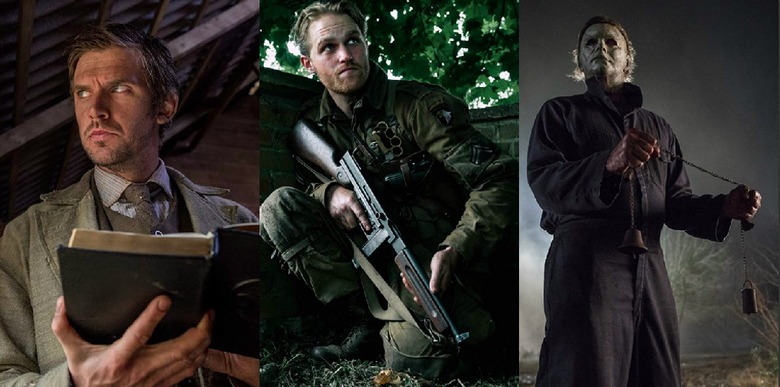 Fantastic Fest, the largest genre film festival in the United States, kicks off tomorrow and /Film will be in attendance. Soon, we'll be neck-deep in horror, fantasy, action, and general all-around weirdness and we'll be sharing with you what you must see and what you must seek out. Few film festivals encourage curiosity and being adventurous quite like this one.
But before things kick off, our team came together to talk about the movies we want to see above all others. Sure, we're going to discover new favorites and hidden gems during the fest, but these are the movies we're prioritizing.
Apostle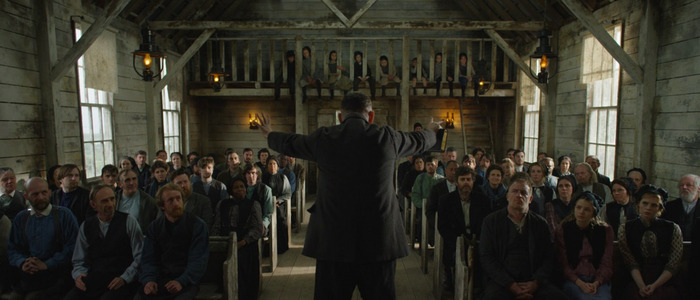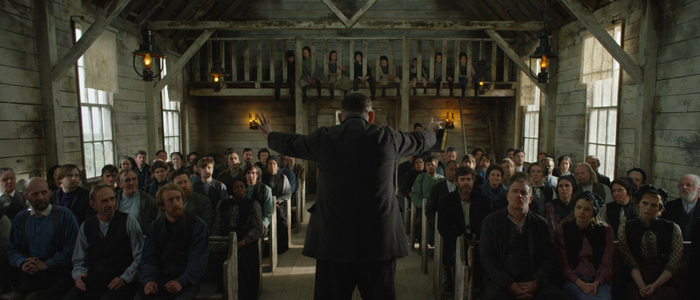 Director: Gareth EvansSynopsis: The year is 1905. Thomas Richardson travels to a remote island to rescue his sister after she's kidnapped by a mysterious religious cult demanding a ransom for her safe return. It soon becomes clear that the cult will regret the day it baited this man, as he digs deeper and deeper into the secrets and lies upon which the commune is built.Why We're Excited: Gareth Evans is best known for directing The Raid and The Raid 2, you know, films that belong in the "best action movies ever made" conversation. But in-between those two masterpieces, he co-directed something else that was awfully unforgettable: "Safe Haven," a lengthy short film and the centerpiece of the horror anthology V/H/S 2. In 30 minutes, Evans delivered one of the most visceral and downright terrifying horror tales of the 21st century. So the thought of him diving into the genre with a proper budget and a recognizable cast (led by Dan Stevens) is a thrilling prospect. Evans has conquered the action movie. It's time for him to brand the horror genre with his signature style. (Jacob Hall)
Bad Times at the El Royale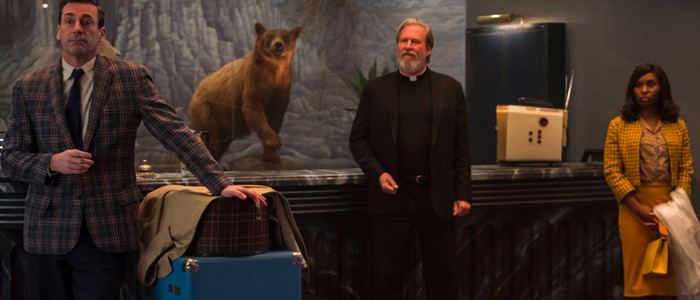 Director: Drew GoddardSynopsis: Seven strangers, each with a secret to bury, meet at Lake Tahoe's El Royale, a rundown hotel with a dark past. Over the course of one fateful night, everyone will have a last shot at redemption... before everything goes to hell.Why We're Excited: Drew Goddard is an Oscar-nominated screenwriter and successful television producer...and he is also the mad man who directed the instant-classic The Cabin in the Woods, a horror satire that eviscerated its own genre in a way that could only be accomplished by someone who loved it a great deal. Bad Times at the El Royale looks to be a very different beast – a more straightforward thriller about strangers all in one place with bad intentions – but honestly, I don't need Goddard to deliver something as batshit nuts as Cabin. All I need is another film from this clever and surprising filmmaker who shouldn't have to wait years between helming feature films. (Jacob Hall)
Cam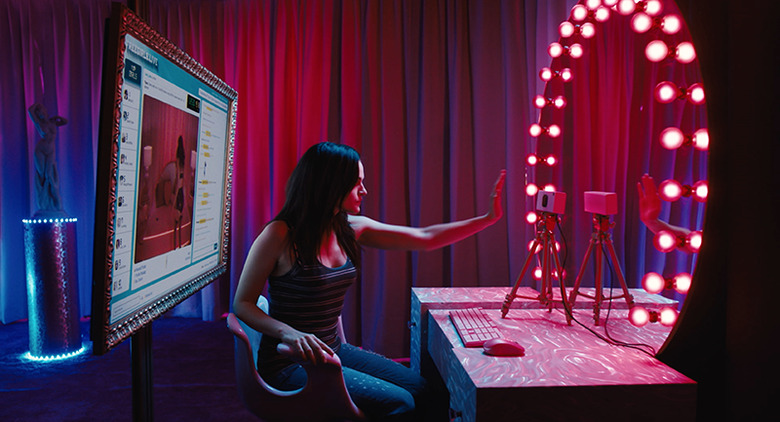 Director: Daniel Goldhaber
Synopsis: Alice is a camgirl with principles. She doesn't do public shows, she doesn't tell her fans she loves them, and she doesn't fake her orgasms. But when a mysterious lookalike takes over her channel, the rules no longer apply.
Why We're Excited: As of 2016, the money generated by the camming industry reached upwards of $2 billion annually with 12,500 cam models and more than 240,000 viewers online at any given time. The staggering number of people utilizing social media and the internet to project a fabricated image of themselves for money or validation is fascinating to me. Despite shining a neon-soaked light on sex workers, the themes of Cam appear to be eerily relatable in our society's need for attention and the blurred lines between what we are and what we pretend to be behind the seemingly safe computer screen. The fact that writer Isa Mazzei utilized her own experiences in the cam industry to write the film, drives the horror component even deeper down the internet's deviant echo chamber. Cinematographer Katelin Arizmendi provides a dreamy and lush feminine touch to the screen complete with bright pink and purple hues that juxtapose the dark side of the web that we all know exists, but rarely experience. This psychological thriller teases a multi-layered approach with its themes and relevance in the modern technological age while simultaneously allowing audiences a potential sympathetic yet disturbing glimpse into the cam girl subculture. (Marisa Mirabal)
Deadly Games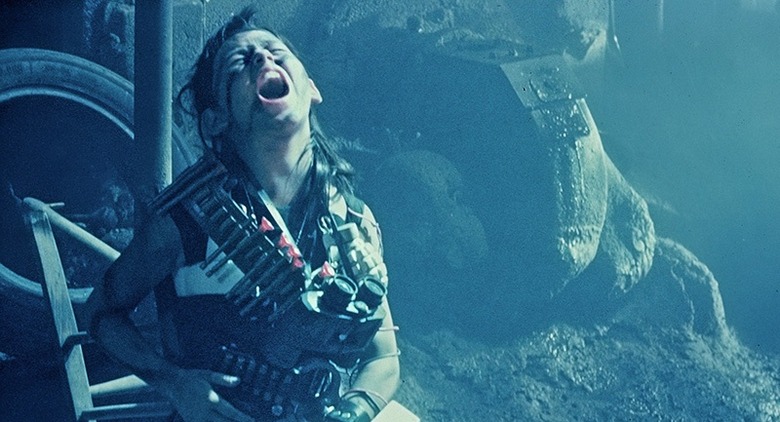 Director: René Manzor
Synopsis: Deadly Games (3615 CODE PÈRE NOËL) is the terror version of Home Alone. A 9-year old kid in his house, tormented by a demented Santa Claus, fights for his survival by setting traps. Christmas will never be the same again.
Why We're Excited: Fantastic Fest's curation is a work of marvel year-by-year, not only loading schedules with hotly anticipated premieres, but also lesser-seen retros the programming team knows audiences will go gonzo over. This year, one such oldie is René Manzor's 1989 Deadly Games (aka 3615 Code Père Noël). Why does this specific repertory screening excite me so, you ponder? Simple: Christmas Horror with a French twist.
European filmmakers always take it just a step further.
Those of you who've been following /Film long enough might know that last Christmas I ranked 80ish XMas themed horror films because I'm an absolute madman (every single one I could find). Holiday horrors are a delicacy in this sacred house. Ask /Film collaborator Rob Hunter, who shares equal enthusiasm for halls decked with dismembered limbs and warped holiday cheer. Deadly Games was on my massive ranking radar at the time, but unfortunately no possible viewing option existed for me in the states – UNTIL NOW. Bless you, Fantastic Fest. (Matt Donato)
Deadwax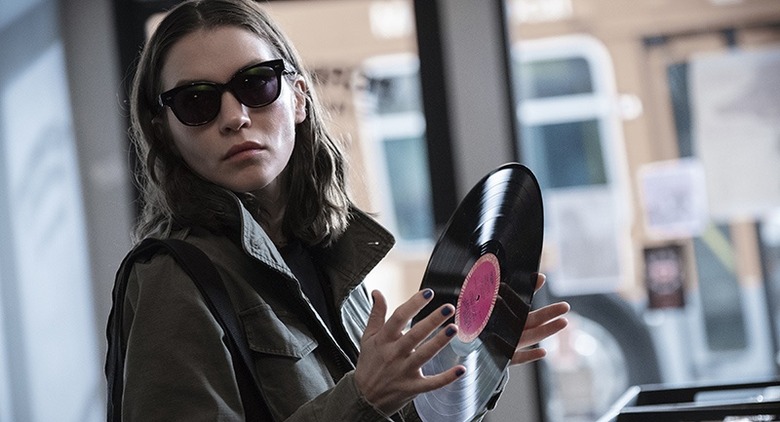 Director: Graham Reznick
Synopsis: A young woman is pulled into a murder investigation revolving around a curious vinyl record which has driven those who possess it mad, and killed anyone who dared to listen to it.
Why We're Excited: Right now, I am spinning Christopher Young's Hellraiser score on vinyl which was released by Death Waltz, a record company that had a small part in the making of Deadwax. As a collector of film scores on vinyl and avid horror fan, a movie about a record that causes harm to its listeners once the needle hits, is right up my dark and twisted alley. The nefarious folklore behind backmasking, or spinning a record backwards to reveal a hidden message, has been explored in beloved campy horror films such as The Gate and Trick or Treat. Then there's The Ring franchise that follows a murderous videotape that once played, kills off its viewers. Deadwax seems to drive full-force into the horror/physical media realm with Shudder and sound designer-turned-director Reznick (The House of the Devil) at the wheel. Any time there's a film that utilizes '70s giallo-esque music splattered with '80s-style gore, you can color me intrigued. Speaking of '80s, Ted Raimi even guest stars in this atmospheric eight episode series. Suffice it to say, I'm stoked about this film and a potential vinyl release as I currently flip my Hellraiser record to side B. (Marisa Mirabal)
FP2: Beats of Rage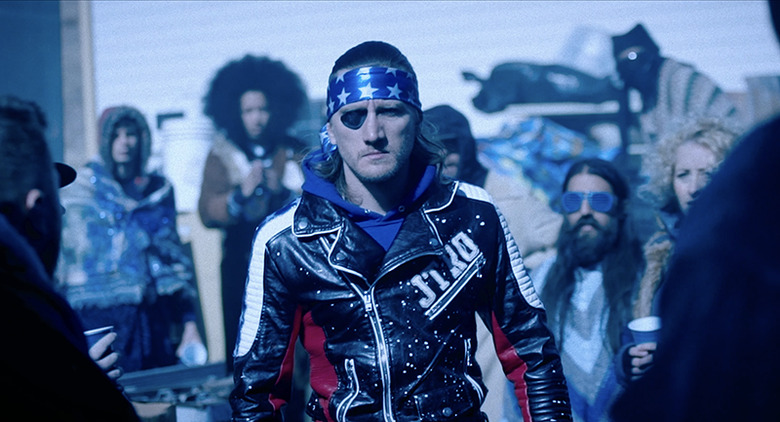 Director: Jason Trost
Synopsis: JTRO gave Frazier Park everything he had, but his challenges aren't over. Now he must journey into the destruction of The Waste to rekindle the passion he needs to win the ultimate Beat-Beat Revelation tournament and fulfill his destiny.
Why We're Excited: Back in 2011, indie maverick Jason Trost debuted his dystopian Dance Dance Revolution universe with The FP (at Fantastic Fest, no les). Trost stars as hero JTRO, who must avenge the death of brother BTRO (Brandon Trost) after rival 245 gang leader L Dubba E (Lee Valmassy) defeats him in "Beat Beat Revelation" combat (a "Beat-Off," lol). Armed only with his fancy footwork and signature eyepatch, JTRO's journey is a matter of oh-so-80s geekdom life or death – and it's totally the opposite of whack. A beatboxin' deathmatch stunner drenched in lush colorization and arcade swagger. 
FP2: Beats Of Rage sees Jason Trost shoulder the sole burden of writing and directing without brother Brandon (Markus Mentzer steps in as cinematographer), but that doesn't extinguish any hype. Trost proved in The FP that Frazier Park's dangerous apocalyptic playground is a street-cred struggle of passion. Ahead of Fantastic Fest 2018, a teaser appeared for FP2: Beats Of Rage that mirrors and megaphones the same lucid fantasyworld Trost helped birth. My excitement level is through the roof for more Beat Beat Revelation warfare – this time by virtue of a Thunderdome-esque tournament. The FP is DDR The Warriors, and now it appears that Trost is borrowing Bloodsport rules. Sign me up even *before* the Streets Of Rage title pun. (Matt Donato)
Girls With Balls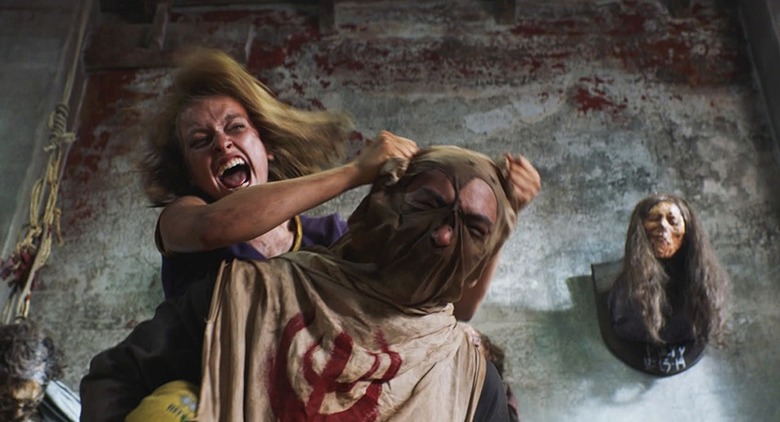 Director: Olivier Afonso
Synopsis: After winning a competition, a women's volleyball team heads home aboard their minibus. Forced to take a shortcut, they end up at a tavern where they upset the local degenerate rednecks... and then the hunt begins.
Why We're Excited: Ever read a film's title and go, "That's my jam?" Enter Olivier Afonso's Girls With Balls. This French import comes to Fantastic Fest with a clean slate and fiesty spirit, boasting gender-turned tables that pit female volleyball players against backwoods male deviants. "The girls are more resourceful than it appears," reads an IMDB bio listing. Oh yeah, bring on the team-building exercises by way of extreme survival situations.
My excitement here stems from a very midnight-movie ring both in name and synopsis. There's no footage to judge off of just yet, but I'm a sucker for a dumb-fun puns. Girls With Balls is just that – but also suggests gender politics will be at the heart of this pseudo-slasher fight against inhumanity. Give me something angry, outspoken, and seething with unforgiveness when it comes to proving females can handle themselves just as ferociously in horror genre scenarios. That's what excites me most – here's hoping Afonso delivers. (Matt Donato)
Halloween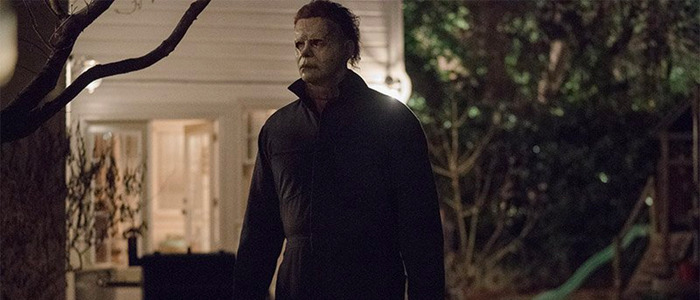 Director: David Gordon Green
Synopsis: Jamie Lee Curtis returns to her iconic role as Laurie Strode, who comes to her final confrontation with Michael Myers, the masked figure who has haunted her since she narrowly escaped his killing spree on Halloween night four decades ago.
Why We're Excited: Forty years later, I am more than ready to return to the streets of Haddonfield. John Carpenter's 1978 slasher, Halloween, was one of my first introductions to the horror genre and taught me how to deconstruct films from a young age. The use of lighting, camera work, score, and character design was unlike anything I had experienced and ultimately solidified my love of horror. At first, I was hesitant about Green and Danny McBride constructing their own version about the boogeyman that slashed his way into my heart so many years ago. However, with Carpenter's blessing, involvement as a creative consultant, executive producer, and composer for the score, my apprehension shifted quickly to excitement. Once Blumhouse dropped the trailer, it was over. The throwbacks to Halloween II and Halloween III: Season of the Witch reinforce the crafty care and respect to the original while paying homage to the franchise as a whole. Jamie Lee Curtis looks strong and stunning in her return role as prey-turned-predator, Laurie Strode, and Nick Castle comes back home as Myers. Based on the trailers and reviews, this film looks like it will be a thing of evil and beauty. (Marisa Mirabal)
Hold the Dark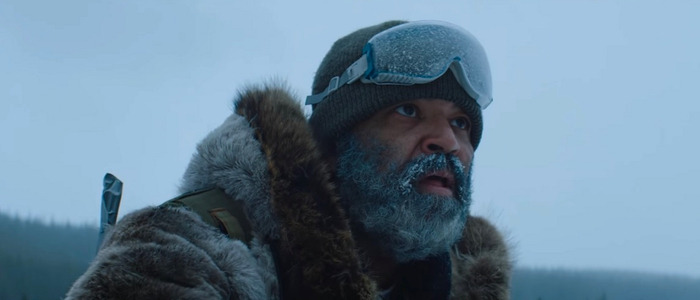 Director: Jeremy SaulnierSynopsis: A gripping psychological thriller unfolds in the treacherous Alaskan wilderness when a retired wolf expert is summoned to investigate a child's disappearance.Why We're Excited: Jeremy Saulnier is a Fantastic Fest regular, with Blue Ruin and Green Room both winning fans and accolades in years past. Now he's back with what looks like his slickest movie yet: a tale of a man hunting a wolf and a man hunting, well, men. By all accounts, Hold the Dark is a brutal and unrelenting film, but we wouldn't expect anything less from Saulnier, an artist unafraid of darkness and unwilling to flinch in the face of brutality. This film will probably be exhausting, but it's also going to stick with us for a long time, if his past work is any indication. Plus, any movie that has the good taste to cast Jeffrey Wright in the leading man role deserves our attention. (Jacob Hall)
In Fabric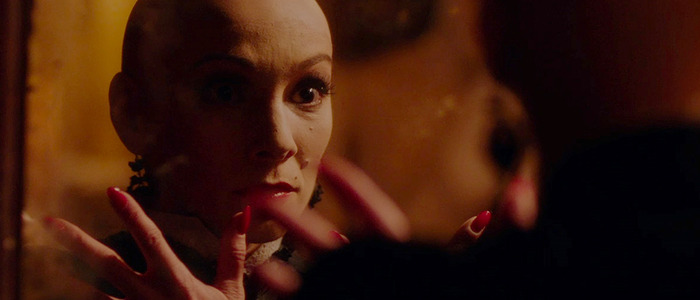 Director: Peter Strickland
Synopsis: Peter Strickland (The Duke of Burgundy; Berberian Sound Studio) returns to Fantastic Fest in full, flourishing style with In Fabric, a film that's part surreal thriller, part giallo love letter, part fashion collage, and all hypnotic originality.
Why We're Excited: Addressing materialism in his cult classic novel, Fight Club, author Chuck Palahniuk wrote, "the things you own end up owning you. It's only after you lose everything that you're free to do anything." This notion of obsession over material objects and the perpetual search for perfection appear to also be woven into the seams of Strickland's newest Fantastic Fest submission. The plot of In Fabric centers around a red dress that perfectly fits single mother, Sheila (Jean-Baptiste), as she reenters the dating world. Her new garment seems to hold a certain power that serves as a good luck charm at first. However, in Stephen King-like fashion, there's a sinister side to the dress, a haunted past that works more like a curse than a charm for any woman who adorns it. While I am not a self-proclaimed fashionista by any means, I do enjoy a spooky film revolving around the industry, the subsequent psychology behind consumerism, societal norms that define beauty, and how a simple outfit can transform its owner. Recent gems like Phantom Thread and Personal Shopper deliver within this realm extremely well.  So, I'm really looking forward to what Strickland designs with his giallo influenced film. (Marisa Mirabal)
The Man Who Killed Don Quixote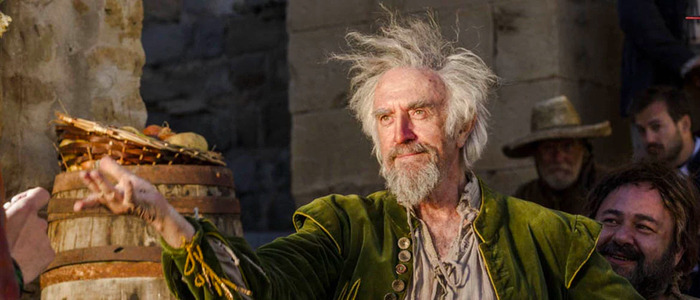 Director: Terry GilliamSynopsis: Once-ambitious advertising man Toby finds himself revisiting a student film he made long before his world became monochrome. Re-teaming with the Spanish cobbler he cast in the film who genuinely believes he's Don Quixote, Toby embarks on a soul-searching journey of magical proportions.Why We're Excited: Countless thousands of words have chronicled the troubled production of Terry Gilliam's new fantasy, which began production 20 years ago and has encountered every imaginable hurdle and pothole since then. But now, the new film from the director of Brazil and Time Bandits is here, so the narrative can stop being "when is this movie going to get made" and can start being "is the movie any good." That's the big question, huh? Gilliam is undeniably a genius with a slew of masterpieces under his belt, so it's time to witness the climax of 20 years of curiosity. Is this film as good as the story of how it was made? (Jacob Hall)
The Night Comes For Us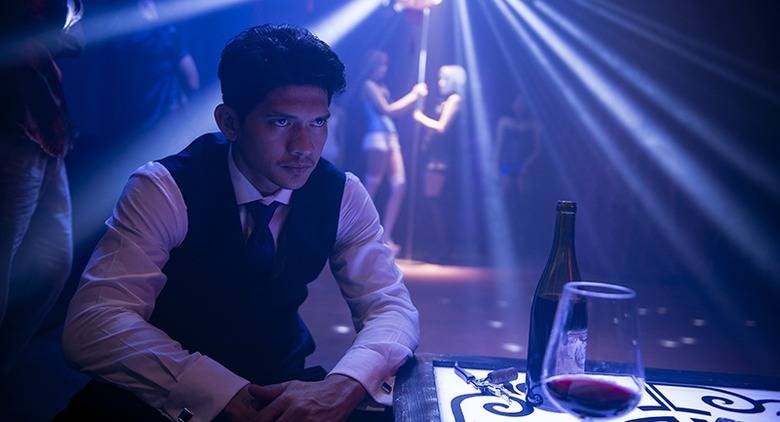 Director: Timo Tjahjanto
Synopsis: A former triad enforcer must protect a young girl while trying to escape his former gang, setting off a violent battle on the streets of Jakarta.
Why We're Excited: Gee, I wonder why I'm excited for The Night Comes For Us. Could it be filmmaker Timo Tjahjanto, maestro of such showstoppers as Killers and Macabre? Maybe because stars Iko Uwais, Joe Taslim, Julie Estelle, Sunny Pang, and Zack Lee have all demonstrated tremendous martial arts cinematics in either Gareth Evans' The Raid universe or Tjahjanto's Headshot? This is common sense. Tjahjanto + Uwais = one ticket on the Hype Train Express. Don't even play.
Indonesia has been a breeding ground for new-age action where bulging machismo muscles are traded for drop-dead beautiful fight choreography. The Night Comes For Us aims to blend Tjahjanto's seedy dark mannerisms with Uwais and company's Pencak Silat action fluidity – a match made in whatever part of heaven is alright with broken limbs or ballet-swift bodily destruction. Uwais' moves are precise, punishing, and breathlessly underrated (still), as he works over henchmen like a sushi chef who never fumbles a single slicing motion. Such dedication to craft that American genre films simply can't compete with – see Mile 22 as an example. (Matt Donato)
Overlord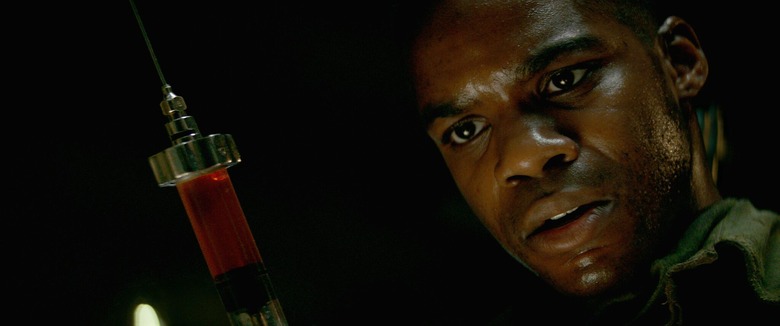 Director: Julius AverySynopsis: With only hours until D-Day, a team of American paratroopers drop into Nazi-occupied France to carry out a mission that's crucial to the invasion's success. Tasked with destroying a radio transmitter atop a fortified church, the desperate soldiers join forces with a young French villager to penetrate the walls and take down the tower. But, in a mysterious Nazi lab beneath the church, the outnumbered G.I.s come face-to-face with enemies unlike any the world has ever seen.Why We're Excited: I've always been a sucker for historical horror, and Overlord looks to scratch a very specific itch for me. World War II. Nazi experiments. American soldiers battling the supernatural. It's a grab bag of buzzwords that have my immediate attention and the involvement of J.J. Abrams as a producer has me even more intrigued. After all, Abrams has a habit of throwing his support behind promising filmmakers, which says a lot about Julius Avery. Hopefully, at the very least, Overlord delivers the gory, historically-tinged goods that the trailer promises. (Jacob Hall)
Starfish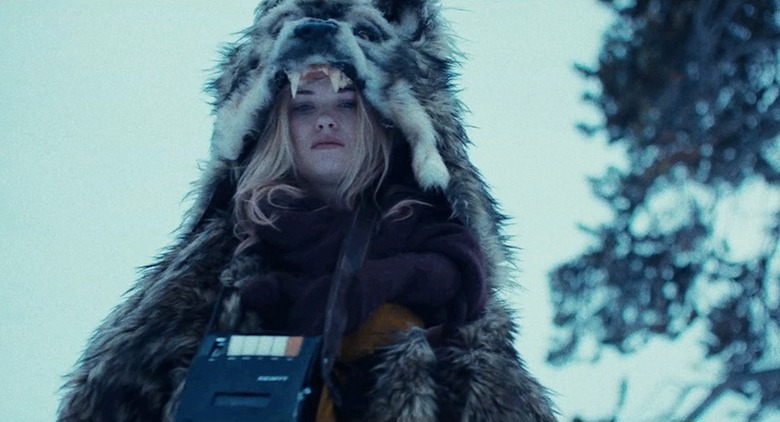 Director: A.T. White
Synopsis: A girl. A mixtape. And Armageddon. A uniquely honest portrayal of loss as a young woman struggles with the death of her best friend while dealing with the horrific Lovecraftian end of the world, driven by a beautiful indie music soundtrack.
Why We're Excited: Yellow Veil Pictures has already acquired worldwide sales rights after its premiere at TIFF, and co-owner Joe Yanick described Starfish as "It Follows by way of Eternal Sunshine of the Spotless Mind". To me, that description conjures up a visually haunting and emotionally engaging film. And since Al White is commonly known as the lead singer of the UK band, Ghostlight, it's refreshing to witness a music industry professional expanding his skills as the director of this music-infused apocalyptic horror film. Honestly, I'm always intrigued when creative individuals explore other mediums of artistic expression. The fact that the plot centers around an alluring indie playlist, Armageddon, and creature designs reminiscent of Lovecraft are just an added bonus. White addresses the type of horror that is rooted in realism as his protagonist grieves the loss of her best friend. Navigating the emotional depth and gut-wrenching heartache of death, White attempts to alleviate emotional pain through music and monsters while tackling the humanistic experience that in and of itself can feel like the end of the world. Laying that disturbing, relatable groundwork topped with an allegorical storyline is a cathartic approach that I ultimately love to see exercised in the horror genre. (Marisa Mirabal)
You Might Be The Killer
Director: Brett Simmons
Synopsis: Counselors are being killed off at summer camp, and Sam (Fran Kranz) is stuck in the middle of it. Instead of contacting the cops, he calls his friend and slasher-film expert (Alyson Hannigan) to discuss his options.
Why We're Excited: I know next to *nothing* about Brett Simmons' You Might Be The Killer beyond Fantastic Fest's informational listing and the fact that it's based on a viral twitter thread between Chuck Wendig and Sam Sykes. A trailer *just dropped, but it's only a minute long. What *do* we know? Camp counselors have been murdered, Fran Kranz plays someone caught in the middle, and instead of phoning for lawmen aid, he contacts a friend played by Alyson Hannigan (Chuck) who's well versed in slasher lore. It also stars Brittany S. Hall and Partick Reginal Walker, with an appearance by Keith David.
Uh, inject this into my optic receptors right now?
As per Fantastic Fest, You Might Be The Killer screams Cabin In The Woods meta storytelling and genre manipulation. Scream 2.0 and what have you. As a horror comedy obsessor, conception baited me hook, line and sinker. Kranz and Hannigan are just cherries on top. Fantastic Fest always plugs one or two programmed titles with zero "awareness" or marketing that absolutely floor audiences, which is exactly the vibe I'm getting here. Sometimes you just gotta follow your gut, and it's rumbling for You Might Be The Killer. (Matt Donato)