Revamped 'Halloween' Theme Revealed By John Carpenter, Plus Watch A New TV Spot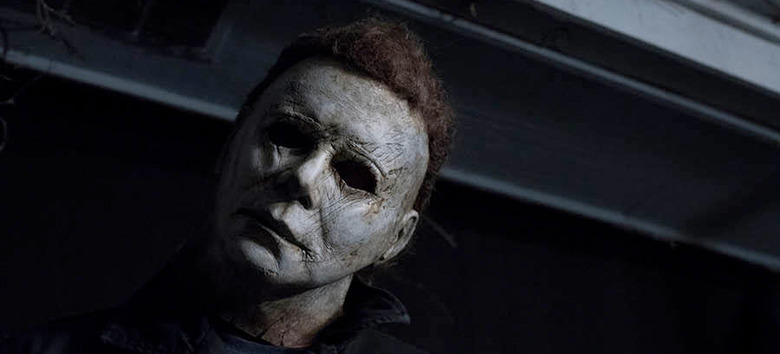 We're exactly one month away from the debut of the new Halloween. While we've seen plenty of footage from the trailers, fans have also been hungry to hear the new score from composer John Carpenter and collaborators Cody Carpenter and Daniel Davies. Today they can get a taste of what's to come.
The new Halloween 2018 theme can be heard in the first track from the official soundtrack that just debuted online today. Plus, a new TV spot features John Carpenter and Jamie Lee Curtis bringing you back to Haddonfield, Illinois after 40 years. Check them both out below.
The New Halloween 2018 Theme
It sounds like John Carpenter has taken an approach that mixes the orchestral arrangement of the original Halloween theme with the more synthesized version of it from Halloween II. You'll also notice the return of that familiar synth sound that signifies and appearance of Michael Myers right at the beginning of this track, which is probably why it's called "The Shape Returns."
Honestly, this is probably the best possible version of a new Halloween theme. The piano sounds a little too clean for my tastes, but that's probably because I'm so used to the more vintage sound of the 1978 soundtrack. Otherwise, the style is very much in the vein of classic John Carpenter compositions, and I can't wait to hear what he does with the rest of the score.
New Halloween TV Spot
Meanwhile, for those of you hungry for a little more from the forthcoming Halloween sequel, a new international TV spot has arrived from Cinemex, and it features director John Carpenter and franchise star Jamie Lee Curtis introducing us to this redefining sequel.
If you're all in on Halloween at this point, I'd recommend steering clear of any more footage. The marketing is starting to show too much from this movie, and you'd be better off waiting four weeks until you can see the whole thing yourself in theaters. There aren't spoilers being revealed, but they are showing off a lot of the scenes that will undoubtedly have you in suspense. So watch at your own risk!
Otherwise, for those of you who can't get enough buzz about the new Halloween, feel free to check out our review of the film from the Toronto International Film Festival, where our own die-hard Halloween franchise fan Chris Evangelista liked the movie quite a bit.
Jamie Lee Curtis returns to her iconic role as Laurie Strode, who comes to her final confrontation with Michael Myers, the masked figure who has haunted her since she narrowly escaped his killing spree on Halloween night four decades ago.
Halloween arrives in theaters on October 19, 2018.